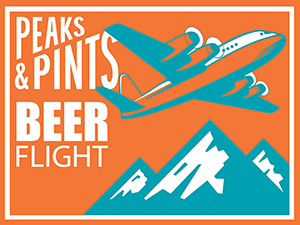 Not all stouts — a style marked by the use of roasted malts and barley — are created equal, with alcohol levels, recipes, flavorings and textures running the gamut. From the traditional stouts that emerged after porter rose to popularity in England in the 1800s to today's kaleidoscope of craft variations, the characteristics found within the category are myriad. Today, Peaks and Pints in Tacoma's Proctor District offers a flight of coffee stouts. You could technically file coffee stouts under a master umbrella of "flavored stout," but with brewers finding new and interesting ways to work with coffee as an ingredient, Peaks and Pints believes coffee stout merits its own category. Coffee beans can bring a pleasing bitterness to all styles of beer, but stouts have long been the go-to match because the dark malty character of the beer works so well with the chocolatey, bittersweet notes of coffee. Stop by Peaks and Pints for Craft Beer Crosscut 9.18.19: Flight of Coffee Stout.
Craft Beer Crosscut 9.18.19: Flight of Coffee Stout
Modern Times Black House
5.8% ABV, 40 IBU
Modern Times Beer is the only brewery in the world to roast their own coffee, which allows them to be extremely persnickety about which beans they buy and how we roast them. Their Black House oatmeal coffee stout is not only brewed with Ethiopian and Sumatran coffee beans, but also Kiln Coffee malt also makes its way to the pot. It kind of tastes like a chocolate-covered espresso bean, only drier and more like beer.
Hitachino Nest Espresso Stout
7% ABV, 36 IBU
Kiuchi Brewery started brewing sake back in the 1820s. In the late 1990s, the company introduced a line of beer called Hitachino Nest. The iconic label image — a cute, colorful owl — has become a favorite in the craft beer world. There's no mistaking coffee's role in Hitachino Nest Espresso Stout's rise-and-shine aroma: Oily, roasted whole coffee bean scents penetrate the nose. On the tongue, light caramel sweetness paves the way for intense roasted notes and deep coffee bitterness that lasts deep into the swallow.
Two Roads/Evil Twin Two Evil's Saigon Scooter Selfie
9.5% ABV
Two Roads Brewing's Master Brewer Phil Markowski and Evil Twin's Jeppe Jarnit-Bjergso sampled and became enamored with a popular Vietnamese coffee drink called Ca Phe Sua Da (cah-fe sah dah). Thick and decadent, like a coffee milkshake, it was the inspiration for their collaboration, Two Evil's Saigon Scooter Selfie Vietnamese-style Coffee Stout. Jarnit-Bjergso and Markowski traveled to the chaotic, scooter packed streets of Saigon to meet up with brewing friends Heart of Darkness Brewery. It was there that the brewers created the first batch of this collaborative beer. Rich, thick mouthfeel gives way to lush sweetness with hint of coffee character followed by notes of cream, toffee and vanilla.
Abomination White Stouts Can't Jump
9.6% ABV
Josh was an avid homebrewer for 8-plus years with more than 200 different beers plus some commercial brewing experience. Joe was an avid homebrewer for 5-plus years dabbling in all styles. They both thought German purity law Reinheitsgebot was an abomination. They opened gypsy brewery Abomination Brewing to push beer beyond just barley, water, hops and yeast. White Stouts Can't Jump is brewed with flaked oats, flaked wheat, golden promise and lactose before Josh and Joe ferment this hazy white stout on top of vanilla beans, cacao nibs and roasted coffee. It's a winner with a lovely nose of coffee, lactose and a kiss of semisweet chocolate. Expect a smooth, malty flavor with notes of coffee, cocoa, a hint of vanilla and cream.
AleSmith Hawaiian Speedway Stout
12% ABV
Perilously situated on the westerly flank of the active shield volcano, Mauna Loa, Kona coffee beans are the result of nature's ideal coffee growing conditions. The combination of dark, mineral-rich volcanic soil and Hawaii's diurnal cycle of bright sunny mornings, moist rainy afternoons, and mild nights yield a ripe environment for this exceptional coffee. Unlike other coffee producing regions, every Kona berry must be inspected and handpicked because of the lack of mechanized harvesting techniques available in this rocky location. Mostra Coffee carefully roasted 100 percent Kona beans to showcase the coffee's nutty sweetness and floral aroma, a seamless complement to AleSmith Brewing's award winning Speedway Stout. Roasted cereals, toffee candy and coffee merge in this cushiest of coffee-infused imperial stouts.
---