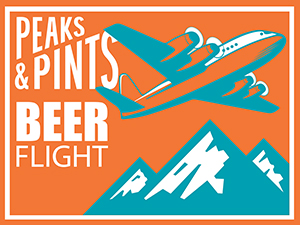 Did you know that today, Aug. 7, is National Raspberries N' Cream Day? Neither did we! Truth be told, this fact pisses us off. Here we are, getting ready to celebrate National Raspberry Tart Day Aug. 11, and raspberries and cream has to be like, "Oh! Look at me! I'm special! I'm a parfait! I deserve my own celebration a few days earlier to upstage all of you mere plebeian tarts." Seriously: Screw off, raspberries and cream. Peaks and Pints will add craft beer to your dumb holiday. We'll show you! We'll shine the spotlight on raspberry and vanilla flavored craft beer in what we call Craft Beer Crosscut 8.7.19: Flight of Raspberry Cream.
Craft Beer Crosscut 8.7.19: Flight of Raspberry Cream
Kulshan Raspberry Gose
4% ABV
Bright and highly sessionable, Kulshan Brewing's Raspberry Gose pays homage to Northwest Washington's unbeatable long summer days and the hardworking raspberry farmers of Whatcom County. Malted wheat, Pilsner malt` and German Perle hops and fresh raspberries are inoculated for a hazy pink-ish summer sipper. Expect mild sour aroma with berry notes, some body, light malt base and slight tartness.
Left Hand Flamingo Dreams Nitro
4.7% ABV, 11 IBU
Left Hand Brewing has unleashed a flock of Flamingo Dreams Nitro, a year-round nitro beer that's the first of its kind. At 4.7 percent ABV, it is super smooth and refreshing with all around great complexity, robustness, and balance of raspberries, black currants, fruity yeast, pale malts, and light earthy hop flavors. Raspberry cream indeed.
Off Color Dino S'mores
10.5% ABV, 40 IBU
John Laffler of Goose Island and Dave Bleitner of Two Brothers opened Off Color Brewing in March 2013. At the brewery's launch party, a local pastry chef cooked up a batch of dinosaur-shaped s'mores for munching; these treats provided the inspiration for an imperial stout Off Color would later brew in collaboration with Danish brewer Amager Bryghus and venerable Windy City bottle shop West Lakeview Liquors. The beer — flavored with marshmallow fluff, molasses, vanilla beans, graham flour and cocoa nibs — was named Dino S'mores and has been available since 2014. It's sweet and sugary, with a bouquet of blackstrap molasses, graham cracker and marshmallow fluff atop a layer of alcohol, vanilla, marshmallow and milk chocolate.
Abita Purple Haze
4.2% ABV, 13 IBU
Located 30 miles north of New Orleans, Abita Brewing fired up the mash tun in 1986, making it the oldest craft brewery in the southeastern United States. Abita's Purple Haze is an American wheat ale with fresh raspberries added during secondary fermentation. The result pours a hazy beige with just the faintest hint of lavender. It's a lively combination of soft wheat and sweet raspberry on the nose. Smooth and creamy, it offers bright raspberry flavors up front, backed by grain-laced malt and just the right hint of hops. 'Scuse us while we kiss the sky!
Avery Vanilla Bean Stout
10.8% ABV, 29 IBU
Now a year-round release, Avery Brewing's bourbon barrel-aged blend of an imperial stout and a regular American stout flexes its decadent vanilla addition from the get-go, offering a big nose of warm, sticky vanilla, toasted coconut and a flit of whiskey. Vanilla dominates the front of the sip but gives way to smooth milk chocolate, coconut, caramelized marshmallow and hints of roast coffee, followed by coffee, dark cherry and dark chocolate lingering at the end. The barrel takes a supporting role, allowing the oak to just dry out the full swallow, leaving pleasant warmth in the throat.
---