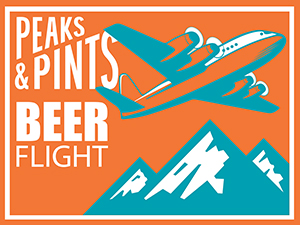 Two years before Little Beast Brewing opened in Beaverton, Oregon, co-founder Charles Porter was brewing at Logsdon Farmhouse Ales in Hood River. The histories state such a fact, but Peaks and Pints meet Porter in April 2015 while on a tour with the Craft Brewers Conference held down the highway in Portland. Porter, along with Dave Logsdon, showed us the archaic but highly functional brewing systems Logsdon used to craft their famous wild ales. Porter left Logsdon and opened Little Beast Brewing with his business and life partner, Brenda Crow, a cheesemaker, in April 1017. Porter and crew craft wild, wood-aged, and blended beer naturally with diverse cultures, including Saccharomyces, Brettanomyces, Lactobacillus, and wild flora. By harnessing the "little beasts" that ferment their beer, they capture their untamed beauty and produce farmhouse beers that are diverse in flavor and rare in character. Today, Peaks and Pints salutes Charles Porter with a beer flight we call Craft Beer Crosscut 8.8.19: Flight of Little Beast.
Craft Beer Crosscut 8.8.19: Flight of Little Beast
Little Beast Hot Break
4.8% ABV
Little Beast Hot Break is an easy drinking ale for sour beer lovers. A combination of two distinct fermentations, Hot Break is brewed with American Pilsner malt, German pale wheat, and oats. The first base beer is naturally soured during fermentation with Lactobacillus, while the second base beer begins fermentation with Saccharomyces and is racked into the first beer during high krausen. The beer is unfiltered and unpasteurized when it is canned. The result is a thirst-quenching, clean, and crushable tart ale with a bright, lemony and passion fruit character, with distinct notes of mandarin zest and lime from dry hopping with Mandarina Bavaria hops.
Little Beast Bes
6% ABV
Flavored with chamomile, Belgian malts and noble hops, Little Beast Bes farmhouse wild ale is fermented with a blend of unique Saccharomyces yeast and conditioned with Lactobacillus. Bes hits the nose with chamomile tea and lemon peel, plus a slightly vinegar, tart buggy aroma. The beer's yeast forward flavor profile has some of the banana, clove you might find in more Bavarian beers but with a funkier, earthier bite and notes of pineapple, lemon and coconut. It's smooth, with mild tartness, plus a light pale wheat-like finish.
Little Beast Midnight Riot
9.6% ABV
Little Beast Midnight Riot is a dark, imperial bruin-style cherry beer brewed in collaboration with Oproer Brouwerij, a small craft brewery in Portland's sister-city A— Utrecht, Netherlands. Deep amber in color, the beer was brewed with Pilsner malt, wheat malt, oats, Melanoidin malt, and Carafa malts, and was racked onto pitted cherries and aged for six months. The beer was then bottled and kegged and conditioned for six months in the package. The nose brings out deep dark cherry notes, with gentle Belgian yeast. Flavor reveals intense dark red cherries upfront, with light Belgian yeast, alcohol, and moderate tartness. The Montmorency cherries are nicely situated and offer a great depth.
Little Beast Wolf Camp
6.1% ABV
Little Beast Wolf Camp introduces a subtle and playful spin to a classic Belgian-style saison. The profile of the base beer is traditional for the style with a bold Pilsner malt character. The beer finishes dry from fermentation with two Saccharomyces yeast strains. The hop schedule also matches a traditional style except that with each new batch, Little Beast will dry hop the beer with a different American hop variety — in this case, El Dorado. Wolf Camp jumps on the nose with clove and banana, plus a touch of tropical hops. The palate opens clean and crisp, with pepper, honey, straw and a little clove. A grainy, mildly straw like bread character is present, reminding us of Duvel. There's a mild citrus note with a fair bit of hop snap and a little pepper on the finish.
---