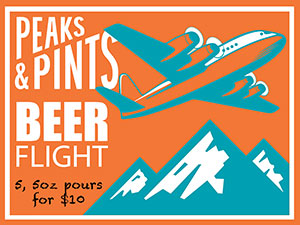 Our beer mugs runneth over here in Tacoma and Pierce County. Tacoma Beer Week 2018, the seven-day showcase of craft breweries and their beers, is an excellent way to experience Tacoma's bubbling beer culture. Founded by Zoe Brackney, the fifth annual edition of Tacoma Beer Week official started Sunday and continues through Saturday, Aug. 11. Whether you're making your first visit to a local brewery tasting room, heading out on a craft beer special event or exploring how beer and food interact, Tacoma Beer Week is the perfect time to dive into the craft beer scene. For a complete listing of Tacoma Beer Week events, visit tacomabeerweek.com. Thanks to Peaks and Pints' Craft Beer Crosscut 8.7.18: A Flight of Tacoma Beer Week, you can taste five Tacoma breweries in one sitting — as if Tacomans needed another reason to drink beer.
E9 Holy Diver Aged in Syrah Barrels
10% ABV
In 1995, Dusty Trail converted the early 20th century Tacoma firehouse into a brewpub, and brought back the Tacoma Brew, the famous Tacoma lager of 1888. Dick Dickens grabbed the reins in 2002, bringing in head brewer Doug Tiede. Heads turned and medals were hung. In 2011, X Group purchased Engine House No. 9, with former chef turned head brewer Shane Johns eventually breaking the brewery off from the restaurant, officially brewing as E9 Brewery. Johns and right-hand man (who could be a head brewer anywhere) Donovan Stewart fired up a barrel program. Gold medals followed, including the brewery earning Mid Sized Brewery of the Year 2016-18 at the Washington Beer Awards. E9's Holy Diver Belgian strong dark ale is aged in Syrah barrels straight outta Napa. It's a marriage between multiple specialty malts to create a rich, complex beer then balanced with red wine tannin from maturation in barrels. There's a rich vinous flavor though it really lends itself more toward wine than ale. There is a strong wine undercurrent here.
Gig Harbor Black Cherry Stout
8% ABV
John Fosberg opened Gig Harbor Brewing Company more than two years ago at31st and South Tacoma Way, after a year and a half of searching for a spot to open a brewery in Gig Harbor. This past spring, Fosberg opened a new Gig Harbor Brewing taproom in its namesake city. Located on Harborview Drive next to Skansie Brothers Park as a part of the Gig Harbor Marina and Boatyard building, Gig Harbor Brewing is right in the middle of the downtown hubbub. Gig Harbor's Black Cherry Stout has the predictable roasted, chocolaty flavors of a well-made stout, but sweet dark cherry takes center stage, pushing any reasonable limit. It's like drinking a Black Forest cake.
Pacific Hazy Rage IPA
5.9% ABV, 35 IBU
Pacific Brewing & Malting Co. closed shop in 1914 when Washington state jumped the gun and ratified prohibition six years before it was mandated by federal law. Brent Hall and Steve Navarro were surprised when the name "Pacific Brewing & Malting Co." was available to tag on their downtown Tacoma brewery, in a 10-year-old building next to Old City Hall — several blocks north of where the original brewery operated. Pacific Brewing & Malting Co. re-opened in the fall of 2014. This week, the brewery released Hazy Rage IPA brewed with Pale and Honey malts, oats, wheat and hops of Comet, Ekuanot, Mandarina Bavaria, Amarillo and Citra. Juicy aroma of pineapple, orange, mango and citrus arrives via double dry hopping and a yeast specifically designed to stay in suspension creating a big cloudy mouthfeel.
7 Seas Cascadian Dark Ale
7% ABV, 65 IBU
Mike Runion and his business partner and brewmaster Travis Guterson took their beloved 7 Seas Brewing back to the future in August 2016. From their humble beginnings in 2008, to the 2009 fire relocation, to the 11,000-square-foot-building in downtown Gig Harbor, demand for their craft beers forced the duo to constantly think bigger. Aug. 10, 2017, they went huge opening an 80,000-square-foot new brewery and taproom in a downtown Tacoma building where Heidelberg Brewery previously bottled and shipped its beer. Heidelberg didn't brew a Cascadian Dark Ale, but 7 Seas did. 7 Seas CDA is brewed with de-husked black malt, caramel malt, and generously hopped with Columbus, Centennial and Amarillo for layers of hop character nicely balanced by a hint of roast and a smooth lingering finish.
Narrows Coins In A Wishing Well
8.3% ABV, 60 IBU
There a buzz of excitement at Narrows Brewing Co. young buck brewer Matt Rhodes — formerly with Stone Distributing and King Harbor Brewing out of Redondo Beach, California — is letting his freak flag fly, injecting new recipes into the brewery on pilings along Tacoma's Narrows Waterway. First, his delicious Porter turned heads. Next his Bridge to Tomorrow IPA killed. Then his Tacoma "Neighborhood Series" popped heads clean off. His citrus-y Coins In A Wishing Well imperial IPA smacks you in the face with Mosaic, Citra and Idaho 7 hops, as well as a double dry hopping treatment.
---