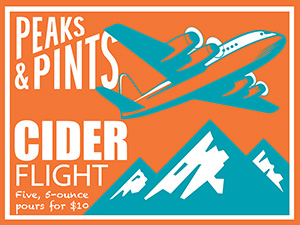 Long before Washington state had legal weed, it had apples. In 2008, Craig Campbell and his wife, Sharon, began experimenting with making cider from dessert apples grown in their 400-acre Eastern Washington commercial fruit orchards. They opened Tieton Cider Works. Since then, the craft-cider scene has exploded. Add to all the great Washington and Oregon cider our sparkling blue skies, stunning scenery and plenty of places to hike, bike and otherwise work off our cider bellies, and there's no place in the world to drink craft cider. Peaks and Pints held our first Pacific Northwest Cider Invitational last night to standing room only crowds all night long. We poured more than 20 cideries, in styles ranging from sugary- sweet to fruity to George Clinton-level funky. Peaks and Pints Pal Heather, a cider connoisseur, picked her five favorite for our flight today, Craft Cider Crosscut 8.11.18: A Flight of Peaks and Pints Pacific Northwest Cider Invitational.
Baird & Dewar Sour Cherry
7.2% ABV
Let's face it. Baird & Dewar sounds more delicious than Trevor & Zeb. Trevor Baird is a highly regarded second generation farmer and fruit grower, whose peaches, cherries, and apples are used by many of Portland's finest restaurants and breweries. Zeb Dewar has made cider for more than 17 years, working for more than 10 years as a cellar hand, assistant winemaker, and harvest manager at premium Willamette Valley and Columbia Gorge wineries. He has been making cider from the apples grown at Baird Family Orchard for more than eight years. Baird & Dewar Farmhouse Cider was started slowly and quietly in the fall of 2011 as an extension of Zeb Dewar's home cidermaking. Aged in Pinot Noir barrels, their funky, dry, creamy Sour Cherry has a tart Bing cherry presence.
Reverend Nat's The Passion
6.9% ABV
When his North Portland neighbor begged him to take his backyard apples off his hand in 2004, Nat West began experimenting with fermentation, turning the small green apples into hard cider. His friends went nuts. West would go on to hold weekly free cider parties at his house, experimenting on his friends, which ended up at 50 or so people. In the summer of 2011, West launched Reverend Nat's Hard Cider, most likely the only cidery in Portland. In the late '90s, west used to live in Olympia, and would hang out with Three Magnets Brewing co-owner Nathan Reilly. The Passion has aroma of strong passionfruit, oak and floral. The strong passionfruit transfers to the tongue with a bit of apple and a lovely tartness.
Seattle Cider Cucumber Hibiscus
6.9% ABV
Joel VandenBrink, the founder of Two Beers Brewing Co., launched the Seattle Cider Company in August 2013, with the help from his Two Beers sales rep and a former farm hand Eric Willard. Diagnosed with Crohn's disease, which makes beer difficult to digest, VandenBrink launched the cider company with only two products: Semi Sweet and Dry. VandenBrink didn't launch with six to 10 products, common with start-up craft breweries. He didn't launch with experimental pineapple cider or pomegranate cider. No, VandenBrink, Willard, up-and-coming cider savant Brent Miles and the Seattle Cider crew — with natural support from the Two Beers crew too — hit the market with two, solid ciders. And the cider company sprouted big and wide. Sparkling rosé gold in color, this cider offers fresh, sweet berries on the nose. On the palette you'll notice the refreshing and crisp nature of the cucumber leading into a pleasant and bright hibiscus finish.
Whitewood Imperial McIntosh
8% ABV
David White started his production-only Olympia cidery in 2011 with business partner Heather Wingwood, with their first cider release in 2012. In May 2013, Whitewood Cider Company opened for business in Olympia, the only craft cidery between Seattle and Portland. The McIntosh apple was developed in Ontario, Canada in 1798. The McIntosh has a distinct perfume-like aroma. The flesh is firm, juicy, and white. It is an all purpose apple great for eating fresh, cooking or an imperial cider with a champagne-like nose and sweet, bubbly apple taste.
Cockrell Devil 'N Cider
6.7% ABV
Brothers Richard and John Cockrell have been making cider and beer in their Puyallup homes for more than 25 years, sharing their craft with family and friends, as well as grabbing many local, state and national awards and accolades. As the brothers began planning for their retirement their fans begged them to go pro. Their hobby became Cockrell Hard Cider. Their raspberry habanero cider, Devil 'N Cider, has a strong raspberry nose with slight heat. The flavor is equally powerful, on the other side of the flavor seesaw: it packs the heat, although not overwhelming.
---