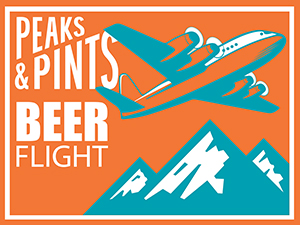 You've heard of gose. It's German, a sour beer. Pronounced "go-zuh," like the thing that wrecked New York in Ghostbusters. Reported to be between 200 and 1,000 years old, it's sour and salty, a low-ABV session beer, which means it won't get you sauced. The gose style is a wheat beer that balances a sour twang from lactic acid-producing bacteria, a distinct salinity and a subtle floral spice from added coriander. It's made with a souring process using a natural bacteria like what you'd find in yogurt. This provides a natural acidity; a really nice tartness that helps balance. It has a really clean and dry finish with a bit of salt. Today, Peaks and Pints offers five goses in a beer flight we call Craft Beer Crosscut 8.6.19: Flight of Gose.
Craft Beer Crosscut 8.6.19: Flight of Gose
Georgetown Rickleberry Gose
3.7% ABV
Gose originated along the river Gose, which flows through the town of Goslar in the German state of Lower Saxony. Traditional versions are quite sour and salty. The saltiness in particular likely came from the naturally saline, mineral-rich water from around Goslar and Leipzig that was used for brewing. The style is similar to a hefeweizen, in that it's made with high amounts of malted wheat. It has very low hop bitterness. However, this beer can have some dryness and spice from additions of coriander and salt. The gose is commonly fermented with both yeast and lactobacillus, and will range in alcohol from 4 to 5 percent ABV. Georgetown Brewing's Rickleberry Gose slides in under the 4 percent range, but hits the mark with wheat, salt, coriander, English ale yeast and Lactobacillus. What makes Rickleberry ridiculously delicious is the addition of blackberry and raspberry puree.
Kulshan Raspberry Gose
4% ABV
Bright and highly sessionable, Kulshan Brewing's Raspberry Gose pays homage to Northwest Washington's unbeatable long summer days and the hardworking raspberry farmers of Whatcom County. Malted wheat, Pilsner malt` and German Perle hops and fresh raspberries are inoculated for a hazy pink-ish summer sipper. Expect mild sour aroma with berry notes, some body, light malt base and slight tartness.
Rogue Just-A-Pinch
4.5% ABV
This past spring, Rogue Ales brewers harvested a 1,000 gallons of fresh ocean water next to their brewery in Newport, Oregon, boiled down the water to a salt solution, then baked it to evaporate the brine to get fresh sea salt. This salt was then use in brewing the new gose-style beer, Just a Pinch. The beer uses 2-row, white wheat and acidulated malts; Rogue Farms Independent hops; coriander, hand-harvested Yaquina Bay sea salt; Imperial Kaiser yeast and our free range coastal water. Up front, a tart tanginess meets slightly salty nuances, followed by notes of citrusy hops with a clean, refreshing finish.
7 Seas Water Chopper Gose
4.8% ABV
This dry, moderately sour, and extremely refreshing beer is made in the gose tradition at 7 Seas' Tacoma production plant. Water Chopper Gose is fermented with Lactobacillus in conjunction with 7 Seas house ale strain, and brewed with 35 percent malted white wheat and German Pilsner malt. For local flavor, 7 Seas Brewing added San Juan Island sea salt, and a pinch of coriander.
Dogfish Head SeaQuench Ale
4.9% ABV
SeaQuench Ale is a session sour mash-up of a crisp Kolsch with lots of wheat and Munich malt, a salty gose with black limes, coriander and sea salt, and a citrusy-tart Berliner weiss made with lime juice and lime peel, blended together in the fermentation tank to create this German hybrid. Dogfish Head's experimentation focuses on three thirst-quenching styles with German roots, but no single style quite hit the mark and mood the brewery was going for — so it blended them for a cloudy gold brew with a savory and citrusy smell. It has a fair amount of tart wheat and coriander character, but the salt and lime are extremely strong. There are many goses brewed in the same vein, but not many are this dry, bright and thirst quenching.
---