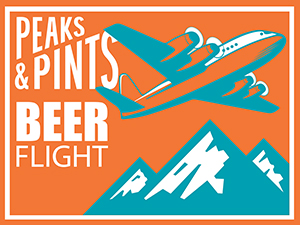 Sours have become popular in recent years, with profiles that feature sour, acidic and tart flavors. Sometimes when wild yeasts are used, these beers take on an earthy mustiness referred to as funk. They are a broad category of beers that cover a range of styles, colors and strengths. When a brewer adds fruit it's usually in an effort to soften and/or complement the sour and tart character. Today, Peaks and Pints in Tacoma's Proctor District offers a flight of five fruited sours that we call Craft Beer Crosscut 8.4.19: Flight of Fruited Sours.
Craft Beer Crosscut 8.4.19: Flight of Fruited Sours
Georgetown Rickleberry Gose
3.7% ABV
Gose originated along the river Gose, which flows through the town of Goslar in the German state of Lower Saxony. Traditional versions are quite sour and salty. The saltiness in particular likely came from the naturally saline, mineral-rich water from around Goslar and Leipzig that was used for brewing. The style is similar to a hefeweizen, in that it's made with high amounts of malted wheat. It has very low hop bitterness. However, this beer can have some dryness and spice from additions of coriander and salt. The gose is commonly fermented with both yeast and lactobacillus, and will range in alcohol from 4 to 5 percent ABV. Georgetown Brewing's Rickleberry Gose slides in under the 4 percent range, but hits the mark with wheat, salt, coriander, English ale yeast and Lactobacillus. What makes Rickleberry ridiculously delicious is the addition of blackberry and raspberry puree.
The Bruery Terreux Frucht: Pineapple, Dragon Fruit and Prickly Pear
4.5% ABV
Founded in 2008 by Patrick Rue, The Bruery began when Rue, a recent law school graduate and homebrewer, figured out that he loved the hobby so much, he'd start a brewery instead of studying for the Bar. Later, in 2015, Rue launched Bruery Terreux — loosely translated as "Earthy Brewery" — as a dedicated space to provide the freedom (and bacteria) to get weird with wild and sour ales. One of Rue's oak foeders is dedicated exclusively to Frucht, his series of fruited Berliner weisse-style beers. This tropical installment has pineapple, dragon fruit, and prickly pear added.
Crooked Stave Bianca Blackberry Wild Wild Brett
6% ABV
The third in a line of collaborative beers done in partnership with Omnipollo, Crooked Stave's Bianca Blackberry Wild Wild Brett is fermented in oak foeders with lactose and blackberries from Lynden, Washington. The blackberries come off rich and jammy with only a mild tartness. The lactose adds a creaminess that rounds-out the full-flavored mouthfeel.
Cascade The Rainbow Project
6.7% ABV
Cascade Brewing's The Rainbow Project is a blend of sour wheat and blond ales aged in oak wine barrels for up to 18 months with orange, lime and lemon zest as well as whole Northwest-grown strawberries. Offering a colorful combination of fruit varieties, this seasonal draft-only release delivers a brilliant polychromatic spectrum of citrus and berry flavor. This fruited sour's acidity on this thing is through the roof.
Verhaeghe Cherry Duchesse de Bourgogne
6.8% ABV, 11 IBU
Brewed by Belgian Brouwerij Verhaeghe, Duchesse de Bourgogne is a Flanders red ale, a blend of 8-month-old and 18-month-old ales, in this case. As with all red ales, the drink gets its characteristic sour and tart quality from lactic acid, while aging in oak barrels imparts a deeper body. The drink is named for Duchess Mary of Burgundy, a filthy-rich medieval heiress who suffered an unfortunate (and deadly) fall from her horse — it happens. This ruby-hued sipper boasts notes of tart plums, black cherries, and that funky, yeasty finish every sour fan demands — that is, until Verhaeghe adds Belgian sour cherries to the maturing beer. Cherry Duchesse de Bourgogne is aged in oak casks, and utilizing whole cherries from the Limburg region of Belgium, as opposed to cherry syrup that is sometimes used in cherry beer production, Duchesse Cherry truly lives up to its name.
---