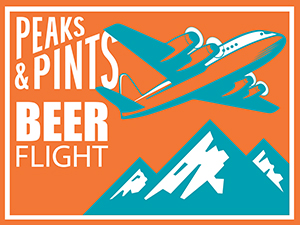 In 2005, Joel VandenBrink found himself in a disagreement with a friend, so they headed to a local pub to talk it through. After the second pint disappeared, the two friends had an honest conversation. Before that second pint, VandenBrink was putting his engineering degree from Grand Valley State University to use at the Johnson Controls plant in Holland, when he wasn't exploring the great outdoors. The outdoorsman eventually moved to the great Seattle outdoors, epic solo hikes and, eventually that second pint of beer. After a homebrew starter kit and an inspirational tour of New Belgium Brewing, VandenBrink founded Two Beers Brewing Co. in a 170 square foot ActivSpace facility along Highway 99 in Seattle's Fremont neighborhood in August 2007. VandenBrink engineered his beer recipes on two burners and two 27-gallon fermenters. In June 2008, he delivered his first keg, hauled his 20:20 Blonde into the Park Pub in Seattle's Phinney Ridge neighborhood. He sold a maximum of four kegs a week to gauge a response from his consumers and the rest, as they say, is history. Two Beers and its sister Seattle Cider Company host an "After Party" for the Proctor Arts Fest at Peaks and Pints tonight. In conjunction, we present a Two Beers flight we call Craft Beer Crosscut 8.3.19: Flight for Proctor Arts Fest.
Craft Beer Crosscut 8.3.19: Flight for Proctor Arts Fest
Two Beers Summer Camp Tart IPA
6.8% ABV, 27 IBU
"Kettle" refers to the brew kettle, meaning the beer is soured in a stainless steel mash tun and fermented in a similar tank. This denotes the key difference between kettle sours and traditional sours: steel over barrel. The term "kettle sour" is not a beer style; rather, it's a means to an end. Kettle souring, also called quick souring, is a production method that can offer quick-soured puckerers that tend to be as bright in color as they are in acidity. Two Beers Summer Camp is a kettle sour IPA that shines bright with berry tartness and a pleasantly hoppy aroma.
Two Beers Field Day IPA
6.6% ABV, 57 IBU
Think back on your Field Day events from your school days. What do you remember? Many of you will remember how much fun you had, the games you played, and spending time with your classmates. Field Day is a great chance for students to let loose, get active, and have a good time. And at the end of the day, it is all about creating a memorable experience. That's what Two Beers holds dear with their Field Day IPA. The Seattle brewery hopes adults plan a day for three-legged races, egg tosses and running races with a post celebration centered on their easy-drinking West Coast IPA, Field Day. It pours a hazy sunshine yellow with a small white head and decent lacing. It hits the nose with citrus, caramel, hops, and tropical fruits that finishes with quenching notes of mandarin and tangerine.
Two Beers Fraud Alert Galaxy IPA
6.3% ABV
Breeding, for what would become Galaxy, started in 1994 when an Australian female plant known as J78 was crossed with a male derived from the high alpha German Perle. After the initial breeding stage, the new hop variety was grown and evaluated across several test plots before being released in 2009. Galaxy is often described as having a passion fruity character along with aromas and flavors of clean citrus and peach. It may also carry threads of pineapple and tropical fruit. In short, its characteristics are all fruit with no floral, pine, or spice. The floral notes in Two Beers Fraud Alert Galaxy IPA come from the supporting Amarillo hops.
Two Beers A Bloom in the Desert
7.1% ABV
Two Beers' newest IPA, A Bloom in the Desert, is a hazy homage to the aromatic Sabro hops that originated in New Mexico. The Sabro hop is an unique sub-species of hops from the New Mexico desert — cross-pollination of a female Neomexicanus hop. Sabro is notable for its complexity of fruity and citrus flavors. It imparts distinct tangerine, coconut, tropical fruit, and stone fruit aromas, with hints of cedar, mint, and cream.
Two Beers Brewing Wonderland Trail IPA
7.1% ABV, 84 IBU
VandenBrink hiked the 93-mile trail circumnavigating Mount Rainier solo. He dreamed of above 80 International Bitterness Units while hiking through Mystic Camp at 5,570 feet. He believed he could push an IPA close to the alcohol by volume mark of a double IPA as he trudged along the South Mowich River. He drew inspiration mixing strong citrus flavor hops with hops boasting earthy, pine characteristics while traversing along a ridge to Devil's Dream Camp. Wonderland Trail IPA is the product of nearly two years of recipe development. Featuring a seamless blend of Washington-grown hops, this flavorful Northwest-style IPA is brewed with Cascade, Amarillo, Mosaic and Legacy hops, then dry hopped with Citra and Mosaic hops, complemented by 2-Row, Vienna and Munich malts. On the nose, a slightly sweet aroma of tangerine is followed by a wave of citrus and passion fruit on the palate, finishing clean and refreshing.
---