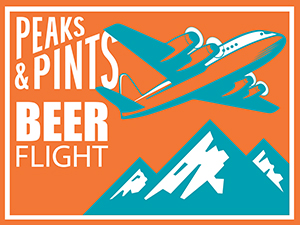 In 2018, Oregon's breweries crafted 1,032,369 barrels of beer, which ranked ninth in the nation (A barrel is 248 pints.) Beer contributed $1.988 billion to the state's economy and employs roughly 31,000 Oregonians directly and indirectly, from the guy who drives that beer truck all over Portland, to the woman working her family hop farm in the Willamette Valley, to the dude mushing thirsty peddlers around Bend on the Cycle Pub. Oregonians 21 and older consume 9.9 gallons of craft beer per year, which ranks seventh in the nation. There are 8.8 craft breweries per capita (100,000 21+ adults), which ranks fifth in the nation. But perhaps the snazziest stat is that of all the beer sold in state, 22 percent was made within its borders. Today, Peaks and Pints salutes Oregon loading up our daily Craft Beer Crosscut flight sampler with Oregon India pales ales — a flight we call Craft Beer Crosscut 8.2.19: Flight of Oregon IPA.
Craft Beer Crosscut 8.2.19: Flight of Oregon IPA
Deschutes Slightly Exaggerated IPA
6.7% ABV, 55 IBU
Deschutes Brewery has teamed up with Travel Oregon — specifically the bureau's "Only Slightly (More) Exaggerated" campaign — to release a new Slightly Exaggerated IPA, made with Sabro hops, grown in the Northwest, with warm aromas of bourbon barrel, coconut and other tropical notes. Taste notes of tangerine and green melon while enjoying the label's art of Oregon's enchanting Clear Lake, a popular destination for camping, hiking, fishing and water recreation — especially scuba diving — about three hours southeast of Portland.
Culmination Invisible Forces
7.6% ABV
In 1994, Tomas and April Sluiter left their bakery jobs in Grand Rapids, Michigan, and hit the road. They traveled extensively. Then, in the summer of 2000, they discovered Portland, Oregon. Thomas took an assistant brewer job at the Old Market Pub in Southwest Portland. Within two weeks of his hire, the head brewer quit and Tomas was thrown into that role. He dismantled the old, tired brewing system and refurbished a 15-barrel system. In January 2017, seven years after Tomas left Old Market and almost two years after attempting to open his brewery in Portland's Goose Hollow neighborhood, he and April opened Culmination Brewing in Northeast Portland's Bindery Annex building. Invisible Forces is a hazy IPA brewed a comical amount of El Dorado and Exp. 06227 (formally known as Denali hops) for orange and pineapple flavors.
Boneyard Hop Venom
9% ABV, 60 IBU
With 4.5 pounds of hops per barrel Boneyard Beer's West Coast double IPA will strike your nervous system with a venomous mix of Centennial, Simcoe, Chinook, and CTZ. Hop Venom's delicate malt profile allows the double dry-hopped aroma of tangerine and pine to dominate. The smooth, creamy bodied Hop Venom is well balanced with super fresh hop character, pine and tangerine flavors but really well balanced that hides the alcohol. It's known as a dangerous IPA for a reason.
Sunriver High Desert Diesel
8.6% ABV, 80 IBU
Since Brett Thomas became head brewer, he has turned Sunriver Brewing Co. from a ski resort brewpub to a fast growing, award-winning brewery that even the beer geeks are now keeping their eyes on, including voters in Peaks and Pints Tournament of Beer: Northwest Pilsners that pushed the beer through the three rounds before Buoy Beer's pilsner knocked them out. Sunriver's High Desert Diesel double IPA is brewed with Mosaic, Amarillo, Strata, Columbus, and Mosaic Cryo hops for firm bitterness with a pungent array of hoppy notes: cannabis, blueberries, passionfruit and candied grapefruit.
Block 15 Sticky Hands Man on the Moon
8.1% ABV, 300 IBU
In late 2011, homebrewers Nick and Kristen Arzner opened Corvallis brewery Block 15 brewery and restaurant serving beers true-to-style with ingredients imported from different parts of the world, along with all the Willamette Valley produced grains, hops, fruits, herbs and yeast. Its Sticky Hands double IPA is a "Hop Experience Ale" featuring ample additions of sticky, resinous, lupulin packed hop buds grown in the Pacific Northwest. Sticky Hands begins with an aromatic blast of tropical fruits, citrus and dank herb; transitions into luscious hop flavor; and ends with a balanced bitter finish, gently propped up by pale malted barley and fermented with Block 15's privately banked Brewers yeast. The Man on the Moon variation blends a vibrant blast of Apollo C02 hop extract with Galaxy, Comet, and Apollo hops for an "out-of-this-world hop experience" with passionfruit, dank resin, and citrus hop flavors orbiting a soft, gravity-defying grain bill.
---