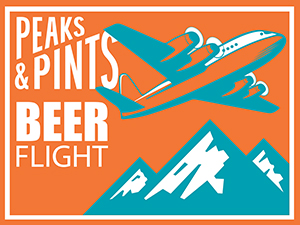 Collaborations between breweries aren't exactly new, but their results have become a much more common sight in Peaks and Pints' cooler lately. Collaborations can give brewers a chance to exchange ideas with others and mix their individual house styles. The best collaborations often result in something unique that neither brewery would normally make on its own. Typically, whoever owns the collaboration brewing system and sells the beer sets the rules. Also, when professional brewers collaborate with other professional brewers, the conversations lean toward technical details. When professional brewers collaborate with civilians, the brewing room chatter tends to be more about big ideas and work up something possible. Today's beer flight today centers on collaborations — professional and civilian participants — that we have titled Craft Beer Crosscut 8.31.18: A Flight of Brewery Collaboration.
Weihenstephaner/Sierra Nevada Braupakt Hefeweissbier
6% ABV, 35 IBU
Braupakt is a fruity peach and apricot hefeweizen is a collaboration between Weihenstephaner, the world's oldest brewery, and Sierra Nevada Brewing Co. Brewmasters from the two breweries spent the better part of 2017 on recipe development, ultimately creating the fruity-hoppy Braupakt, brewed with the Hallertauer Tradition hop and refined with American West Coast Amarillo and Chinook hops.
Ecliptic/Modern Times Pineapple Hazy IPA
8.5% ABV
John Harris, Ecliptic Brewing owner and brewmaster, hoped this collaboration would be a way of welcoming Modern Times to his Portland outpost. "I have enjoyed Modern Times Beer for a few years," he said in a news release, "and when we learned that they were moving to town, I reached out to Jacob in San Diego to see if they were interested in teaming up. I had mentioned pineapple with Mat Sandoval, production manager of Modern Time's Belmont Fermentorium, when we were talking about what to make. Mat said we should definitely use Denali hops for their tropical qualities and almost pineapple like character." The result is the Pineapple Hazy IPA with tropical qualities and almost pineapple like character that goes into full flavor mode once Citra and Mosaic hops join the fruit salad.
Two Beers Proctor Peaks IPA
6.7% ABV, 60 IBU
In the past four to five years there's been a lot of interest in adding crazy fruity and juicy hops to IPAs. Peaks and Pints desired a house IPA based on citrus, pine and bitterness that's more common to IPAs of a decade ago. Two Beers Brewing Co. — a Seattle brewery with one foot planted in the woods, just like Peaks and Pints — allowed the Tacoma bottle shop and taproom to collaborate on an old school IPA. Named after Tacoma's Proctor District, where Peaks and Pints resides, Proctor Peaks IPA's hop bill features Warrior, Chinook, Columbus and Simcoe hops with kettle and dry hop additions. It has clear, copper coloring, because that's a thing, with pine (naturally) flavor and dank on the nose.
Firestone Walker/Old Chicago Santa Lucia IPA
7% ABV, 65 IBU
Made in collaboration with Old Chicago pizza joint, Santa Lucia IPA is based off of Firestone Walkers' signature IPA Union Jack. Starting with a similar grain bill, Santa Lucia is hopped with El Dorado and Amarillo hops — and dry hopped with Azacca, Cashmere and Blanc hops. The Nose is bright floral, fresh hop resin and citrus that's a little grapefruit candy-like. The flavor is balance with a bright, floral, fresh resin and a crisp undertone of grapefruit rind. It's smooth.
Drew Curtis/Wil Wheaton/Greg Koch Stone Farking Wheaton wOOtstout
13% ABV, 65 IBU
The w00t is back. This year marks the fifth year Stone Brewing's collaborative imperial stout hits the street. Stone Farking Wheaton W00tstout — a 13 percent ABV imperial stout brewed with rye, wheat malt and pecans before being partially aged in Kentucky bourbon barrels — is a collaboration between actor Wil Wheaton, Fark.com creator Drew Curtis and Stone CEO Greg Koch. It's named after Wheaton's annual festival celebrating cross-genre geekdom w00tstock. Expect raisins, coffee and roasted malt flavors with a spicy finish. The booze is evident but for the ABV it goes down easy. Woot! Woot!
---