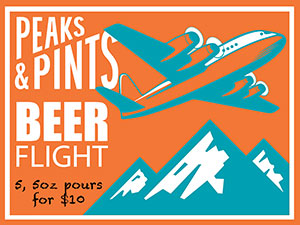 Like "I Saw Mommy Kissing Santa Claus" at Forever 21 and candy corn at 7-Eleven, pumpkin beer arrives earlier and earlier every year. Before the leaves turn yellow and it's time to start wearing grey socks with Birkenstocks again, many of the most sought-after brands' pumpkin beers will be long gone. That means restaurants and bars that don't have a place to store extra kegs for a month or two are out of luck if they want to serve this seasonal specialty in the proper season. That makes the beer industry surprisingly similar to fashion: When you're still wearing your winter coat, bikinis start popping up on the racks. And when you finally go on that August beach trip, all you can find are parkas. Breweries would also much rather roll out their seasonal beers too early and run out than be left with extra product after the season is over. Come Nov. 1, nobody wants a pumpkin beer. Peaks and Pints currently has several pumpkin beers in our lodge, which means we can offer the flight Craft Beer Crosscut 8.30.18: A Flight of Pumpkin Beers.
Elysian Night Owl Pumpkin Ale
5.9% ABV
While most breweries have one or two pumpkin beers in the portfolio, Elysian Brewing Co. brews more than a dozen, including Dark O' the Moon, Night Owl, The Gourdfather and Blight. Night Owl, brewed with more than 7 pounds of pumpkin per barrel, seven different malt varieties, green and roasted pumpkin seeds, bittered with Magnum hops and spiced in conditioning with nutmeg, clove, cinnamon, ginger and allspice, is their most lauded. It leans more toward Christmas than Halloween. Maraschino, banana-nut, cinnamon, pecan and graham cracker hit the tongue. Cinnamon dominates with some caramel and a touch of biscuit malt sweetness to support. The pumpkin love doesn't end there — every year, Elysian also holds the Great Pumpkin Beer Festival (Oct. 5-6 at the Seattle Center), a celebration of 80 different gourd grogs, some of which are even served from giant pumpkin kegs with taps hammered right in the side.
Elysian Punkuccino Coffee Pumpkin Ale
5% ABV
Elysian introduced its Punkuccino Coffee Pumpkin Ale at the brewery's annual Great Pumpkin Festival in 2013. The beer's a pumpkin milk stout loaded with Stumptown's cold-pressed coffee with just a shake of cinnamon and nutmeg, plus, of course, pumpkin added into the mash, kettle and fermenter. Pale, brown, biscuit, C-77 crystal, chocolate and kiln-coffee malts provide the body, German Northern Brewer lends a touch of bitterness, and lactose sweetens the beer just a touch. The java turns the beer roast-forward; the lactose and pumpkin smooth out the sip.
Alaskan Imperial Pumpkin Porter
8.5% ABV, 26 IBU
So. Much. Pumpkin. Alaskan Brewing Co. brews its Imperial Pumpkin Porter with more than 11 pounds of pumpkin added to every barrel for a smooth, velvety rich texture. Aroma is pumpkin, allspice, caramel, roast, brown sugar, dark caramel, doughy yeast and hints of smoke and herbal and citrus hops. Flavor parallels the nose with added dark fruit, light roast, pumpkin sweetness, pie spice and cooked orange.
Dogfish Head Punkin Ale
7% ABV, 28 IBU
Dogfish Head calls its Punkin Ale a brown pumpkin ale. Hmmmm, don't you need some nutty, toasty malts notes to fit into that category? Whatever. The pumpkin and spice flavor is here with cinnamon, allspice and a tiny dollop of brown sugar that settle atop soft burnt biscuits and earthy pumpkin rind with each sip; a mild hop bitterness brings balance at the close.
Epic Imperial Pumpkin Porter
8.1% ABV
Epic Brewing's Imperial Pumpkin Porter is brewed with pumpkin puree, nutmeg, allspice, cinnamon and Madagascar vanilla beans. In the smell department, we get roast and malt, with notes of pumpkin and yeast. The taste is also roasted malts with light roast coffee, brown bread and pecans. Caramel sweetness and cocoa powder emerge as the beer warms, but it maintains the sweet, vegetal earthiness of baked pumpkins and sweet potatoes. It all culminates in a flash of dark chocolate and cinnamon with a touch of vanilla.
---