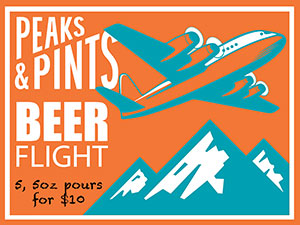 Interestingly, Cascade was a hybrid hop that sat dormant on the shelf for a while. Cascade originated from an open seed collection in 1956 including an English Fuggle, a Russian Serebrianker hop and an unknown male. Named for the Cascade Mountain Range, Cascade hops were released to the public in 1972. Flavors of pine, citrus, and floral undertones give these beers their life and personality. And a moderate alpha level (think bitterness) lends them their versatility as both aroma and bittering hop. In addition to its appealing flavor qualities, Cascade has a resistance to downy mildew, the single most devastating disease in Western United States hop yards. Today, Peaks and Pints offers five craft beer brewed with Cascade hops in a flight we call Craft Beer Crosscut 8.29.18: A Flight of Cascade Hopped Beers.
Avery Ellie's Brown Ale
5.5% ABV, 28 IBU
T'was 25 years ago that Adam Avery (blessed be his name), smiled upon Boulder, Colorado and the world at large by opening Avery Brewing, which begat White Rascal Ale, which begat Out of Bounds Stout, which begat Ellie's Brown Ale. This beautiful, deep russet brew has the sweet and somewhat nutty character of Avery's late (1992-2002) Chocolate Lab, for which it is named. Avery adds Cluster hops at the beginning of the 60-minute boil primarily to add bitterness. Cascade and Fuggles hops are added at the middle and end of the boil respectively for their aromatic contributions. Ellie's Brown has a rich maltiness with a complex caramel and roasted combination in the flavor profile for a lovely, balanced beer. Overall, a flavorful and sweet brown ale, almost too mu
Sierra Nevada Pale Ale
5.6% ABV, 38 IBU
A tip of the cap to the iconic pale ale that makes all the others in this flight possible. First brewed in 1980, Sierra Nevada Brewing was the craft that started appearing next to Bud and Miller handles, thus shifting the beer landscape of what people wanted to drink. It was a victory of flavor over, uh, liquid. It has a deep amber color and an exceptionally full-bodied, complex character. Generous quantities of premium Cascade hops give the Pale Ale its fragrant bouquet and spicy flavor.
Lagunitas Brewing IPA
6.2% ABV, 46 IBU
IPA was Lagunitas' first seasonal, released in 1995. The beer's labels claim it's "made with 43 different hops and 65 various malts," which would be badass if true, if wildly impractical. Cascade and Centennial are in the greatest abundance, and they combine to deliver flavors and aromas of citrus zest, bitter pine, grass, earth and just a pinch of crystal malt to keep the hops in proportion.
Top Rung Shift Trade IPA
6.2% ABV, 50 IBU
We remember it as if it was yesterday. We dropped by Top Rung Brewing's 2015 Hoptoberfest ready for some malty flavors and noble hops when we spotted its shiny, golden orange bad self. The Lacey brewery co-founders Casey Sobol and Jason Stoltz had recently debuted their Shift Trade IPA, a 6.2 percent ABV shot of tropical fruits thanks to a hefty dose of Mosaic and Cascade hops. It was crisp. It was bitter. And it was all we drank. Shift Trade is easy drinking with mango, apricot, and pineapple notes and a solid, slightly toasty malt core. 
Ninkasi Tricerahops Double IPA
8% ABV, 84 IBU
Named after the Sumerian goddess of beer, Ninkasi Brewing Co. was founded in 2006 by Jamie Floyd and Nikos Ridge in Eugene's Whitaker neighborhood, a few miles off I-5. The hops in Ninkasi's Tricerahops Double IPA explode in the nose, cascading pithy grapefruit, sticky pinesap and floral notes atop a caramel foundation. It hits the tongue hard with sweet caramel before a blend of Chinook, Cascade, Summit, Centennial and Palisade hops offer floral, fruity, and earthy notes, yet with a malt background. It's hop-forward, full-bodied and strong. Yet the balance with the malt lends enough depth and a spicy complexity to make it very interesting. Resinous, citrusy, woody, and powerfully bitter, the hop flavors slowly unfold and last well into the aftertaste.
---