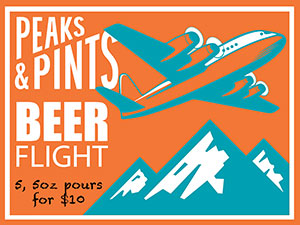 Interstate 5 is the main highway of America's West Coast, running parallel to the Pacific Ocean and U.S. Route 99, from Mexico to Canada. The major states I-5 goes through include California, Oregon and Washington. It runs through some pretty cool cities too: Seattle, Portland, Sacramento, Los Angeles and San Diego. It also happens to be the only continuous Interstate highway to touch the borders of both Canada and Mexico. Sprinkled along the I-5 corridor are some of America's craft breweries. Peaks and Pints picked five to include in our beer flight today, Craft Beer Crosscut 8.28.18: A Flight of Interstate 5 Breweries.
Atwood Ales Mo's Saison (Honeysuckle)
4.2% ABV
Atwood Ales' farm brewery in Blaine, Washington, sits on an idyllic, 5-acre farm that is less than 2 miles from the Canadian border, which makes it the last brewery along the I-5 corridor. Josh Smith brewed Mo's Saison "for my beauty wife, who likes to keep light and refreshing saisons with mild spice and fruit character stocked in our fridge. This seasonally influenced saison features rotating ingredients grown hereon the farm." Today's version features farm-grown 2-row barley, honeysuckle flowers and Cascade hops. Be prepared for an amazing balance between malt, saison spiciness and floral sweetness.
Top Rung Brewing Shift Trade IPA
6.2% ABV, 50 IBU
We remember it as if it was yesterday. We dropped by Top Rung Brewing's 2015 Hoptoberfest ready for some malty flavors and noble hops when we spotted its shiny, golden orange bad self. The Lacey brewery co-founders Casey Sobol and Jason Stoltz had recently debuted their Shift Trade IPA, a 6.2 percent ABV shot of tropical fruits thanks to a hefty dose of Mosaic and Cascade hops. It was crisp. It was bitter. And it was all we drank. Shift Trade is easy drinking with mango, apricot, and pineapple notes and a solid, slightly toasty malt core.
Mazama Mosaic Eruption IPA
6% ABV, 60 IBU
Mount Mazama is famous for blowing itself apart and leaving a hole where Crater Lake form and later became Oregon's only full-service national park. Mazama Brewing came later, much later, but it's catching up in popularity. Founded in 2013, it's a family owned microbrewery in Corvallis specializing in European style ales made with the finest ingredients from the Willamette Valley. Mosiac Eruption IPA, duh, showcases Mosaic hops that give it a bold grapefruit twist. This beer is triple-hopped with a blend featuring Mosaic, Amarillo, Citra and Centennial hops for moderate herbal, grassy and earthy flavors and bitterness with medium biscuit and cracker malt and a dry finish. 
Ninkasi Tricerahops Double IPA
8% ABV, 84 IBU
Named after the Sumerian goddess of beer, Ninkasi Brewing Co. was founded in 2006 by Jamie Floyd and Nikos Ridge in Eugene's Whitaker neighborhood, a few miles off I-5. The hops in Ninkasi's Tricerahops Double IPA explode in the nose, cascading pithy grapefruit, sticky pinesap and floral notes atop a caramel foundation. It hits the tongue hard with sweet caramel before a blend of Chinook, Cascade, Summit, Centennial and Palisade hops offer floral, fruity, and earthy notes, yet with a malt background. It's hop-forward, full-bodied and strong. Yet the balance with the malt lends enough depth and a spicy complexity to make it very interesting. Resinous, citrusy, woody, and powerfully bitter, the hop flavors slowly unfold and last well into the aftertaste. 
Modern Times Blazing World
6.8% ABV, 85 IBU
Founded in the Point Loma neighborhood of San Diego in 2013, just off I-5, a consistent and modern aesthetic permeates everything Modern Times Beer Co. does. From their beautifully designed cans to their sleek and minimalistic website, this 30 barrel production brewery and tasting room approaches things in a modern way. Modern Times Beer specializes in mashups, blending together different styles and flavors. Blazing World is an aggressively hoppy brew that shares characteristics with both imperial IPAs and amber ales. Nelson Sauvin, Mosaic and Simcoe hops give it a dank aroma packed with white grapes, mango and grapefruit peel, while the flavor blends burnt sugar, biscuits and grass.
---