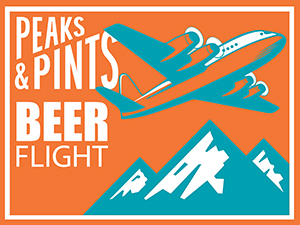 In 2000, Yakima Chief Ranches brought Simcoe into the world as a proprietary hop varietal with strong bitter and aromatic qualities. Little has been released about its parentage, but it has been compared to Cascade. Simcoe isn't a one-style pony; this variety can do great things in a number of beer styles, and is often used in conjunction with the Cascade, Centennial, Chinook and Citra hop varieties. Although not used much as a bittering hop, many craft brewers favor Simcoe for its unique aroma profile composed of piney, woody, and grapefruit citrus notes mixed with slightly dank and spicy notes of onion and garlic. We certainly enjoy it, and deem worthy of a beer flight — along with its companion hop friends. Craft Beer Crosscut 8.28.19: Flight of Simcoe.
Craft Beer Crosscut 8.28.19: Flight of Simcoe
Three Magnets The Pine Hearts Back To Sustain
5.8% ABV
Three Magnets Brewing teamed up with buddies Joe, Derek and Dean of Olympia bluegrass band, The Pine Hearts, to brew a saison named after their album, Back To Sustain. They created a little bit of Americana by infusing a classic saison style ale with a hearty dose of pinene terpenes (derived from pine, not weed) and hopped with the pine sap and tropical character of Simcoe hops. Bonus track: the beer features all Washington-grown malts from Linc Malt in Spokane.
Double Mountain Cool Camp IPA
6.6% ABV, 55 IBU
Double Mountain Brewery and their brewer Matt Coughlin brewed Peaks and Pints bottle shop/taproom a house IPA named after Coughlin's favorite spot to camp in the Olympic Mountains. Simcoe and Centennial hops take the lead, with substantial additions throughout the boil (2, 5, and 3 pounds to be exact, Tacoma's area code) with more in the hop back and dry hop. Kolsch yeast provides a lightly fruited character, supporting the hops and letting them shine. There's enough weight in the malt bill to let some biscuit and cereal through but it's light enough to carry along the adventure. Cool Camp IPA is built for adventure. Dank evergreen and ripe citrus lead an adventurous crew wandering through a rainforest of pines.
Modern Times Critical Band
6.7% ABV, 60 IBU
Packed to the hilt with Denali, Ekuanot, Citra, Simcoe, and Centennial hops, Modern Times Beer's Critical Band is a hazy, head-snapping thunderclap of an IPA loaded with tropical, citrusy awesomeness. Its deeply juicy profile is underscored by a crisp restrained malt bill that expertly carries this delicious, fruity wonder past bitter pine and into a soft, round finish.
Oakshire Reclaim The Fame
7.3% ABV, 70 IBU
Oakshire Brewing's Reclaim the Fame West Coast IPA is here to remind us why we fell in love with IPA in the first place. This old school IPA is brewed with Simcoe, Mosaic, Chinook and Falconer's Flight hops for aromas of tropical fruit and pine resin, followed by all the pine with even balanced bitterness and a drying finish.
Cigar City Jai Alai India Pale Ale
7.5% ABV, 70 IBU
An IPA for Lupulin-lovers, Jai Alai (pronounced HI-lie) blends six different hop varietals in the kettle, then is dry-hopped with Simcoe. It's named for a game native to the Basque region of Spain (and once popular in parts of Florida) played with curve mitts and balls launched at speeds edging 200 miles per hour. This moniker is appropriate, as a nose placed near this beer feels as if it's being bombarded with speedily launched aroma particles. Resins in the form of sugar-covered tangerines and sticky grass slam against the olfactory walls. While the grassy, orange-heavy notes of the hops are noticeable, the Jai Alai highlights a strong malt backbone as well. And the Marigold color — what a beautiful sight for a beer!
---