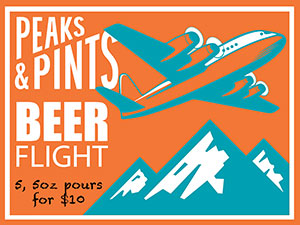 It's National Whiskey Sour Day. You know how to celebrate — with a craft beer flight at Peaks and Pints. There are craft beers, there are cocktails, and there are craft beer cocktails. Then, there are also beers that taste like cocktails. When beer is your job, you don't necessarily want to go home and drink more beer. So it's no shocker that on his or her down time, brewers like a stiff cocktail — which has led to craft beers that taste like cocktails; what a vicious, delicious cycle this is. The base is beer (usually, but not always, a strong one), but then the brewer becomes a bartender, measuring in specific ingredients that seem like novelties until you actually taste how uncannily the final product resembles a cocktail. Enough chatter. Cheers to Craft Beer Crosscut 8.25.18: A Flight of Craft Beer Cocktails.
Abita Purple Haze
4.2% ABV, 13 IBU
Thanks to Carrie Bradshaw and the gang, the cosmopolitan is widely regarded as the quintessential "girly" drink. Undeserved stereotypes aside, a proper cosmopolitan is actually a delicious and well-balanced drink. And just like the cosmo, fruit beers are often dismissed by beverage snobs, tossed aside in favor of double IPAs and barrel-aged stouts. But a well-made fruit beer (a catchall term for any beer that derives some of its flavor from fruit) is a thing of beauty, like eating berries and apples fresh from the field. Abita Brewing's Purple Haze is an American wheat ale with fresh raspberries added during secondary fermentation. The result pours a hazy beige with just the faintest hint of lavender. It's a lively combination of soft wheat and sweet raspberry on the nose. Smooth and creamy, it offers bright raspberry flavors up front, backed by grain-laced malt and just the right hint of hops.
Avery Expletus Barrel-Aged Sour Ale
5.9% ABV, 18 IBU
In spring of 2016 Avery Brewing added another sour ale to its Barrel-Aged Series; this one inspired by the Tequila Sunrise cocktail. Expletus is a 5.9 percent ABV ale that has been aged in fresh Suerte tequila barrels with cherries for six months. In addition, the beer incorporates a combination of Saccharomyces, Brettanomyces drie, Lactobacillus and Pediococcus. Funky wet hay and soil meld with sweet cherries in the top of the aroma while layers of curacao, noyaux and little buttery vanilla center the scent. The flavor kicks off with sweet cherry fading to agave and molasses, while the finish is all red apple and tongue-twisting tartness. While the impact of tequila is just a bit subtle for our tastes, the brew's gorgeous tart cherry character pulls out smooth oaky tones that makes this 35th release in Avery's barrel-aged series one of its best.
New Belgium Oscar Aged In Blackberry Whiskey Barrels
8.8% ABV
New Belgium's suspended its popular Lips of Faith series for its new cork and cage Wood Cellar Reserve series, which includes Oscar Aged In Blackberry Whiskey Barrels. The roommate to Felix Aged In Apple Whiskey Barrels, this 100 percent foeder-aged dark sour is additionally aged and freshly decanted in Rocky Mountain BlackBerry whiskey barrels from Leopold Bros. Distillery in Denver. There is a moderately sour dark malt flavor with some tasty blackberry and a whiskey and oak finish. It's the craft beer that inspired the crazy flight today.
Crooked Stave Nightmare on Brett
9.7% ABV
Crooked Stave Artisan Beer Project, which has been in Denver since 2010, has garnered high praise nationwide for their Belgian-style sour and wild ales. Most of these beers take months or years to make; they're aged in wooden barrels with wild yeast or bacteria. Crooked Stave's Nightmare on Brett also fits into the whiskey sour theme — a dark sour ale aged in Leopold Brothers whiskey barrels. The aroma is full of beautiful tart raspberry with a hint of funk and dark grains underlying. Flavor is full of sour raspberry with a bit of acid, malty ballast, nice funk note and fairly hot due to the whiskey barrels.
Founders Barrel Runner
11.1% ABV
Founders Brewing's Barrel Runner is the fourth installment in the brewery's 2018 Barrel-Aged Series. Barrel Runner, a mosaic-hopped ale aged in rum barrel-aged is preceded by Dankwood, Backwoods Bastard and KBS in the series. This is the first time the brewery has released a rum barrel-aged beer in package. "I drink tiki cocktails probably more than I should and looked to them for inspiration when creating Barrel Runner," said Brewmaster Jeremy Kosmicki in a news release. "You get a lot of bright, tropical character from the abundance of Mosaic hops plus a nice kick of oak and rum from the barrels. Add a tiny umbrella and you got yourself a beer perfect for enjoying poolside."
---