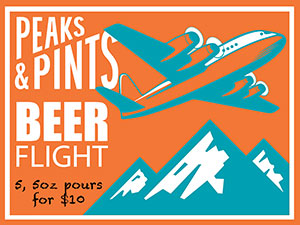 Originally thought to have been first sighted in London, the first known mention of Indian PaleAle was in an advertisement in an Australian newspaper in 1829. The Sydney Gazette and New South Wales Advertiser ran an ad that mentions "East India pale ale." The ad didn't mention what brewery the beer was coming from. That London rumor comes because of the beer export business that was going on in England in the early 1800s. Hops were reportedly added to the beer so that it was able to make the journey to India and still be worth drinking when it arrived. Modern research by historians has shown that beers in this style were being brewed in England before they were ever specifically sent to India. Regardless, higher hop rates did help exported beer hold up longer thanks to the natural preservative effect of hops. Peaks and Pints isn't quite sure who the first person was to brew an IPA, but one of the first known breweries to export beer to India was Bow Brewery. The English brewery was located just two miles from the East India docks, making it easily accessible for traders. All this chatter makes entices you to drink an IPA, huh? How about five? Peaks and Pints presents a flight of IPAs we call Craft Beer Crosscut 8.24.18: A Flight of India Pale Ales.
Boulevard Linkin' Up Hop Dust IPA
6.2% ABV, 47 IBU
Boulevard Brewing of Kansas City, Missouri, and Zipline Brewing of Lincoln, Nebraska, collaboration IPA employs lupulin powder, a.k.a. hop dust, to create a flavorful, complementary limited release beer, Linkin' Up Hop Dust IPA. Linkin' Up includes a liberal dollop of hop dust and a medley of favorite varietals that deliver bright, juicy notes of pineapple, lemon, orange, mango, melons, malt and a bit of pine.
Firestone Walker Luponic Distortion Revolution No. 010
5.9% ABV, 59 IBU
Firestone Walker Brewing's Luponic Distortion is a series of craft beers that revolves approximately every 90 days, all of which showcase specific hops. The California brewery keeps a continuous "base beer" and alters the hops that are used with each new version of the series. The 10th and latest edition features a blend of seven hops, led by three cultivars from the Pacific Northwest, Germany and Australia. Collectively, these hops combine to present fruity aromas and flavors of mango creamsicle, peach ring and ruby grapefruit.
Alaskan SMaSH Galaxy
9.4% ABV, 86 IBU
Alaskan Brewing's take on SMaSH — single malt and single hop — is in the form of a double IPA using only Galaxy hops and Northwestern pilsner malt. The label shows a barren icy landscape in the foreground running up to the edge of a dark boreal forest, and stretched out above, in the purple sky is the colored running of the Aurora Borealis; a perfect canvas for the "SMaSH Galaxy" name. The Galaxy hops bring citrus and passionfruit nose. Under the fruitiness is a distinct and interesting herbal quality. The pilsner malt brings its signature sweet malt. That herbal nose note kicks up a couple notches on the tongue, as well as passionfruit, citrus and a little guava. Malt sweetness accompanies the romp, a honey-like character sometimes appearing, without ever tipping the balance away from the galaxy hops.
Knee Deep Hop-Trio 3XIPA
11.1% ABV, 122 IBU
Sacramento-area Knee Deep Brewing Company recently grabbed a first place medal for its Hop Trio 3xIPA at the California State Fair's most competitive commercial beer awards. The triple IPA is brewed and dry hopped with large amounts of Citra, Mosaic and Amarillo hops that deliver huge tropical fruit and citrus aromas and flavor, with a little pine. Even with all the strong flavors this triple IPA still tastes pretty boozy.
Port Brewing Hop-15 Ale
11% ABV, 182 IBU
First brewed in 2002 to celebrate the 15th Anniversary of the Pizza Port in Solana Beach, California, Port Brewing's Hop 15 was imagined and designed by Tomme Arthur and Jeff Bagby. The two brewers dumped 15 different hop varieties to the beer every 15 minutes for an award-winning double IPA with a huge hop flavor of tropical and stone fruits. Bolstered by a spicy hop finish, this Hop 15 offers orange marmalade and ripe mango with pine and pepper and resin, providing a thorough tour through Hopville without allowing any element to dominate.
---