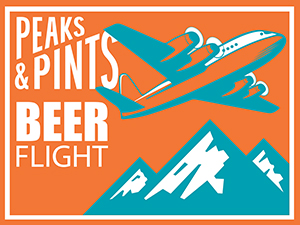 Normally condemned to rot in a mediocre ceramic bowl, the fruit cup has finally been given the respectable and stylish home it deserves — Peaks and Pints' craft beer flight. That's right, this is not your mama's fruit cup. It's more like a fruit cup on … hops. Once considered a maligned novelty, fruit is now one of the arenas where brewers experiment most, uh, fruitfully. According to archeologists, the Mesopotamians were brewing with fruit thousands of years ago. In 1999, Fruitheads became a type a drinker after they gobbled up gallons of Dogfish Heads' Aprihop, a fruit beer made with pureed apricots. So, Fruitheads, Peaks and Pints presents Craft Beer Crosscut 7.7.19: Flight of Fruit Cup during the World Cup.
Craft Beer Crosscut 7.7.19: Flight of Fruit Cup
Crooked Stave Bianca Blackberry Wild Wild Brett
6% ABV
The third in a line of collaborative beers done in partnership with Omnipollo, Crooked Stave's Bianca Blackberry Wild Wild Brett is fermented in oak foeders with lactose and blackberries from Lynden, Washington. The blackberries come off rich and jammy with only a mild tartness. The lactose adds a creaminess that rounds-out the full-flavored mouthfeel.
Boneyard Funky Bunch
6% ABV
This is a funky bunch of wild and sour flavors fermented in French oak foeders using Boneyard Beer's proprietary culture, Lactobacillus and a blend of Brettanomyces. A secondary fermentation on fresh raspberries creates a complex, yet well-rounded wild ale. The berries are there, but light. This is a surprisingly nice sour with a little pucker, wood and balanced acidity.
Breakside They've Got The Best Peaches
6.5% ABV
Breakside Brewery offers a blend of 2017 and 2018 sour ales that has a lot more going on other than just being sour. The peaches stand out, especially in how they complement the sourness by bringing more depth and complexity, rather than more tartness. The peaches have a citrus fruitiness and a touch of mustiness that melds with the earthiness of the wild fermentation process, taking a little edge off the tartness. This is even more true as the beer slowly warms.
E9 Cheri Cheri Wild Ale
8% ABV
With the new 15-barrel brewhouse now up and running, E9 Brewing's new location in Tacoma's Historic Brewery District has been brewing more award-winning farmhouse and wild ales, hop forward pales and IPAs, led by Head Brewer Shane Johns. Cheri Cheri Wild Ale is a barrel aged wild ale base beer blend, refermented on whole fruit Sweetheart and Bing cherries from Diamondback Acres in Chelan, Washington. It's tart with a light residual sweetness from the cherries.
Pelican Sea Breeze
7% ABV, 21 IBU
Pelican Brewing has released Sea Breeze Ale, the next in a cocktail-inspired line of Lone Pelican series. The limited production small batch brew takes inspiration from the original Seabreeze cocktail that marries gin, cranberry juice and grapefruit juice. To bring all the classic flavors to this atypical beer, Pelican added cranberries to the secondary fermentation and then spiced the beer with juniper berries, lemon peel and grapefruit peel. Centennial hops for dry hopping round out the grapefruit impression and create a beer with incredibly refreshing fruity, tart and citrus characteristics, coupled with the herbal gin-like notes of juniper.
---