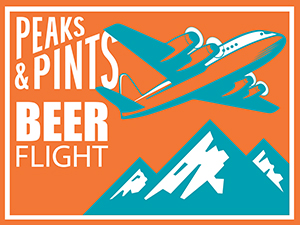 Block 15 Brewing sits heart of downtown Corvallis, only a few blocks from Oregon State University. The brewery's name hails from Corvallis' previous incarnation as Marysville and the old plat map location from the old town. Originally built in 1926 for the Gazette-Times newspaper, the original Block 15 building is blocks from both Oregon State University's campus and Corvallis' riverfront park. In early 2008, homebrewers Nick and Kristen Arzner opened the brewery and restaurant serving beers true-to-style with ingredients imported from different parts of the world, along with all the Willamette Valley produced grains, hops, fruits, herbs and yeast. The brewery built a reputation for first-rate IPAs and other hop-forward ales, rock-solid renditions of classic recipes from around the world and a dazzling variety of Belgian-style brews, including cask-conditioned specialties featuring wild yeasts and exotic flavors. Today, Peaks and Pints presents a flight of Block 15 craft beer that we call Craft Beer Crosscut 7.30.19: Flight of Block 15 Brewing.
Craft Beer Crosscut 7.30.19: Flight of Block 15 Brewing
Block 15 Summer Amusement
4.25% ABV
Block 15 and De Garde's Amusement series is a rotating seasonal project that blends friendship, technique, and beer from both breweries. Summer Amusement features a young table saison from Block 15 blended with one year old spontaneously fermented and oak aged wild ale from De Garde, producing a crisp and super refreshing blend that balances rustic and fruit-forward saison character with wild notes of lemon zest, straw, and a hint of earthy funk.
Block 15 Altbier
5% ABV
Block 15 Brewing's Northern German-style Altbier leads out with a beautiful malt profile featuring caramel, grain, and bread notes that quickly give way to a crisp and refreshing finish. Cool fermentation with a German ale yeast lends Altbier fruity and gently rustic complexity, while extended cold conditioning — much like what you find in a traditionally brewed lager — rounds out it out with a smooth, refined finish.
Block 15 Spellbound
11% ABV
Brewed with a rich blend of specialty malts, Block 15's rustic English barleywine was matured in bourbon barrels that were emptied and then used to age maple syrup. These unique barrels lend vanilla, maple, and a gentle minerality to the base beer's caramel and dried fruit character.
Block 15 Fresh Flow
6.5% ABV
Block 15 Fresh Flow is a refreshing, tropically hoppy IPA featuring fruit-forward American and New Zealand hop varietals that are balanced by a crisp malt base designed for sunny summer drinking. Brewed in cooperation with Ashland artist Chris Herbst, Fresh Flow's aroma bursts of fresh piney hops, tropical stone fruits, and citrus zest. The flavor doesn't disappoint either, with vibrant piney and resinous hops, tropical fruits, citrus zest, and just enough crisp malt backbone to provide a structure. It flows with tropical fruity goodness and citrus zest.
Block 15 The DAB Lab: Spruce Tip
6.75% ABV
Brewed with Western Oregon foraged spruce tips and a blend of six different hop varietals — including CO2 extractions, lupulin powder, and traditional hops — this entry in The DAB Lab series offers a wonderfully unique flavor profile that melds vibrant flavors of coniferous resin and fruit loops from the spruce tips with a hop profile that layers on orange marmalade, jackfruit, fresh citrus, berries, pine, and a whisper of dank herbs.
---