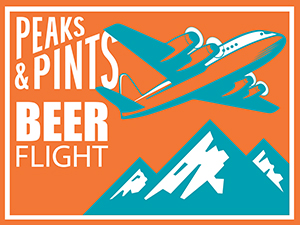 Yes, food holidays are more often than not ridiculous, but not many can argue with National Ice Cream Sundae Day. If you're one of those folks who cannot remember what you did this time last year on the holiday, you probably had a really good National Ice Cream Sundae Day last year. That's the point. Plus, it's Saturday — plenty of time to splurge on sugar before you "start your diet" on Monday. Soda fountain owner, Ed Berners of Two Rivers, Wisconsin is reputed to have invented the first ice cream sundae in 1881. Berners's customer George Hallauer requested that Berners serve him a dish of ice cream topped with the syrup used for sodas. According to a prescient Minions meme, "Stressed spelled backwards is 'desserts.'" Whatever, the world is chaotic and horrible and for whatever reason, this nonsense food holiday feels like the kind of comfort we could use right now, but in craft beer form. Indeed, Peaks and Pints celebrates the holiday in the only way we know how. Stop by the former five-and-dime soda shop store turned craft beer lodge and enjoy Craft Beer Crosscut 7.20.19: Flight of Beer Sundaes.
Craft Beer Crosscut 7.20.19: Flight of Beer Sundaes
Wells Banana Bread Beer
5.2% ABV, 18 IBU
In 2006, Charles Wells and Young's of London merged to become Wells & Young's Brewing Company and all brewing was moved to Bedford, England. In 2015, the brewery was renamed to Charles Wells. The brewery's Banana Bread Beer smells like bananas. Seriously. In fact, Banana Bread Beer not only smells like bananas, but tastes like bananas, too, and not the artificial banana of bubble gum. The flavor is nicely balanced with the hops, the banana component more a whisper than a shout. The whole thing is a little sweet, but not in a disagreeable way. Besides, every great sundae is topped with banana slices.
Wingman S'mores Porter
8% ABV
Wingman Brewers sang campfire songs as they stirred Pale, Chocolate, Victory, Black and Carafa Type 2 malts in the mash tun. As Cascade and Saaz hops boiled he tossed in an endless stream of marshmallows and Honey Maid Graham Crackers. This s'mores version of the Tacoma brewery's award-winning P-51 porter sports a tingly, medium mouthfeel, followed by roasted malt, graham cracker, cocoa and marshmallow with long chocolate finish.
Avery Vanilla Bean Stout
10.8% ABV, 29 IBU
Now a year-round release, Avery Brewing's bourbon barrel-aged blend of an imperial stout and a regular American stout flexes its decadent vanilla addition from the get-go, offering a big nose of warm, sticky vanilla, toasted coconut and a flit of whiskey. Vanilla dominates the front of the sip but gives way to smooth milk chocolate, coconut, caramelized marshmallow and hints of roast coffee, followed by coffee, dark cherry and dark chocolate lingering at the end. The barrel takes a supporting role, allowing the oak to just dry out the full swallow, leaving pleasant warmth in the throat.
Three Magnets Big Tom's Blood Orange Creamsicle
7.2% ABV
Eastside Big Tom is not just your typical drive-thru burger joint. Home of the "Goop," a delicious blend of mayo, mustard, pickle relish and secret salad dressing sauce, Eastside Big Tom is an Olympian favorite. Big Tom's also makes delicious milkshakes, which Three Magnets Brewing fully understands as the Olympia brewery created a hazy milkshake IPA series in honor of Big Tom's. July's flavor on the month is blood orange cream, and features real blood orange puree and vanilla, creating a hybrid IPA/milkshake flavor. This beer is vegan and contains no lactose sugar, but finishes full-bodied due to the use of unmalted wheat and oats in the mash, as well as an elevated mash temperature creating long chain sugars/dextrins.
Evil Twin Bozo Beer
17.2% ABV
Evil Twin Brewing brewed Bozo Beer to make fun of the kind of overkill deployed by craft brewers such as Mikkeller. They added cocoa, chocolate, coconut, cinnamon, oak chips, chili, coffee, vanilla, hazelnut, chestnut, and marshmallows to make a crazy high alcohol by volume imperial stout that he wouldn't necessarily drink, but received crazy high ratings. It pours thick and dense, hitting the nose with coffee, chocolate, marshmallow, nuts, creamy vanilla, molasses, cinnamon, chili peppers, and cinnamon. It's not a hot mess, but rather offers roastiness, marshmallow, vanilla, coffee, chocolate and molasses initially, with the almonds and hazelnuts checking in next. The cinnamon and chili peppers come in late but are understated. The alcohol warmth follows but not aggressive.
---