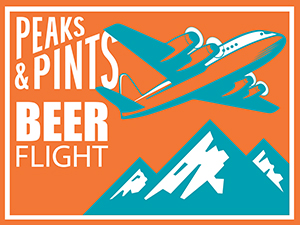 Today isn't just Sunday; it's Belgian National Day — a celebration that dates back 188 years, to July 21 1831, and the happy moment when Leopold of Saxe-Cobourg swore allegiance to the Belgian constitution, and became the first king of a newly forged European country. In Belgium, the anniversary will be marked with wild scenes and general merriment — or, at least, a few beers and maybe a walk in the park — from Antwerp to Zaventem. At Peaks and Pints, the anniversary will be marked by a Belgian beer tap takeover. In conjunction with the Belgian draft beer, we present an all-day Belgian beer flight we call Craft Beer Crosscut 7.21.19: Flight of Belgian National Day.
Craft Beer Crosscut 7.21.19: Flight of Belgian National Day
Brouwerij De Brabandere Petrus Aged Pale
7.3% ABV, 3 IBU
Petrus Aged Pale was never intended for the public. It was merely a blending beer, stored in 220 hectoliter oak foeders, used for Brouwerij De Brabandere's Oud Bruin to give it a slightly sour flavor. It wasn't until world-renowned beer expert Michael Jackson (no, not he who moonwalked) stopped by the brewery in the '90s and wanted to try the beer. Jackson convinced De Brabandere to let him take the "mother beer" back home to the United States, which he named Aged Pale. Aged in one of the 15 25,000L oak vessels in the Petrus aging cellar, this beer is brewed and then aged in the aforementioned vessels for between 20 to 30 months. We get tons of oaky tannin and subtle malt kisses up front, which eventually turns into that red apple cider vinegar punch. Finish is lightly tangy and slightly sour with some dry lemon notes and a lingering puckering dryness. Happy Belgian National Day!
Lindemans Jonge Lambik
5% ABV
Lambics, wild-fermented beers from Belgium's Senne River Valley, show complex, interesting, sour flavors. Brewers like Lindemans blend lambic batches from different years to make gueuze, and also often add fruit for beautiful balance. Lindemans has begun to package newly-fermented, unblended single-batch lambic in kegs: Jonge Lambik, which translates to "Young Lambic." It's basically a pure, rare, young, uncarbonated, unblended, unsweetened lambic. It hits the nose with oak, barnyard funk, lemon, grass, cheese must, with a finish of funky and soured yeast. Taste has some lime and more wood from the smell, plus a little lambic sweetness before the sour and funk finish. Body is a little thin, but otherwise a very authentic and nice lambic. Happy Belgian National Day!
Du Bocq Blanche de Namur
4.5% ABV, 11 IBU
In 1320, near Yvoir-Purnode, Belgium, Princess Blanche of Namur was born. Fifteen years later, her father, Count of Namur, allowed King Magnus IV of Sweden to court his daughter. They married a year later, and Princess Blanche became Queen Blanche of Sweden and Norway. In memory of her "sweetness, beauty, and delicacy," Brasserie Du Bocq dedicated their witbier to her. Blanche de Namur is made from barley malt, unmalted wheat, hops, and the classic witbier spices: coriander and bitter orange peel. It also has a touch of brewer's licorice. It's a mellow beer, thirst-quenching but smooth, with slightly acid flavor, powdery consistency on the tongue, but not bitter. Happy Belgian National Day!
Brouwerij der Trappisten van Westmalle Dubbel
7% ABV, 24 IBU
In 1836 the Belgian Westmalle monastery became a Trappist Abbey and began brewing beer shortly thereafter. The holy suds they produced started out as an insider-only deal — a choice beverage to be made and enjoyed by Trappists and Trappists alone, but eventually they decided to expand and opened up a public beer hall in the early 1930s. Westmalle Dubbel is a dark, reddish-brown Trappist beer with a secondary fermentation in the bottle. The creamy head has the fragrance of special malt and leaves an attractive lace pattern in the glass. The flavor is rich and complex, herby and fruity with a fresh-bitter finish. It is a balanced quality beer with a soft feel in the mouth and a long, dry aftertaste. Happy Belgian National Day!
Dugges/Stillwater Cocoa Cacao
11.5% ABV
Mikael Dugge Engstrom opened Dugges Bryggeri in 2005 blowing Sweden's mind with the fruitiest kettle sours and this imperial chocolate stout brewed with "gypsy" brewer Brian Strumke of Stillwater Artisanal Ales. Brewed with cacao, coconut and vanilla, it tastes like a chocolate candy bar with semi-sweet milky cocoa to the fore but with a laid back boozy finish. Happy Belgian National Day!
---