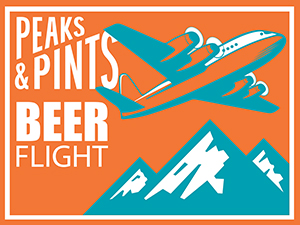 Belgians produce more than 1,100 varieties of beer, a few you can taste during Peaks and Pints' annual de Belgian Beerloo week, which kicks off today and runs through Saturday, July 20. Belgian beer is known for having quite the alcohol content. It can be pricey, but has quite the bang for the buck compared to our domestics. Each brand has their own special glass designed to accentuate the best attributes of the many types of beer. Many of the beers formulations go back hundreds of years, perfected by the Trappist Monks. In Belgium, beer is so important to the culture and lifestyle you can still get Stella Artois delivered to your home, just like the milkman! Anyhoo, Peaks and Pints celebrates all things Belgian today, including a Belgian beer flight, Craft Beer Crosscut 7.16.19: Flight of de Belgian Beerloo.
Craft Beer Crosscut 7.16.19: Flight of de Belgian Beerloo
Silly Stupid Silly Sour
5.5% ABV, 15 IBU
No Belgian brewery has embraced Americas love for pushing the boundaries more than Brasserie De Silly. The brewers thought it would be funny to see the faces of a group of Americans after sampling their pure Belgian Flanders oud bruin. They were shocked when the guests lit up with excitement. Formally used solely for the purpose of blending into their Saison and Silly Sour, Stupid Silly Sour has extreme green apple sour notes and subtle hints of brown sugar and biscuit malt.
Brouwerij der Trappisten van Westmalle Dubbel
7% ABV, 24 IBU
In 1836, the Belgian Westmalle monastery became a Trappist Abbey and began brewing beer shortly thereafter. The holy suds they produced started out as an insider-only deal — a choice beverage to be made and enjoyed by Trappists and Trappists alone, but eventually they decided to expand and opened up a public beer hall in the early 1930s. Westmalle Dubbel's creamy head has the fragrance of special malt and leaves an attractive lace pattern in the glass. The flavor is rich and complex, herby and fruity with a fresh-bitter finish. It is a balanced quality beer with a soft feel in the mouth and a long, dry aftertaste.
De Proef Brouwerij/The Bruery Tripel Honey Kriek
9.3% ABV
In 1996, highly regarded brewing engineer and professor Dirk Naudts created De Proef Brouwerij in the village of Lochristi, near the historic city of Gent, Belgium. The ultra-scientific brewery blends modern equipment and technologies with traditional brewing methods. Beers are produced on one of three brewing systems, matched to volume and desired flavor profile. It was only natural that when he finally put together his own brewery, it would be called De Proef – "the Prof" – Dirk's fond nickname. This De Proef and The Bruery collaboration Belgian tripel is brewed with sour cherries and Yucutan honey that hits the nose with grainy malt, light stone fruit, cherry, apple and clove. Tastes more kriek than tripel with tart cherry and honey flavor with mild sweetness, lemon and mixed citrus.
Van Steenberge Gulden Draak 9000 Quadruple
10.7% ABV, 25 IBU
Van Steenberge is a Belgian brewery in East Flemish Village of East Flanders, Belgium. The brewery started out in 1784 after it was founded by Jean Baptiste De Bruin. The brewery is considered to be a family brewery since its ownership and management has been passed on to several family generations after Jean Baptiste De Bruin's death. Gulden Draak 9000 pours a lovely chestnut brown, unusually light for a quadruple and is topped by the trademark towering, tan colored creamy head. It hits the nose with sweet malts, alcohol, caramel (almost burnt sugar) spicy yeast, floral notes (herbal and grassy) and crisp orchard fruits. On the tongue, expect a big caramel sweetness lead followed by biscuity, doughy malts coupled with dark fruits — though not as heavy as other quads, more berry like than dried fruits. A slight tartness from green apples and pears cut through along with just the right amount of clove spicing. Mild hops and a warming alcohol note finish things off perfectly.
Hof ten Dormaal Barrel Aged Blonde – Armagnac 2016
12% ABV
Brouwerij Hof ten Dormaal from Tildonk, Belgium opened in May of 2009. In fact, Andre Janssens and his family who bought the farmstead 30 years ago had no intention of brewing beer. Farming wasn't paying off so they added a 100-percent self-sustaining estate brewery — they grow all their own grain, grow all their own hops, cultivate their own yeast strain, and even power the brewery with rapeseed oil that they produce. The Janssens hand-sourced a broad selection of barrels previous housing fine wine and spirits from across Europe aging special blond ale and a dark ale for months. The "Barrel Aged" beers are packaged in 6x75cl cases with each beer being displayed in it's own presentation box, as you'll witness standing in front of the Peaks and Pints cooler. Hof ten Dormaal Barrel-Aged Blond Ale – Armagnac 2016 is a blonde ale aged in fresh Armagnac barrels for flavors of citrus, hops, earthy notes, cognac, ripe fruits and yeast, finishing with citrus, hops, cognac, ripe fruits and grass.
---