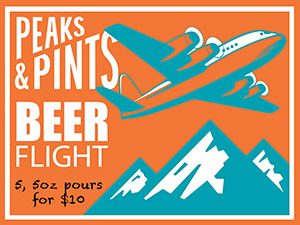 Fermentation, at its most basic, is the process by which yeast eat sugars found in wort and convert them into alcohol. There are two major places where fermentation can occur during the brewing process: in stainless steel tanks (the most common) or in wood vessels such as barrels, foeders or puncheons. Beer aged in barrels will absorb some of the various chemical compounds present in the wood, such as lactones (floral aromas and flavors), phenolic aldehydes (vanilla), and the simple sugars (caramel). When the beer is first in the barrel, it will begin to absorb very strong caramel and vanilla flavors, as well as any flavors left over from the previous beer or spirit residing in it, if any. Over time the beer will soak deep into the staves of the barrel before being pushed back out again, taking with it all of the rich flavors and compounds from the wood. Today, Peaks and Pints presents Craft Beer Crosscut 6.9.18: A Flight of Barrel Fermentation, which includes craft beer and craft cider aged in wood.
Txopinondo Sagarnoa
6%
Ascain — a commune in the Pyrénées-Atlantiques department in the Nouvelle-Aquitaine region of south-western France — is the home of master artisan cider maker Dominic Lagadec, the "Maître de Chai," of Cidrerie Txopinondo. He follows a precise method to develop his craft Sagarnoa, literally apple wine, a fermented beverage made from apples, matured on lees in oak barrels for a minimum of six months, producing a refreshingly dry and fruity taste. Note: The bottle should be shaken before opening to resuspend the natural deposit of unfiltered drinks then poured 20 inches from a flat-bottomed glass.
Firestone Walker Agrestic Ale
6.6% ABV, 30 IBU
Fittingly, Agrestic Ale begins its journey as DBA; the foundational beer first offered when Firestone Walker opened its doors in 1996.  Oak barrels along with our proprietary collection of microflora act like a chrysalis process, transforming DBA into Agrestic Ale over the course of several months. The result is a synergistic blend of beer matured in French and American oak with signature flavors and aromas: wood-derived toast, lemon pith, and rosewood swirl on the nose and palate, followed by an amazing harmony of vanilla, coconut and Earl Grey tea. Dark cherries, caramel malt and spice round out its complexity and drinkability. The finish is crisp with a mouthwatering acidity and chewy tannins.
Cascade Midnight Bramble
6.6% ABV
Fifteen years ago, Cascade Brewing and Barrel House began stuffing some fruit and bacteria into the wooden barrels left over from an oddball project in which they recreated the journey of transcontinental journey of traditional English IPAs. That experiment resulted in the birth of a kriek that was named the best in the world by the New York Times. Cascade was off and running as leader of the sour revolution. Its Midnight Bramble will delight sour beer fans with a blend of wheat and blonde ales that has been aged in oak wine barrels for up to 18 months with black and red raspberries, fresh ginger and thyme. This lengthy process results in a unique sour ale that offers carefully layered flavors of ripe bramble fruit with a refreshing ginger lift and soft notes of lavender and pine.
Bruery Terreux Oude Tart
7.7% ABV
If you haven't been following along, Bruery Terreux is The Bruery's farmhouse-style brewery where the focus is 100 percent on beers brewed with Brettanomyces yeast strains, souring bacteria such as Lactobacillus, or a bit of both. Bruery Terreux's Oude Tart is a Flemish-style red ale aged in red wine barrels. While this is one of the more classic beer styles that Bruery Terreux makes, it's not a style that you can find too often in the United States. Originating in style from the Flanders region of Belgium, near the French boarder, this dark, sour ale has roots deep in brewing history and predates most of the ales that have become popular in contemporary culture. It's pleasantly sour with hints of leather, dark fruit and toasty oak.
The Lost Abbey Cuvee de Tomme
11% ABV
The Lost Abbey's Judgment Day is a quad packed with rich Belgian character: sugary dark fruits — think cherries and raisins — splash down and seep into rich toasted bread notes and of caramel almost bordering on burnt caramel. One of the finest sour red ales outside of Belgium's Flanders region (where the style originates), Cuvee de Tomme is made by taking Judgment Day and aging it in bourbon and red wine barrels over cherries, then carefully blending the two aged versions together. The result is an award-winning brew most often seen at bottle shares, making the chance to have it on draft a must-seize moment.
---