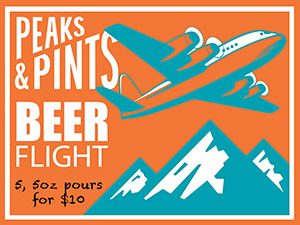 This summer marks 30 years since Californian Gary Fish set up Deschutes Brewery in downtown Bend on Bond Street, back when Bond Street was a much emptier place. Deschutes has since grown to become one of the United States' representative craft breweries, distributing from coast to coast and making Bend synonymous with beer in the minds of many. Named after the Deschutes Rover, Deschutes was Central Oregon's first brewery. Fish hired John Harris (founder of Ecliptic Brewing Co.) from McMenamins. Legislation and a growing provincialism for locally crafted beers soon turned the microbrewer of Mirror Pond Pale Ale and Black Butte Porter in obscure Bend, Oregon into a macro success, as the state's largest brewer by barrel count. Deschutes Brewery is still family and employee owned, the brewery is known for brewing a diverse line-up of award winning beers including the popular Fresh Squeezed IPA, Black Butte Porter, and Mirror Pond Pale Ale. With a second brewpub in Portland's Pearl District that has become a popular destination for craft beer lovers from around the world, Deschutes Brewery now ships beer to 29 states, the District of Columbia, and internationally from its main brewing facility located on the banks of the Deschutes River. Today, peaks and Pints offers a flight of Deschutes beer we call Craft Beer Crosscut 6.3.18: A Flight of Deschutes 30th Anniversary.
Deschutes Cultivateur Provision Saison
7.5% ABV
Deschutes Cultivateur Provision Saison, from the Bend, OR-based brewery's experimental Pub Reserve series, takes its inspiration from typical farmhouse saisons — only this take on this style is more complex from barrel-aging the ale in Pinot casks to bring forth a mix of saison, Brett and sour styles. The result? It's complex and refreshing, with rustic notes typical to the style, but with woodiness from the barrel and a sourness that doesn't overwhelm. The orangey cloud of liquid in the glass testifies that it's unfiltered, with apricot and grass on the nose, as well as a hint of hay. Expect tartness, but also a bit of spice and overripe fruit that lingers with a farmhouse funk. A lot going on, for sure.
Deschutes 2017 The Dissident
10.5% ABV, 25 IBU
With apologies to The Abyss, this oud bruin is a favorite of Deschutes' Reserve Series. The Dissident is a Flanders-style sour brown ale, sometimes referred to as an "Oud Bruin" (old brown) beer. It's an earthy beer, soured through the use of a percentage of beer brewed with wild yeast. Deschutes brews The Dissident with Oregon Montmorency cherries, and it is fermented and aged in Pinot Noir and Cabernet oak barrels for 18 months. A wonderful dark cherry aroma immediately fills the room followed by strong oak presence and spicy, earthy yeast are present behind the cherry. The Dissident has great tart cherry flavor that is complemented by notes of red wine, oak and vanilla. The use of dark Belgian candi sugar provided a bit of molasses.
Deschutes Black Butte Porter
5.2% ABV, 30 IBU
Deschutes named its porter after a stratovolcano in the Deschutes National Forest near its brewery. While there, grab a fresh pint of one of the loveliest porters in the country. The aroma bears a hint of nuttiness, followed by the unmistakable smells of rich yet soft milk chocolate. Black Butte Porter is slightly bitter in the first sip, but mellows out with a chocolate and roasted finish. As creamy and chocolaty as it should be, this is the porter all other porters strive to be.
Deschutes Oh Be Joyful Northwest Pale Ale
6.1% ABV, 58 IBU
John Harris, Deschutes' very first brewer in 1988, now leads things over at Portland's Ecliptic Brewing. For Deschutes' 30th, he contributed to Oh Be Joyful, an easy-drinking summer pale ale with 100 percent Amarillo hops — although it doesn't smack with hop flavor. It's lightly hopped with a bread malt background and slight citrus and floral hop flavors with a medium mouthfeel. Solid.
Deschutes 2017 The Abyss
11.4% ABV, 80 IBU
The 12th edition of Deschutes' The Abyss barrel-aged imperial stout made its official debut Nov. 17 in the Deschutes pubs on Bond Street and Portland's Pearl District. It was eventually shipped across the nation, including peaks and Pints in Tacoma's Proctor District. As always, The Abyss is actually a mixture of several stouts. It's brewed with black strap molasses and licorice, with vanilla beans and cherry bark added. Half of the results are then barrel-aged — 21 percent in oak bourbon barrels, 21 percent in oak wine barrels, and the remainder in brand-new Oregon oak barrels — and the mix is what's provided in the wax-topped bombers. The 2017 imperial stout contains flavors of chocolate, licorice, coffee, molasses, vanilla, cherries and wood — all in perfect balance.
---