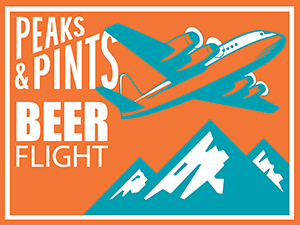 In July 2019, Two Beers Brewing and Seattle Cider Co. are sending eight of their staff to Mount Rainier's summit in order to raise money for Washington's National Park Fund, or WNPF, the official philanthropic partner of Mount Rainier, North Cascades and Olympic National Parks. The funds raised by WNPF help fund 50-75 projects annually in these parks, which the staffs at Two Beers and Seattle Cider visit, climb and bike monthly, if not weekly. Peaks and Pints will host a fundraiser for that WNPF Climb For A Cause team at 6 p.m. tonight. In addition to games, raffle prizes, beer and cider, Peaks and Pints will donate all proceeds from a flight of Two Beers and Seattle Cider on tap all day — a flight we call Craft Beer Crosscut 6.6.19: Flight of Climb For A Cause.
Craft Beer Crosscut 6.6.19: Flight of Climb For A Cause
Seattle Cider Pineapple Agave
6.5% ABV
Joel VandenBrink, the founder of Two Beers Brewing Co., launched the Seattle Cider Company in August 2013, with the help from his Two Beers sales rep and a former farm hand Eric Willard. Diagnosed with Crohn's disease, which makes beer difficult to digest, VandenBrink launched the cider company with only two products: Semi Sweet and Dry. Today, Seattle Cider has many options, including Pineapple Agave. Ripe and juicy pineapple aroma, soft tartness, and subtle tropical sweetness lead to a clean finish in this perfect vacation sipper.
Seattle Lavender Lemon Cider
6.9% ABV
If you enjoy breathtaking visions whilst meditating, hear chimes, "see" beautiful golden light radiating from your 8th chakra and feel all calm and still and at peace, well, that's wonderful. But that's not enlightenment. If you enjoy lavender blooms on the nose, and notes of lemon curd, lime-candy, and citrus blossom, that's Seattle Cider's Lavender Lemon. Seattle Lavender Lemon cider is enlightenment.
Two Beers A Good Time, Not A Long Time
6.4% ABV, 24 IBU
When a hazy IPA contains Citra, Mosaic, and Amarillo hops, you know it's here for a good time, not a long time. This Two Beers Small Batch Series New England Style IPA hits the nose with all the citrus, plus tropical fruit and pine. The taste follows the nose with strong citrus, some melon and pineapple, plus moderately bitter.
Two Beers Field Day IPA
6.6% ABV, 57 IBU
Think back on your Field Day events from your school days. What do you remember? Many of you will remember how much fun you had, the games you played, and spending time with your classmates. Field Day is a great chance for students to let loose, get active, and have a good time. And at the end of the day, it is all about creating a memorable experience. That's what Two Beers holds dear with their Field Day IPA. The Seattle brewery hopes adults plan a day for three-legged races, egg tosses and running races with a post celebration centered on their easy-drinking West Coast IPA, Field Day. It pours a hazy sunshine yellow with a small white head and decent lacing. It hits the nose with citrus, caramel, hops, and tropical fruits that finishes with quenching notes of mandarin and tangerine.
Two Beers Wonderland Trail IPA
7.1% ABV, 84 IBU
Two Beers Brewing and Seattle Cider Co. owner VandenBrink hiked the 93-mile Wonderland Trail circumnavigating Mount Rainier solo. He dreamed of above 80 International Bitterness Units while hiking through Mystic Camp at 5,570 feet. He believed he could push an IPA close to the alcohol by volume mark of a double IPA as he trudged along the South Mowich River. He drew inspiration mixing strong citrus flavor hops with hops boasting earthy, pine characteristics while traversing along a ridge to Devil's Dream Camp. Wonderland Trail IPA is the product of nearly two years of recipe development. Featuring a seamless blend of Washington-grown hops, this flavorful Northwest-style IPA is brewed with Cascade, Amarillo, Mosaic and Legacy hops, then dry hopped with Citra and Mosaic hops, complemented by 2-Row, Vienna and Munich malts. On the nose, a slightly sweet aroma of tangerine is followed by a wave of citrus and passion fruit on the palate, finishing clean and refreshing.
---