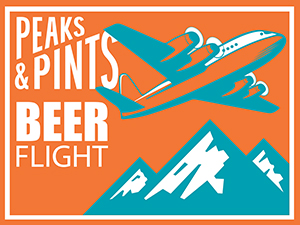 It would be hard to determine what Tacoma tastes like. For starters, where would one sample the soil most indicative of the City of Destiny? Commerce Street? Or would the most-telling turf be found at higher elevations like Hilltop? And what would that flavor be like? You can be sure the topsoil would smack of scandal — but it would probably also taste a bit like Heidelberg. Deeper down, there would be traces of Puyallup Tribe intermingled with a Swedish loggers, Civil War veterans and a salty prospector tang. Then there'd be all that fossilized dinosaur crap to contend. When you think about it, Tacoma would probably taste interesting. Fortunately, Tacoma breweries do the thinking for us, presenting a more palatable, if not down right delicious taste. Drop by Peaks and Pints today and taste Tacoma in what we call Craft Beer Crosscut 6.21.19: Tacoma Tastes. Sure beats eating dirt.
Craft Beer Crosscut 6.21.19: Tacoma Tastes
Wingman Stratofortress
11.4% ABV, 15 IBU
Anxious to start a business venture in the growing craft beer industry, homebrewer Ken Thoburn didn't have to look far for inspiration for his brand, Wingman Brewers. With a grandfather who painted various nose art designs on a variety of World War II airplanes, Thoburn fell in love with the 1930-40s-era vintage military theme. Combine that with an area that has a large saturation of active-duty and retired Air Force and military members and Tacoma's Wingman Brewers was born. Head Brewer Thoburn, including Derrick Moyer and Daniel Heath, started Wingman Brewers in April 2011, brewing beer to sell to local bars, restaurants and grocery stores out of a small storefront in Tacoma. Wingman Brewers took off in a big way, with a constant eye on their vintage military theme. Their Stratofortress Belgian strong dark ale is brewed with black, pilsner, special B, caramel, and carafax malts before aged on cedar planks soaked in dark rum. The first thing that will strike you about this beer is the spicy cedar nose. Notes of figs, dark fruit, cherry, dark but not roasted malts, and some light spice will delight you before the rich Belgian spiciness coats your tongue. The lingering aromas and flavors of cedar and rum stick with you until a tart cherry and ripe fruit finish.
E9 Puyallup Pride
6% ABV
Originally built in 1907, Engine House No. 9, or E9 to locals, doused fires via horse-drawn service. The ground floor was the stable; the second floor the living quarters for the firemen. Engine House No. 9 doused fires until the mid-1960s. In 1965, two News Tribune employees saved the abandoned building and by the early '70s the Engine House No. 9 tavern was pouring beer. In 1995, Dusty Trail converted the early 20th century firehouse into a brewpub, and brought back the Tacoma Brew, the famous Tacoma lager of 1888. Dick Dickens grabbed the reins in 2002, bringing in head brewer Doug Tiede. Heads turned and medals were hung. In 2011, X Group purchased Engine House No. 9, with former chef turned head brewer Shane Johns and brewer Donovan Stewart eventually breaking the brewery off from the restaurant with the new name, E9 Brewing Co. Earlier this year, E9 moved its entire brewery across town to a massive space in Tacoma's Brewery District. E9's Puyallup Pride is an American wild ale brewed with Puyallup-grown blackberries and nectarberries for a tart, jammy sour with a dry finish.
7 Seas 2019 Sour Raspberry Blend
6.1% ABV
Founders Mike Runion and Travis Guterson opened 7 Seas Brewing in 2008, but a fire in January 2009 at the original downtown Gig Harbor address meant the two young beer makers and co-owners had to relocate. Popularity and growth forced them to move to a larger location back in downtown Gig Harbor. 7 Seas Brewing Co. now occupies the 11,000 sq. ft. former QFC grocery store with an 8,600 sq. ft. production facility and 2,400 sq. ft. taproom with long tables and outdoor seating in Gig Harbor AND an 80,000-square-foot expansive taproom, marketplace and production facility with 10,000 sq. ft. basement for barrel program in downtown Tacoma at a site that once held part of the Heidelberg Brewery. Along the way Guterson and Runion managed to be the first brewery in Washington to can craft beer, won "Best Brewery in the South Sound" nine years running by readers of South Sound Magazine and "Best Brewery in Tacoma" by the Weekly Volcano. Today, Peaks and Pints pours their 2019 Sour Raspberry Blend — a blend of sour raspberry blond and Flanders style red, both aged in oak barrels, which grabbed a bronze medal; at this year's Washington Beer Awards. Expect flavors of fruit leather, mild oak, and a pleasantly sour finish.
Narrows Waffles Breakfast Stout
9% ABV, 30 IBU
Narrows Brewing opens its doors in the summer of 2013, perched on pilings above Narrows waterway. Joe Walts, a quality control manager at Ale Asylum Brewing in Madison, Wisconsin, landed the head brewer job. Walts is back at Ale Asylum, but there isn't a better head brewer to continue wrangling Narrows than Matt Rhodes, who comes from the greater Los Angeles beer industry. Happily, waffles are a thing in the Proctor District — thanks to neighbors Waffle Stop. Last June, the house of waffles introduces its Waffles Breakfast Stout, an imperial stout brewed with Waffle Stop's Pearl Sugar Waffles, Valhalla Coffee's Viking Blend and real Vermont maple syrup brewed at Narrows Brewing Company. Waffles returns a year later with all the same characters and flavors of maple, coffee and chocolate.
Odd Otter Tears Of A Clown Vanilla Stout
5% ABV, 32 IBU
Five owners — three with ties to the military, two accomplished homebrewers — opened Odd Otter Brewing Co. in downtown Tacoma during the summer of 2014. There's been a few changes over the years, including Greer Hubbard grabbing the helm in the brewhouse. Hubbard's Tears Of A Clown Vanilla Stout leans toward a dry English stout with a good balance between silky vanilla and malt flavor.
Tacoma Capo Blood Orange IPA
7% ABV, 55 IBU
Morgan Alexander brewed beer in high school. He used Baker's yeast and apple juice, which Alexander says was horrible. He kept the lab coat on, home brewing with unusual ingredients for years before converting his beloved Tacoma Triangle District Amocat Cafe into Tacoma Brewing Company, a tiny taproom that he eventually abandoned for a ginormous space up the street. Capo Blood Orange IPA is full of citrus hops Simcoe, Citra, and Amarillo, which compliment the natural blood orange. The beer is a beautiful red orange and it drinks dry to medium dry.
Pacific Brewing Prairie Line IPA
6% ABV, 70 IBU
You can't ignore Pacific Brewing & Malting Co.'s history. Erected in downtown Tacoma in 1897, it grew to be one of the largest breweries in the Northwest. The Pacific Beer brand was hugely popular along the entire West Coast. Success was cut short by statewide Prohibition in 1916 and Pacific Brewing closed its doors shortly thereafter. Nearly 100 years later, Pacific Brewing re-opened in downtown Tacoma in the fall of 2014. Backing up to 1864, President Lincoln signed legislation that chartered the Northern Pacific Railroad to connect the Great Lakes to the Puget Sound. Lines of the Northern Pacific included the Prairie Line, a stretch of track that served Pacific Brewing & Malting Co. It makes sense modern day Pacific Brewing & Malting Co. brew a Prairie Line IPA. With Citra and Mosaic hops pushing the aroma and taste of tropical and citrus fruits including tangerine, mango and melon, Prairie Line is a light-bodied and very drinkable India Pale Ale.
---