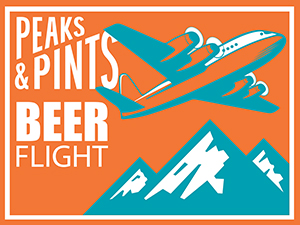 It's summertime! With this sun-dappled season sending spring showers skulking off into the upper reaches of the stratosphere, Peaks and Pints sees more folks into pilsners, craft lagers, radlers and low-calorie options. And, almost every style under the sun is being infused with exotic flavorings such as lingonberry saisons and Italian plum goses. Phooey! Breweries are still cranking out beautiful India Pale Ales at record levels. Remember this is America, and in America, everyday is IPA day, from Brut to Brett, clear to cloudy, fruit-forward to double-dry-hopped. Therefore, Peaks and Pints presents a flight of new IPAs that we call Craft Beer Crosscut 6.22.19: Flight of Summer 2019 IPAs.
Craft Beer Crosscut 6.22.19: Flight of Summer 2019 IPAs
Pike King of Cascadia
6.2% ABV, 26 IBU
Featuring local Centennial, Cascade, and Chinook hops from Yakima and Skagit Valley Pilsner malt, Pike Brewing's King of Cascadia is low on bitterness and big on hop flavor. Piney, floral, earthy notes compliment a light malt backbone, making this a food-friendly summertime IPA. A collaborative partnership between Pike and local co-op PCC Community Markets, Pike King of Cascadia supports the Seattle brewery's mutual nonprofit partner, Long Live the Kings, whose efforts help restore wild salmon and support sustainable fishing in the PNW.
Ninkasi Dry Skies IPA
6.8% ABV, 35 IBU
Brut IPAs are the beer market's correction against the all-flavor, no-bitter, Orange Julius-style of IPA. They're brewed with an enzyme called amyloglucosidase to break down starches into fermentable simple sugars otherwise not normally consumed by beer yeast. The result is a bone-dry beer with no residual sweetness. Ninkasi Brewing's Dry Skies IPA is a brut brewed with Crystal, Azacca, Citra, Chinook, and Simcoe, then dry hopped with Citra and Huell Melon for a crisp and light IPA with a spark of citrus.
Iron Horse Lupulin Line Hazy IPA Batch 6233
6.3% ABV, 45 IBU
Centrally located in Ellensburg, Iron Horse Brewery is owned by father-son team Gary and Greg Parker. The brewery has been producing handcrafted ales since 2004, including the über popular Quilter's Irish Death. The Eastern Washington brewery recently released version #2 of its Lupulin Line Hazy IPA series brewed with Columbus, Comet, Citra and Cascade hops. Against a background of flaked oats, Simpson Golden Naked Oats, wheat malt and Briess Malting Carapils, the hops mango, citrus and grass with restrained bitterness and subtle sweetness.
Georgetown You'll Get Nothing And Like It
6.6% ABV
Do you remember the character Spaulding from the film Caddyshack? He's the pathetically awkward rich kid whose grandfather is the president of the country club where the movie is set. You might recall a notable scene that unfolds at the club's snack bar, where Spaulding places a famously indulgent lunch order that has become one of the most recited bits in modern comedy: "I want a hamburger. No, a cheeseburger. I want a hot dog, I want a milkshake, I want potato chips …" His sanctimonious grandfather cuts him off, snapping, "You'll get nothing and like it!" Georgetown Brewing brewed an IPA in the name of this overweight, indolent, poorly groomed teenage boy wearing preppy clothes. You'll Get Nothing And Like It is a pale golden IPA with minimal bitterness, packed with aromas and flavors of pineapple, strawberry, ripened citrus and pine.
Narrows Marble Rye Hazy IPA
6.6% ABV, 60 IBU
When George's parents and Susan's parents meet for the first time, they clash. Mr. Costanza has brought a marble rye bread, and at the end of the party, takes it back. The Costanzas live by their own rules, and messing with Mr. Costanza is always a bad idea. After this fiasco, Jerry is given the task of finding a marble rye for George to replace the other one. He ends up stealing a marble rye from a woman he calls an "old bag." Good times. Peaks and Pints isn't sure if Narrows Brewing stole the loaf of marble rye they threw into their Marble Rye Hazy IPA, but this IPA they brewed with Airways Brewing is marvelous. Inspired by said marble rye incident on Seinfeld, The two breweries also used malted rye in the mash and hopped it with tons of Mosaic and Chinook to create a fruity and floral, creamy and vibrant, rye IPA.
---