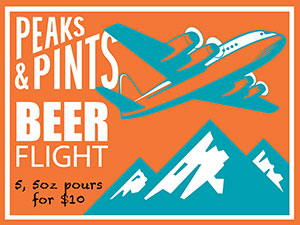 Founded on St. Patrick's Day 2007, Double Mountain Brewery has a clear mission: "Make great beer for craft beer fans."  Ever since then owner Matt Swihart (when not playing guitar in his band GreenNeck Daredevils) has worked hard to meet this mission, focusing on uncompromising beer quality, with ingredients such as two-row pilsner malts from British Columbia, Belgian yeast strains, fruit from Hood River orchards and Northwest hops. Famed for both their hoppy and sour fruit beers such as IRA, Vaporizer and Devil's Kriek as well as the brewpub in downtown Hood River's awesome pizza, family friendly atmosphere and live music, Double Mountain has become a top Oregon destination. Today, Peaks and Pints will be a top Tacoma destination as we're hosting a Double Mountain beer flight we call Craft Beer Crosscut 6.15.18: A Flight of Double Mountain Brewery.
Double Mountain Hop Lion IPA
6.7% ABV, 65 IBU
"Tropic resin, tangerine / Petrichor and evergreen / Fill your chalice, fill it wide / Then pass it upon the left hand side" — so states Double Mountain Hop Lion hype. Hmmm … Matt Swihart is a music freak, Hop Lion's bottle sports Jamaican colors and "left hand side" … could it be a nod to British Jamaican reggae band Musical Youth? Whatever. This IPA is delicious with bitter, citrus peel like aroma and gritty, malty, earthy and tangerine flavors, mon.
Double Mountain Sweet Jane
7.4% ABV, 85 IBU
Recorded in 1970 at Atlantic Studios at Broadway and 60th Street in New York City, "Sweet Jane" appeared on Loaded, the Velvet Underground's fourth album, and first for Atlantic Records. One of the best songs rock and roll has produced about itself, "Sweet Jane" rolls up several of Reed's great themes: how mutable sexuality is and how strong love can be. Speaking of "Sweet Jane" and love, Double Mountain Brewmaster Matt Swihart has said, "This beer is inspired by one of my rock heroes, feel like I'm standing on a corner with beer in my hand, God I love this song." Swihart's reference to "this beer" is his own Sweet Jane IPA, a well-balanced Northwest IPA with strong malts in harmony with tropical fruits and piney hops. Drop by for a taster of Sweet Jane, Sweet Jane, Sweet Jane.
Double Mountain Eleven
13.2% ABV, 85 IBU
Double Mountain celebrated its 11th anniversary this past March. To mark the occasion it released a special barrel aged beer, Eleven, a bourbon barrel aged barleywine. "This is a beer to thank everyone for eleven wonderful and flavorful years," stated brewmaster/owner Matt Swihart in pre-release hype. "Cheers to all our beer fans everywhere. Let's keep it rolling." The 13.2 percent ABV barleywine has been aged in Heaven Hills bourbon barrels for the better part of a year.  Rich caramel, date, and vanilla give way to a mouth full of ripe fruit, molasses and treacle.
Double Mountain Pale Death
9.5% ABV, 93 IBU
"And I heard a voice in the midst of the four beasts, and I looked to behold a Pale horse, and the name that set on him was Death, and Hell followed him" — Revelations, Ch. 6. Giddy-up! This Belgian imperial IPA smells like ripe kiwi, mango and pineapple consort with the coriander and orange peel of the Ardennes yeast. It kicks with noticeable bitterness that hangs in balance with a hint of malt sweetness hiding in the vast, pale orange foundation. And yet, it finishes dry for a beer of this formidable stature.
Double Mountain No Collusion
10.4% ABV, 100 IBU
In 2014, Russian imperial stout drinking Russians at the Internet Research Agency started gathering American followers in online groups focused on issues like religion and immigration. Around mid-2015, said Russian imperial stout drinking Russians began buying digital ads to spread their messages. A year later, they tapped their followers to help organize political rallies across the United States. February 2018, the Justice Department charges 13 Russians and three companies for executing a scheme to subvert the 2016 election and support Donald J. Trump's presidential campaign. In a 37-page indictment, officials detailed how the Russians repeatedly turned to Facebook, Instagram and Russian imperial stouts, often using stolen identities to pose as Americans, to sow discord among the electorate by creating Facebook groups, distributing divisive ads and posting images of Russian imperial stout bottles. Double Mountain brewed a Russian imperial stout to mock the ridiculousness, releasing it during its 11th anniversary this past March. It interrogates the nose with chocolate, roasted malts, brown sugar and hints of coffee. On the tongue, expect notes of brown sugar, chocolate, coffee and roasted malts.
---