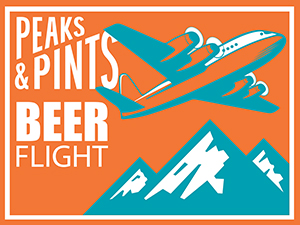 We know what some of you are thinking. Beer for breakfast? Who does that? But the true advocate of craft beer knows there is nothing quite like waking up, making scrambled eggs and bacon and cracking open 22 ounces of your favorite brew. In an effort to repeat the magic of the day's first meal, some genius breweries have injected quintessential breakfast flavors into their beers. Who are we to judge? After all, our "breakfast" beers sit comfortably next to eggs and orange juice in our cooler. In that context, the beer seemed right at home. Enjoy our Craft Beer Crosscut 6.13.19: Flight of All Day Breakfast.
Craft Beer Crosscut 6.13.19: Flight of All Day Breakfast
Cascade 2017 Brunch Line
9.6% ABV
In Portland, brunch lines are as much an institution as brunch itself, so Cascade Brewing made a beer dedicated to the rain-soaked hordes of brunch-goers who patiently stand in line for their weekend fare. Inspired by the mimosa cocktail, Brunch Line features sour wheat and blond ales aged in white wine barrels for up to two years with Willamette Valley-grown Chardonnay grapes, then infused with fresh orange zest. It's a delicious breakfast of orange, tart, vanilla, and meadow.
Narrows Waffles Breakfast Stout
9% ABV, 30 IBU
When Peaks and Pints opened Nov. 1, 2016 in Tacoma's Proctor District, waffles were almost on the menu, if co-owner Ron Swarner had his way. It didn't happen. Happily, waffles are a thing in the Proctor District — thanks to neighbors Waffle Stop. Last June, the house of waffles introduces its Waffles Breakfast Stout, an imperial stout brewed with Waffle Stop's Pearl Sugar Waffles, Valhalla Coffee's Viking Blend and real Vermont maple syrup brewed at Narrows Brewing Company. Waffles returns a year later with all the same characters and flavors of maple, coffee and chocolate.
Skookum Barrel Aged Breakfast Stout
11% ABV, 50 IBU
Breakfast stouts didn't receive their name because it is an essential part of a balanced breakfast, but rather it is made from brewed coffees and flaked oats, which themselves are classic breakfast elements. Skookum Brewery brewed an oatmeal milk stout with maple syrup, aged it in bourbon barrels and finished it on Camano island coffee beans and whole vanilla. Sweet malt hits the nose with a fair amount of barrel notes ending with a pleasant coffee aspect. The flavor leans toward sweet coffee with a moderate barrel influence — think brown cow cocktail. It finishes with a mild boozy character.
Evil Twin Imperial Doughnut Break
11.5% ABV, 70 IBU
Once you've started the day with a few hot glazed, you're probably not going to be getting much work done anyhow. Might as well start drinking, huh? A twist on Evil Twin's popular Imperial Biscotti Break, an imperial stout brewed with coffee beans, Imperial Doughnut Break imperial porter is made with almonds and bags full of glazed doughnuts dumped into the boil. It's the sort of beer that gives Jeppe his reputation and it was completely delicious. A dark espresso color with slight red notes, we detected marzipan and oxidized coffee on the nose. Appropriately, the brew smells similar to a doughnut shop — a good sign! The mouthfeel is unique — it feels like our mouth is coated with doughnut glazing and the beer tastes like a doughnut.
21st Amendment Toaster Pastry
7.6% ABV, 74 IBU
When 21st Amendment upgraded to a bigger facility in 2015, the San Francisco-based brewery produced as a tribute to the building's former life as a Kellogg's factory. Unlike a sweet frosted Pop Tart, though, this award-winning India-style red ale is a subtle whisper of the sugary childhood classic, made with both biscuit and dark crystal malts for nostalgia-inducing hints of toaster pastry. Calypso and other experimental hops give this ruby ale a berry-citrus notes that meld nicely with the toasted breadiness from the malts, underlined by caramel, pine, and resin.
---