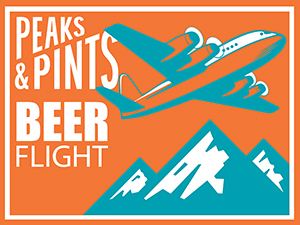 After working for a company building farms in developing countries and then earning a master's degree in environmental policy, Brian Dunn was flying to interview with an agribusiness company when he decided to scrap those plans and open a brewery instead. He grabbed a loan from the city of Denver to open up in what was then a desolate Ballpark neighborhood, and he would begin brewing at 3 a.m. before heading out to peddle his new product to local liquor stores and bars. The year was 1994. The product was Great Divide Brewing Co. That one-man operation grew as American drinkers expanded their palates in the late 1990s and early 2000s and began to flock to Great Divide's big beers, from its Yeti Imperial Stout series to its hoppy monsters like Titan IPA and Hercules Double IPA. Today, Peaks and Pints offers a sampler flight of the brewery in what we call Craft Beer Crosscut 5.7.19: A Flight of Great Divide Beer.
Craft Beer Crosscut 5.7.19: A Flight of Great Divide Beer
Great Divide Roadie Grapefruit Radler
4% ABV, 16 IBU
Maybe you don't like radlers (a blend of fruit juice/soda and beer). That's cool. No harm, no foul. But if you're looking for one radler to try, give Great Divide's Roadie Grapefruit Radler a shot. Rolling down the canning line is a beer created for a cruise down the bike trail. The Roadie Grapefruit Radler is a combination of two of Great Divide's passions — beer and the cycling community. Inspired by the annual BoulDurango, where some of Colorado's most tenured brewers join up for a 400-plus mile ride, it's brewed with natural grapefruit puree. This easy-drinking ale pours a hazy sunrise gold, bursts with citrus aroma, dry and slightly tart and is a seriously refreshing beer that comes in at a miniscule 4 percent ABV.
Great Divide Wood Werks Barrel Series #4: Saison
9.2% ABV
Great Divide began barrel-aging beers around 2004 with very small releases and nearly all barrels coming from Stranahan's Whiskey. In 2008 the program grew to three releases a year with Barrel Aged Yeti, Barrel Aged Old Ruffian and Barrel Aged Hibernation. All three of these beers were released as part of Great Divide's original barrel aging program until 2018 when the brewery introduced Wood Werks, a new lineup of limited edition barrel aged and sour beers. For this release in the Wood Werks series, they brewed a spicy saison with spelt and rye before aging the beer in Merlot and Cabernet Sauvignon barrels for 10 months, which will round out the overall character of the beer. The result is a bready, earthy, and spicy saison with a smooth mouthfeel, a hint of vinous character and a splash of color from the wine.
Great Divide Wood Werks Barrel Series #3: Imperial Rye Brown
12.6% ABV
Great Divide Wood Werks Barrel Series #3: Imperial Rye Brown is aged in 10-year rye whiskey barrels for more than 13 months with copious amount of malted and flaked rye. The taste begins with sweet caramel, toffee and chocolate malt flavors as well as having a rich, full body and smooth, decadent mouthfeel. It finishes smooth with earthy rye, whiskey, vanilla and oak flavors as well as a little bit of warming booze that lingers on the palate after each sip.
Great Divide Hop Disciples
6.2% ABV
Every year, Hop Disciples, the brewery's Rotating Hop Project series, takes a bright, clean IPA and puts a different hop variety at the forefront of the sensory experience. The 2019 release features Callista, hitting the nose with spices, slight pine resin, mild fruit tones, grass and dank, all from the hops. The taste is mild toasted malts, spice tones, earth, dankness and mild grass with a mild finishing bitterness.
Great Divide Yeti Imperial Stout
9.5% ABV, 75 IBU
Russian imperial stouts take everything that stouts are known for and scale them up to monster size. Fittingly, Great Divide named their version a monstrous name. Yeti lives up to the billing with a huge malty body packing in 9.5 percent alcohol and big flavors to match it. This Yeti pours an almost viscous, inky-black. The nose is boozy upfront with a lingering roasty, vanilla essence. Yeti opens with a massive, roasty, chocolate, coffee malt flavor that eventually gives way to rich toffee and burnt caramel notes. Packed with an enormous quantity of American hops, Yeti's hop profile reveals a slightly citrusy, piney and wonderfully dry hoppy finish.
LINK: Donate to American Lung Association's Climb For Clean Air program and send Peaks and Pints co-owner Pappi Swarner to the top of Mt. Rainier
---