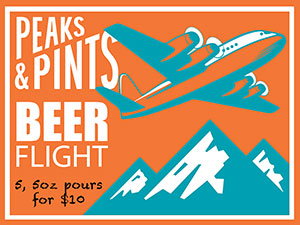 "Cinco de Mayo," Spanish for "the sink is full of mayonnaise." OK, not really. We made that up, which is only fitting, because the idea that May 5 is a big holiday celebrated throughout Mexico is also made up. This yarn was spun by some PR hack for Corona beer back in the '80s, when the company was looking for a way to get Americans to drink more beer. Since this is not an especially hard task, they didn't work especially hard on the idea, not even hard enough to note that Mexico's real Day of Independence is Sept. 16. Cinco de Mayo commemorates The Battle of Puebla, where Mexicans defeated the French army, and in Mexico is mostly a regional holiday. Holy mole! Why celebrate the fake holiday by drinking tasteless beer? It's the perfect opportunity to drink Mexican inspired craft beer. We offer four such beers in our Craft Beer Crosscut 5.5.18: A Flight of Cinco de Mayo.
Modelo Especial Mexican Lager
4.5% ABV, 18 IBU
Grupo Modelo calls their Modelo Especial Mexican Lager a pilsner, though Ratebeer states it is a pale lager and BeerAdvocate has dubbed it an American adjunct lager. Lo que sea. The pale sibling of dark lager Negra Modelo is the third-best-selling import in the US (behind Heineken and Corona Extra). And it's the unsung champion of Mexican beers, especially in Mexico, where it's more popular than Corona and on equal footing with Dos Equis. It's the workhorse of the Mexican beer industry. Expect a light nose of almost nothing at all leads into a light palate, faintly sweet, with some corn flavor to the malt.
Ecliptic Espacio Mexican-Style Lager with Lime Zest
4.8% ABV, 20 IBU
Originally brewed for the 2017 Oregon Brewers Festival, Espacio Mexican-Style Lager with Lime Zest is making its return as an official part of the Ecliptic Brewing Seasonal Series line-up. Fresh lime zest adds a citrusy tartness to this beer, brewed from pale, Vienna and pilsner malt. Hops go into the kettle and whirlpool to give it balancing bitterness and hop flavor and a few weeks of cold lagering give it a smooth, crisp profile.
Reuben's Mexican Lager
4.8%
Modern Mexican lagers find their origin in the late 19th century when German and Austrian immigrants began brewing the beers of their homeland in Mexico. When Austria's Maximilian I declared himself emperor of Mexico in 1864, he brought his nation's newly beloved Vienna lager with him. The beer proved more popular in Mexico than Maximilian, who was executed just a few years later. The Vienna lager became the dominant beer in Mexico entering the 20th century. From the moment you shove your nose in a pour of Reuben's Brews' Mexican Lager, you're immediately greeted with all the notes you'd expect from a traditional Mexican beer — grain husks, dried maize and a strong whiff of sulfur. This lager is crisp with light malt notes, slight corn sweetness and, of course, low bitterness.
Chuckanut Mexican Style Lager
4.3% ABV, 17 IBU
Chuckanut Brewery and Kitchen brewed its Mexican Style Lager for Tom Douglas Restaurants, which serves the beer at two of its restaurants: Brave Horse Tavern and Cantina Leña. The maltsters at Skagit Valley Malting Company created a specially malted batch of its popular Alba barley for this beer, giving it a lighter color and body, along with the lower ABV you would expect in a Mexican-style lager. Expect light sweet honey and grain notes with a touch of bitterness.
Wet Coast Costa Humeda Mexican Lager
4.9% ABV, 22 IBU
The Viennese lager is widely regarded as an original lager style. The beer shared its name with the Austrian city where brewer Anton Dreher first brewed it with an isolated lager yeast, revolutionary for its time. The combination of the new lager yeast and the invention of high-temperature-controlled malting yielded a reddish beer, from the Vienna malt that was clean tasting due to the yeast. Wet Coast's Costa Humeda Mexican Lager brings Vienna, Pilsner and Chocolate malts together with just a touch of flaked corn to create an easy drinking Lager that is full of character. Expect notes of sweet malt and chocolate.
---