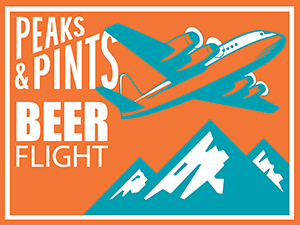 The beer scene in Portland, Oregon, or Beervana to craft beer enthusiasts, began in 1984 when BridgePort Brewing first started making beer and Widmer Brothers quickly followed suit. Portland's first brewpub came in 1985, when the McMenamins brothers decided to try making beer at one of their bars, the Hillsdale Brewery and Public House. In the years that followed, Portland became a national craft-beer haven. Peaks and Pints has acquired new craft beer from several Portland breweries. Today, we'll highlight five of those beer in a beer flight we call Craft Beer Crosscut 5.28.19: A Flight of Portland Oregon.
Craft Beer Crosscut 5.28.19: A Flight of Portland Oregon
Upright Barrel-Aged Witbier
4.5% ABV
In early 2009, Alex Ganum opened Upright Brewing in North Portland's Leftbank building. The 10-barrel brewery focuses on open fermentation and traditional French brewing values. Their Barrel Aged Wit was brewed last summer with 100 percent Skagit Valley malt with traditional spicing of coriander and bitter orange supplemented by calendula flowers. The wit then spent several months in old pinot barrels with Baird Family Orchard apricots before being blended just in time for the brewery's 10th anniversary.
Culmination Native Oregonism
7.95% ABV
In 1994, Tomas and April Sluiter left their bakery jobs in Grand Rapids, Michigan, and hit the road. In the summer of 2000, they discovered Portland, Oregon. In January 2017, seven years after Tomas left Old Market Pub brewery and almost two years after attempting to open his brewery in Portland's Goose Hollow neighborhood, he and April opened Culmination Brewing in Northeast Portland's Bindery Annex building. Native Oregonism celebrates all Oregon has to offer by using malt from Mecca Grade Estate, hops from Goschie Farms, water from the Bull Run Watershed, Oregon wildflower honey and yeast, bacteria, and aromatic botanicals from the mountain wild of Central Oregon. This is what beer might taste like if Flanders was actually 4,700 feet in the High Cascades. A wild ale brewed with The Ale Apothecary, Culmination Brewing's Native Oregonism is brewed with fir, ponderosa, and spruce in the mix to rave reviews.
Hair of the Dog Blue Dot
7% ABV
In 1988, Alan Sprints left Culver City, California to attend The Western Culinary Institute in Portland, Oregon. He witnessed first year of the Oregon Brewers Festival, which sparked his imagination about brewing and connected him with the Oregon Brew Crew, one of the oldest homebrew clubs in the country. He went on to be the president of the club. He opened Hair of the Dog in 1993. Hair of the Dog's Blue Dot is an IPA named after planet Earth with organic Pilsner malt, rye malt and a combo of intense hops. Somewhat pungent in the nose with tons of herbal, floral, citrus grapefruit, raw honey and fresh mint the Blue Dot is a full-bodied, smooth and creamy IPA. Then the hops come to play with a raw leafy coarseness and big smack of grapefruit, ripe pineapple and some sticky resins on the palate followed by malt sweetness, a touch of honey, some spicy character unique capped with the addition of rye.
Baerlic All Seeing IPA
7.3% ABV
Bike mechanic and hobby brewer Rik Hall opened Baerlic Brewing Co. with Ben Parson in 2014 on Portland's Eastside. Five years later they were named "Best Small Brewery in Oregon" at the Oregon Brewers Awards. Hall and Parson describe their beers as "post-style," meaning they don't lock themselves into a beer style. Baerlic Brewing All Seeing IPA is conceptualized as a beer to bridge the gap between the hazy IPA style and contemporary West Coast IPA. Brewed with Mosaic, Simcoe and Vic's Secret hops, All Seeing IPA is "a reminder that we must first be guided by the ancients as we push further and further into the unknown," according to Baerlic. It's hazy in appearance, but delivers a more assertive hop bitterness and a firmer mouthfeel than a true New England style IPA. Candied grapefruit, passionfruit and a touch of mango leap out of the glass thanks to a heavy dry hop.
Ex Novo Relief Society
8% ABV, 54 IBU
Ex Novo Brewing opened its original North Portland brewpub in 2014 in a unique business model that directed profits toward non-profits/charities with the tagline, "Drink Beer. Do Good." Ex Novo Relief Society is a hazy imperial IPA brewed in collaboration with fellow Portland brewery, Culmination Brewing. Ex Novo head brewer Ryan Buxton teamed up with fellow Salt Lake City native and Culmination head brewer Conrad Andrus to brew this tasty 6-pounds of hops per barrel IIPA that was triple dry hopped with LDS — Loral, Denali, and Simcoe.
---