Ice climbing requires its athletes to wear 24 sharp points on their feet while wielding an axe in each hand when suspended high above the ground. Lifeguards at a beach north of Sydney were stunned when a man walked into their post looking for help with a small shark attached to his leg. Luke Tresoglavic swam 1,000 feet to shore, walked to his car and drove to the local surf club with the two-foot shark biting his leg and refusing to let go. On May 18, 1980, Mount St. Helens erupted, blowing 1,300 feet off the mountain and killing 57 people, including mountain man Harry Truman, who refused to leave his cabin. They fight. They sweat. They climb. They bang it up, out, into each other (and they take lots and lots of pictures of themselves doing it). They're badass. Peaks and Pints salutes them with a beer flight for that we call Craft Beer Crosscut 5.21.19: A Flight of Badass.
Craft Beer Crosscut 5.21.19: A Flight of Badass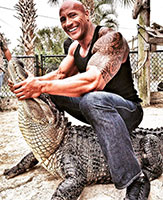 Wander Dwayne "the Rauch" Johnson
4.9% ABV
You'll mostly only see him in movies these days, but we still contend the greatest role Dwayne Johnson ever played was the version of himself known as The Rock. Once the professional wrestler grew into that larger-than-life character, there was no stopping him. Born Dwayne Glasteau, he is a third-generation laborer for Vince McMahon's promotion, now known as the WWF. His grandfather, High Chief Peter Maivia, was the first Samoan professional wrestler. Father Rocky Johnson — real name: Drew Glasteau — spent much of his career as a prearranged loser, a role also known in ring parlance as a "ham-and-egger." Jimmy "Superfly" Snuka and the members of the tag team called the Samoans were his uncles. Wander Brewing's helles lager Dwayne "the Rauch" Johnson is brewed with German Mittelfruh and Tettnang hops and a subduedly balanced addition of beachwood smoked malt. Naturally carbonated and unfiltered yet easy drinking, surprisingly complex, and easy on the eyes.
Grains of Wrath Wrath of Chuck
5% ABV
Oklahoma-born, Professional World Middleweight Karate Champion Chuck Norris is now best-known as the star, executive producer and title-song vocalist of the long-running CBS action drama Walker, Texas Ranger; the subject of prototypical Internet meme "Chuck Norris Facts" ("There is no chin under Chuck Norris' beard. There is only another fist"); and chief beatdown administrator of gangbusters '80s movies like Code of Silence, Delta Force and Lone Wolf McQuade. ("MacGyver can build an airplane out of gum and paper clips. Chuck Norris can kill him and take it.") Camas, Washington brewery Grains of Wrath brewed an India pale lager with a Chuck Norris look-alike on the can and "Wrath of Chuck" above the image. Wrath of Chuck is a Nelson Sauvin dry-hopped India pale lager with flavors and aromas of resin, gooseberry, white grape and a roundhouse kick to the face.
North Coast Old Rasputin Russian Imperial Stout
9% ABV, 75 IBU
According to legend, it took copious amounts of poison, three gunshots, a beating and a drowning to take down Grigori Rasputin, the Russian mystic and self-proclaimed holy man who befriended the family of Tsar Nicholas II, the last monarch of Russia, and gained considerable influence in late imperial Russia. Rasputin was murdered in the home of Prince Felix Yusupov, the nephew-in-law of Tsar Nicholas. Here's the thing: Yusupov attended Oxford University with Oswald Rayner, a British secret service agent stationed in Russia during World War I. This fact, coupled with Rasputin's well-documented antipathy to the war and the Tsarina's German ancestry, have led some writers to theorize that the British were afraid that Rasputin's influence would lead the Tsar to make peace with Germany. To avoid this disastrous turn of events, British intelligence agents plotted and carried out Rasputin's murder. However, most historians find this theory implausible and no record of such a plot has ever been found in MI6 files. Ponder that while enjoying North Coast Brewing Co.'s Old Rasputin Russian Imperial Stout. Black as night and tasting of dark roasted malts and bitter chocolate, Old Rasputin is a complex, strong beer, both in flavor and alcohol content. As it warms up you'll start to taste rich espresso, black pepper and burnt caramel.
Loowit Truman's Goddamn Barrel Aged Strong Ale
10% ABV
Named in honor of old Harry Truman of Spirit Lake Lodge who refused to leave his home and stood in defiance of Mount St. Helens that ultimately took his life, Loowit Brewing's 2018 Truman's Goddamn Barrel Aged Strong Ale refused to leave Woodford Reserve Double Oak bourbon barrels for 11 months resulting in flavors of sweet malt, raisin and booze. Peaks and Pints wonders how many of the 900 bottles produced made it to the suggested drink after date of May 18, 2019. Our stash made it.
Fort George Crysknife
7.2% ABV, 97 IBU
A crysknife was a knife whose blade was made from the tooth of a dead sandworm of Arrakis. It was the weapon of choice for Arrakis denizens, Fremen, a group of people in the fictional Dune universe created by Tacoman Frank Herbert. The author portrays the Fremen as a noble people, distinguished by their fierce fighting abilities and adeptness at survival in on the desert planet. The Fremen captivate us, we sympathize with the difficult lives they live, and we root for their success. Fort George Brewery's Crysknife is a New England-style IPA brewed with the Astoria brewery's BFF, Denver's Our Mutual Friend Brewing. It's a mélange of fruit and spice from Mosaic, Azacca, Vic Secret and Amarillo hops.
---