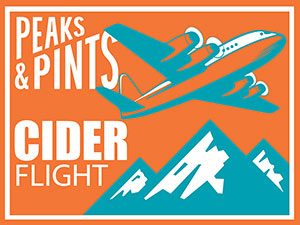 A cider mathematician is an expert in the field of both cider and mathematics, which involves both deciphering theoretical abstract concepts and applying these theories to creating delicious cider. What distinguishes a cider mathematician from other scientists and technical professionals is the passion for theoretical cider making, independent of how the theories apply to the real world: an engineer really wants to build a radio, a physicist really wants to understand what radio waves are, but a cider mathematician really wants to add apples with, often, unconventional ingredients. Indeed. Cider Math is the best kind of math. Hey 1's … you're not the loneliest number anymore. Unlike beer, cider is subtle enough to be used as a base to mix with ingredients that will take you way farther than a shandy. How far? Apple + cold brew coffee = cider. Apple + hops = cider. Traditionalists may be appalled by the idea of dry hopping or adding coffee to cider. For the purist, great cider is born from the art of fermenting good apples and little else. Cider mathematicians are exploring and experimenting with these different flavor combos, and we are fully intrigued. So the hell with the terrible 2's. Enjoy Peaks and Pints Monday Cider Flight 5.20.19: Cider Math.
Peaks and Pints Monday Cider Flight 5.20.19: Cider Math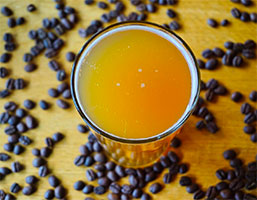 Alter Ego Cold Brew Coffee Cider
6% ABV
Alter Ego Cider is an artisanal cidery owned and operated by winemakers in Portland, Oregon, produces food-friendly ciders using Northwest-grown apples. Cascadia Coffee Roasters is a Northwest Portland coffee roasting company specializing in cold brew. Add the two together and it equals Cold Brew Coffee Cider, a delicious tasting cider with defined coffee notes and wonderful apple notes while managing to not muddle the two together. While this cider is made with cold brew coffee, the cider remains a clear golden color, which adds to the drinks mystery.
Reverend Nat's Viva La Pineapple
6% ABV
When his North Portland neighbor begged him to take his backyard apples off his hand in 2004, Nat West began experimenting with fermentation, turning the small green apples into hard cider. His friends went nuts. West would go on to hold weekly free cider parties at his house, experimenting on his friends, which ended up at 50 or so people. In the summer of 2011, West launched Reverend Nat's Hard Cider. Then he put on his mathematician button-down sweater. He took a blend of fermented fresh apple juice sourced from Eastern Washington and added unfermented fresh pineapple juice. Then, he added a touch of cinnamon, cloves and allspice. The summary is spice and pineapple that hits the nose and tongue with notes of green apples and pear. Proof!
Portland Cider Hop'Rageous
6.5% ABV
Oregonian Jeff and British Lydia launched Portland Cider Company in 2012 with the intent of adding English cider traditions with the innovative Northwest micro-brewing culture.  It all started from a desire to make the clean, dry cider Lynda grew to love in England, and Jeff yearned to find in Oregon. With their Hop'Rageous cider, they add dry cider made from 100 percent Northwest apples to fragrant Citra and Amarillo hops, and the result is equal notes of bitter hop and tangy citrus.
Finnriver Dry Hopped Cider
6.5% ABV
When one of Washington's earliest cidermakers, Drew Zimmerman, retired, Finnriver owners Keith and Crystie Kisler added 1,000 of his trees from Mount Vernon to their Chimacum farm, to add "Cidery" to their Finnriver Farm name. Organic Washington dessert apples — Granny Smith, Pink Lady, Braeburn and Gala — are the base for Finnriver Dry Hopped Cider with Cascade hops adding grapefruit and pine notes. Finnriver ferments the juice to dry, then steeps with organic whole-leaf Cascade hops for up to two weeks, for additional depth and flavor, and to appease the hop-lovers on the crew
Chatter Creek Barrel Roll
6.9% ABV
Gordon Rawson began making wine in the early 1980s as a home winemaker. Some of his first wine came from fresh apple juice purchased from the local grocery. Fun, but he desired to be a serious winemaker. After working for Columbia Winery as cellarmaster for nearly a decade, Gordon Rawson opened Chatter Creek Winery in 1996 to produce top-quality sparkling wines in Woodinville, Washington. In 1998, he broadened the focus of Chatter Creek to include still wines. Early in 2000, he departed Columbia Winery to focus solely on Chatter Creek. After a bad day making wine, he bought some apples to clear his mind. Next thing he knew, he added ciders to his label. One day, he took apple cider and aged it in spent barrels of Woodinville Bourbon Whiskey for four months. Apple cider plus bourbon barrels equals notes of bourbon, oak, vanilla, and lemon.
---