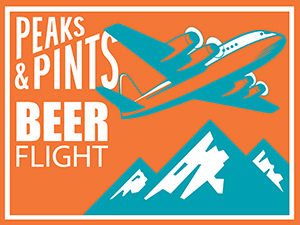 June 15, 2006, Ninkasi Brewing Company set out with a single mission: Perpetuate Better Living. Operating under this core purpose, the brewery has grown from a two-man team — Jamie Floyd and Nikos Ridge — to become the 35th largest craft brewery in the United States, operating entirely from its facilities in Eugene, Oregon and employing more than 100 employees. Producing award-winning craft beers, giving back to each community that serves its beers, and garnering national recognition as a top employer are just a few milestones the brewery has achieved since it opened with Total Domination IPA on the fateful day in June. Peaks and Pints presents a flight of five Ninaksi beers that we call Craft Beer Crosscut 5.15.19: A Flight of Ninkasi Brewing in conjunction with our SudsPop event tonight with the brewery.
Craft Beer Crosscut 5.15.19: A Flight of Ninkasi Brewing
Ninkasi Pilsner Cold Fermented Lager
4.7% ABV, 30 IBU
Coinciding with a packaging redesign, Ninkasi rolled out Pilsner, a direct result of the brewery's recipe development and innovation program. The Ninkasi brewers worked months on their take of a German-style pilsner, finally deciding on a double Pilsner malt bill of Weyermann Pilsner malt and Briess Pilsner malt, backed with German Magnum, Saaz, tettnanger and Hallertau Mittlefruh hops. "A drop of rain at the top of the Cascades takes seven years to filter down into the McKenzie River and arrive at our brewery. It takes another 52 days to brew a batch of Pilsner. It's a tedious job, but one sip of this sweet and light, crisp and complex Pils and you'll know why it's worth the wait," states the Ninkasi website.
Ninkasi Vanilla Oatis
5.5% ABV, 37 IBU
We really enjoy Vanilla Oatis — an oatmeal stout brewed with vanilla — which is another beer from Ninkasi's Flagship Series. Among its varied and complex aromas, we note charred marshmallows, chocolate milk, and a whiff of sunscreen. There was also the scent of a Black Russian cocktail in this boozy beer. With a good amount of vanilla up front, Vanilla Oatis had a silky smooth mouthfeel and some meatiness to it, as well as flavors that brought to mind a campfire. Pro tip: Vanilla Oatis has been discontinued; it's being replaced by just Oatis.
Ninkasi Prismatic Juicy IPA
5.9% ABV, 36 IBU
Cryo Hops are a relatively new product on the market that promises to allow brewers to obtain the same amount of bittering, flavor, and aroma with a fraction of the vegetal matter included in traditional pellet or whole cone hop packaging. Deep-freezing hops using liquid nitrogen allows the lupulin found in whole hop cones to be extracted with minimal oxidation, and packaged in powder or pelletized forms. This packs roughly double the punch per weight of traditional hop packaging. Ninkasi brews their Prismatic Juicy IPA with Mosaic Cryo and dry hops it with Simcoe Cryo, as well as El Dorado, Centennial, Simcoe, and Citra hops resulting in notes of pineapple, passionfruit and guava.
Ninkasi Heart and Science
6.8% ABV, 48 IBU
Ninkasi brewed this IPA as a "tribute to the technical arts and heartfelt dedication that brewers, farmers, suppliers, and fans bring to the independent craft beer industry." Nice. The medium-bodied IPA hits the nose with hops, malt, some pine and all the orange, tangerine, grapefruit, guava, and mango. The taste follows the nose with a nice dry and bitter finish.
Ninkasi Tricerahops Double IPA
8% ABV, 84 IBU
Ninkasi, the mythical god of beer, would be afraid of this Ninkasi imperial IPA. Hops explode in the nose, cascading pithy grapefruit, sticky pinesap and floral notes atop a caramel foundation. It hits the tongue hard with sweet caramel before a blend of Chinook, Cascade, Summit, Centennial and Palisade hops offer floral, fruity, and earthy notes, yet with a malt background. It's a hop-forward, full-bodied and strong IPA. Yet the balance with the malt lends enough depth and a spicy complexity to make it very interesting. Resinous, citrusy, woody, and powerfully bitter, the hop flavors slowly unfold and last well into the aftertaste.
---