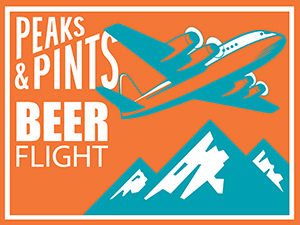 In celebration of their fifth year traveling through the vast star system we call home, Ecliptic Brewing unleashed their newest Cosmic Collaboration series, "5 Beers for 5 Years." Throughout 2019, the Portland brewery will team with five other esteemed breweries to brew five celestial concoctions. The first beer, Tangerine Farmhouse Ale, was a collaboration between Ecliptic and Brooklyn Brewery. Peaks and Pints tapped it and other beers from the two breweries April 1. Ecliptic's Cosmic Collaboration continues with Firestone Walker Brewing Company of Paso Robles, California at Peaks and Pints tonight. In deciding what beer to brew, both John Harris, Ecliptic Brewing owner and brewmaster, and Firestone Walker Brewmaster Matt Brynildson, knew they wanted a big, juicy beer. The result is a hazy double IPA brewed with pale malt, wheat, oats, along with Idaho 7, HBC 692, and El Dorado hops. Peaks and Pints will tap the Hazy Double IPA tonight. In the meantime, enjoy a flight of Ecliptic and Firestone Walker that we call Craft Beer Crosscut 5.16.19: A Flight of Ecliptic and Firestone Walker.
Craft Beer Crosscut 5.16.19: A Flight of Ecliptic and Firestone Walker
Firestone Walker Krieky Bones
5.7% ABV
Skeletons represent the finality of death. Skeletons have nothing left — their hair, skin, organs, every physical characteristic has long since rotted away; if they still have a personality that is vaguely human, it's trying desperately to cling on to something that it can never have again, an ultimately hopeless and futile endeavor. Almost everything else associated with Halloween — a vampire, a ghost, even a zombie in some aspects — has various human qualities left about it. Skeletons are the final stage in which all humanity has finally slipped away and nothing is left but bones, which is cool if the bones in question is actually Firestone Walker's Krieky Bones. This American wild ale is aged with Brettanomyces and sour bacteria in a 2,200-gallon French oak foeder (a kind of giant barrel). Then sour cherries (kriek) are added and the beer fermented again. Sharp, acidic and pretty to look at, Krieky Bones provides hope.
Ecliptic Star Party Lavender & Lemon Brut IPA
8% ABV, 35 IBU
Brut IPAs are brewed with a specific enzyme to lighten the beer and give it a bubbly, effervescent mouthfeel, like champagne, and a dry finish that comes from reducing the amount of sugar remaining in the finished product. The technique results in a beer that showcases hops flavors in a different way than standard IPAs. Ecliptic Brewing version, Star Party Lavender & Lemon, offers light lavender and lemon notes over a dry brut and hoppy flavor, complements of Lemondrop and experimental hops.
Ecliptic Capella Porter
5.2% ABV, 39 IBU
Did we mention Ecliptic Brewmaster John Harris is known for creating award-winning Black Butte Porter? He's a star porter creator and his Capella Porter, named after a bright star in the constellation Auriga, won gold at the World Beer Cup, the U.S. Open Beer Championships and the Oregon Beer Awards, proving it's one of the country's best porters. Its aroma swirls with chocolate, rich smooth malt and hazelnuts followed by a nice medium body. Flavors of chocolate and caramel meld with just a touch of roast. A collection of Nugget, Chinook, Centennial, and Cascade hops brighten this lively porter.
Firestone Walker Luponic Distortion IPA Series: No 012
5.9% ABV, 59 IBU
Firestone Walker Brewing's Luponic Distortion is a series of craft beers that revolves approximately every 90 days, all of which showcase specific hops. The California brewery keeps a continuous "base beer" and alters the hops that are used with each new version of the series. The 12th and latest edition features the lead hop originating from the Yakima Valley, offering distinct strawberry gummy notes with a touch of tropical zest. Two German hops accentuate the blend, providing notes of honeydew and tangerine.
Ecliptic Barrel-Aged Oort Imperial Stout
12.1% ABV, 77 IBU
Oort? If you know anything about Ecliptic Brewing founder John Harris, you know in addition to creating many of Deschutes Brewery's flagship recipes he is also an astronomy buff. An Oort Cloud is an extended shell of icy objects that exist in the outermost reaches of the solar system. It is named after astronomer Jan Oort, who first theorised its existence. It's roughly spherical, and is thought to be the origin of most of the long-period comets that have been observed. The Northeast brewery's Oort is an imperial stout that includes a barrel-aged version, which slumbered for 15 months in 12-year-old bourbon barrels imparting flavors of caramel, cocoa, brown sugar, bourbon and light oak with a smooth dry lingering cocoa bourbon finish.
---