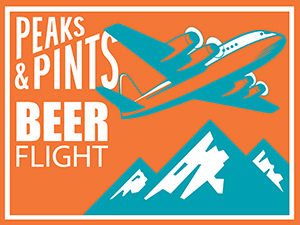 Dark, silky barrel-aged beers might seem just right for chilly fall days and frigid winter nights, but that's not how Peaks and Pints (barrel) rolls. First, barrel-aged beers are better suited than many light-colored beers for pairing with summery foods like barbecue meats. Their earthy flavors and rich, toasted aromas mimic the ones already billowing out from the grill. And barrel-aged beers actually benefit from the weather — as the beers warm, their complex, smoky undertones begin to unfurl. The key to a good summer barrel-aged beer is finding ones that are low in alcohol, dry tasting and snappy on the finish, but that's not how Peaks and Pints (barrel) rolls. Today, Peaks and Pints presents five of our favorite full-bodied, high alcohol by volume beauties from Founders Brewing Company in a flight we call Craft Beer Crosscut 5.11.19: A Flight of Founders On A Hot Tin Roof. OK, we added Founder's margarita-inspired imperial gose aged in tequila barrels. Happy now?
Craft Beer Crosscut 5.11.19: A Flight of Founders On A Hot Tin Roof
A few years after opening in 1997, Grand Rapids, Michigan brewery Founders Brewing changed course brewing comforting porters, stouts, scotch ales and strong ales aged in boozy barrels. Soon enough, Founders became recognized on the national and international brewing scene, with accolades from Ratebeer, Beer Advocate, and the World Beer Cup. Flavorful, complex, and often stronger than your average pint, Founders' beers aren't for everyone, and they don't claim to be. Instead they make beers for themselves, and we can respect that.
Founders Mas Agave
10% ABV
This margarita-inspired release is an imperial gose, brewed with agave and lime, and aged in tequila barrels. Dip your nose in for all the margarita — salty, tangy, lime, and agave. In fact, Founders Mas Agave tastes like a margarita too — citrusy lime, tart, salty, smooth, with minimal alcohol warmth at 10 percent.
Founders Canadian Breakfast Stout
11.7% ABV, 45 IBU
Founders' brewers awoke early one day and brewed their Breakfast Stout with flaked oats, chocolate, and two kinds of coffee beans. In 2010, they aged the Breakfast Stout in spent bourbon barrels that had most recently been aging pure Michigan maple syrup. Canadian Breakfast Stout, or CBS, was born, with notes of syrupy malt and strong alcohol.
Founders Curmudgeon's Better Half
12.7% ABV, 45 IBU
Founders' Curmudgeon Old Ale is brewed with molasses and aged on oak; it becomes the "Better Half" after aging — for 254 days — in bourbon barrels that have more recently been aging Michigan maple syrup. As a result, Curmudgeon's Better Half is a bit sweeter than her miserly counterpart.
Founders Backwoods Bastard
11.2% ABV, 50 IBU
That the Backwoods Bastard is boozier than its little Dirty Bastard brother is only a side note; the big distinguishing factor of this Scotch ale is that it is aged in bourbon barrels, with great undertones of vanilla, bourbon, oak and dark fruits.
Founders Kentucky Breakfast Stout
11.8% ABV, 70 IBU
In 2002, Founders wanted to age their double chocolate, coffee and oatmeal Breakfast Stout in bourbon barrels. A call to Jack Daniels with a request to use their barrels was accepted as long as they picked them up. The first run was a success. Something magical happened in the barrel. The recipe needed refinement since the bourbon notes were overwhelming in the beer. The solution was to create an imperial (higher alcohol content) version of Breakfast Stout. The result is Kentucky Breakfast Stout, or KBS. Thick, full-bodied, it leads with rich and chocolate, boozy warmth and a slight brandy sweetness. It finishes with toasty smokiness and all the depth of a four-tier chocolate cake.
---