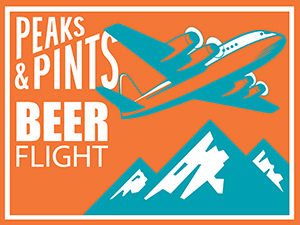 One of the best parts of South Sound summer is when locally picked raspberries start arriving at the farmers' markets. Pick up a pound and you'll ask yourself how the hell you spend 10 months of the year eating strangely flavorless raspberries trucked up from California. There are more than 20 varieties of red raspberries, including several that originate here in the Northwest. They also come in black, purple and even golden varieties. One cup of raspberries will supply more than half your daily requirement of vitamin C, along with a heart-helping, fat-busting, cancer-fighting abundance of antioxidants. Get yourself primed for the most wonderful time of the year for fruit lovers with Peaks and Pints' Craft Beer Crosscut: 5.10.19: A Flight of Raspberries. Say what you might about raspberry beer, but the oft-maligned style has caught on in so many ways that we just couldn't ignore it. With the weather heating up, "crushability" becomes an important factor when scanning Peaks and Pints' cooler for the perfect summertime brew. Consider raspberry.
Craft Beer Crosscut: 5.10.19: A Flight of Raspberries
Elysian Raspy Whisper
3.8% ABV, 10 IBU
On top of white wheat, pale male, acidulated malts, Indian coriander, touch of salt, Magnum and Simcoe hops, Elysian Brewing added 20 pounds per barrel of raspberries and 5 pounds of Theo cocoa nibs to their Raspy Whisper raspberry chocolate gose. The raspberries are first to the nose, quite evident, even from a distance. Hints of chocolate hit the tongue, but mostly the raspberries, and a healthy dose of salt. It's quite tart with a hint of chocolate.
Cascade Framblanc
7.6% ABV
Brewed in 2017, Cascade Brewing Barrel House Framblanc is a blend of sour blond ales aged for up to 14 months in oak wine barrels with more than 3,500 pounds of white raspberries, which earned the gold medal in the Wood & Barrel Aged Sour & Brett category at the 2017 Oregon Beer Awards. It's definitely sour, with fresh flavors of raspberries, green grapes, white peaches, pears, gooseberry and a hint of sour apple and oak.
Urban Family Sacred Arrow
8% ABV
Urban Family Brewing's imperial raspberry sour, Sacred Arrow, is a mixed-culture raspberry sour packing a punch at 8 percent. For those who aren't familiar with the term "mixed-culture," think of it like a rustic sourdough starter compared to store bought yeast. In the starter there's many different types of yeast working in harmony. Compare this to your store bought yeast, which is a single laboratory isolated strain. Sacred Arrow hits the target with huge aromas of raspberry jam, plus a not-so-subtle tartness that finishes clean and bright.
Left Hand Flamingo Dreams Nitro
4.7% ABV, 11 IBU
Left Hand Brewing has unleashed a flock of Flamingo Dreams Nitro, a year-round nitro beer that's the first of its kind. At 4.7 percent ABV, it is super smooth and refreshing with all around great complexity, robustness, and balance of raspberries, black currants, fruity yeast, pale malts, and light earthy hop flavors. It's flavorful and not watery for the ABV.
Founders Blushing Monk
9.2% ABV, 20 IBU
Formerly known as the 2005 Imperial Raz Master, Blushing Monk has returned with a ridiculous amount of raspberries plus a Belgian yeast strain that keeps Founders Brewing's head cellar operator up at nights. It pours a deep berry red with a substantial body and all the raspberries, from the start to the slightly tart finish.
---