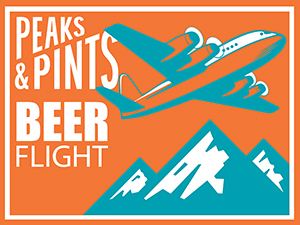 If you spent anytime at Peaks and Pints craft beer bar, bottle shop and restaurant in Tacoma's Proctor District, then you probably know our bartender Nicole Allen. You know she loses her mind every time a dog is walked past our front windows. All service stops for all the dog meet-and-greets, followed an explanation of the dog's name, breed and cute factor to each and every table. You know she loves to laugh, but means business when it comes to protecting the business. You know she's studying psychology, as she'll often open a book, and a bottle of Prosecco, from a barstool when she clocks off. Instagram tells us she adores her friends, cat, brewing beer and the Seattle Sounders. Peaksandpints.com was her medium of choice to tell her firefighter father that she scored a tattoo during that summer in Missouri when she was in her early teens. The staff adores her, as most likely you do too. What you might not know is, given a choice, what she would fill five taster glasses with from the Peaks and Pints arsenal. Today is your lucky day. Peaks and Pints presents Craft Crosscut 5.9.19: A Flight From Bartender Nicole Allen.
Craft Crosscut 5.9.19: A Flight From Bartender Nicole Allen
Incline Blood Orange
6.5% ABV
"If you haven't had the pleasure of experiencing a blood orange, I highly recommend it," says Peaks and Pints bartender Nicole Allen. "As the name suggests, blood oranges are red in color, sometimes in splotches on the outside but definitely on the inside. The concentration of the red inside depends on the particular type of orange and growing conditions. Squeezing them is when you truly understand where the "blood" reference comes from: the juice resembles the ruby red of a cranberry as opposed to the yellowish tone of orange juice. I'm a fan on Incline Cider Company. Their Blood Orange cider tastes like juicy blood orange plus citrus notes with a touch of tart."
Kulshan Cherry Gose
5% ABV
"Kulshan Brewing is easily one of my favorite breweries," says Allen. "The beers are incredible; their beer rep Katie is a doll. All said and done, my preferred beer style is sours, so I always reach for the latest gose seasonal from the Bellingham brewery. Right now, that's Cherry Gose. Crisp tartness and sweet cherry notes — what's not to like? This beer and Uinta's Lime Pilsner are on ice whenever I'm floating in a pool."
Rainy Daze Tears of the Patriarchy IPA
6.1% ABV, 30 IBU
"On March 2, Rainy Daze Brewing hosted a bunch of rad women to brew a collaboration beer for the annual Pink Boots Society beer release. I was fortunate to represent Peaks and Pints. It's held in conjunction with International Women's Day. Its main goal is to raiser the profile of women's roles in the beer industry. We brewed with the official Pink Boots Society/Yakima Chief Hops 2019 Hop Blend, which is Loral, Glacier, Mosaic, Sabro and Simcoe hops. It's a was fun day hanging with owner Mike, Kenny and the gang, brewing this IPA, which I call Tears of the Patriarchy. The first time we tapped it at Peaks we blew it in a day. Let's do it again!"
Rainy Daze Surf Dog IPA
4.8% ABV, 35 IBU
This one was tough for Nicole to write. Rainy Daze owner and head brewer Mike Montoney invited Nicole back to brew a New England-style IPA, offering her the opportunity to name the beer, which she paid tribute to her recently deceased best friend, Spaulding the dog. She's still working through the pain. She arrived at the Poulsbo brewery at 4:30 a.m. and helped Montoney brew through the entire process, including adding the El Dorado, Cashmere, and Kohatu hops to give the IPA hints of grapefruit, orange, and pineapple. Exhausted, she kicked back with a pint of Tears of the Patriarchy and shouted, "We should name it after my Spaulding who loved to play in the surf!" Nicole hopes you come by today and enjoy the Rainy Daze Surf Dog IPA she brewed with Montoney in memory of her beloved Spaulding.
Bale Breaker Leota Mae
6.2% ABV, 50 IBU
"A strong woman exudes confidence and self-respect. She's often regarded as the 'alpha female' within a group and lights up any room she enters. She knows what she wants and is in control of her life. I respect that. Everything I've read paints a picture of Leota Mae being a strong female. She's the great-grandmother to the family running Bale Breaker Brewing in the Yakima Valley. The matriarch of their family, she worked sunrise to sunset cultivating the land they still farm today. This sweet malt, crisp citrus hop IPA is a delicious tribute. Oh, and my camping buddies and I drank a bunch of it in Leavenworth last summer. It's so f—ing delicious."
---