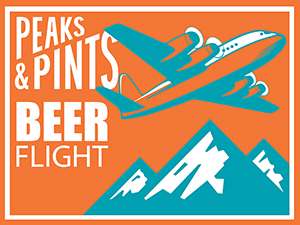 Watching Bellingham, Washington's beer scene progress during the last few years has been amazing. To go from one brewery to 30 and counting in the last few years is nothing short of impressive. And now, seeing brewers testing the boundaries of traditional palates, breweries engaging the community in all sorts of events and activities, farm to pint initiatives and bringing culinary pairings into the mix — these are all ways in which the Whatcom County breweries and craft brew scene continues to kick butt.
Peaks and Pints hosted eight Bellingham breweries last night in what the cool kids call a "tap takeover." Today, we offer a flight of five of the beers that we tapped last night in what we call Craft Beer Crosscut 4.5.19: A Flight of Bellingham Breweries.
Craft Beer Crosscut 4.5.19: A Flight of Bellingham Breweries
Wander Wild Warehouse
6.8% ABV, 23 IBU
Colleen and Chad Kuehl wandered into each other at the University of Iowa many years ago, then wandered around the world. Then engineer Chad wondered about craft beer, eventually attending the American Brewer's Guild in 2011 before working at Hilliard's Beer in Seattle. They wondered what would happen if they started Wander Brewing in Bellingham. After brewing Wild Warehouse Barrel-Aged Farmhouse Ale we wonder if they wonder how they could ever top it. The genesis of Wild Warehouse starts with Chardonnay wine grapes grown at Lonesome Spring Ranch in the Yakima Valley. This fruit is then transformed and aged in French Chardonnay oak barrels from Chatter Creek winery in Woodinville. Wild Warehouse overflows with aromas of nectarine and fresh apple and flavors of pear, clover, and good beer.
Chuckanut Helles
5% ABV, 20 IBU
In the early 1980s, chemical engineer and homebrewer Will Kemper paid a visit to the brewmaster of the now-defunct Rainier Brewery in Seattle where he was told he couldn't open a brewery because he wasn't born into it. Good one. In 1984, Kemper, his wife, Mari, and Andy Thomas opened Thomas Kemper Brewery in Poulsbo, Washington. In 1992, Thomas Kemper merged with Hart Brewing, which went on to be Pyramid Breweries. The Kempers saw the ugly side of the business and became consultants with East Coast and international breweries. After a bunch of traveling, they moved back to Bellingham where they opened Chuckanut Brewery in 2008. Chuckanut Helles has won gold medals from the NABA 2013, Washington Beer Awards 2013 and GABF 2011 with a silver from the NABA 2011. It has less hop flavor and bitterness than their Pilsner; the main highlight of the Helles is its bready, malty character. It's malty, balanced, easy-drinking character has earned it the sobriquet "liquid bread."
Aslan Ginger Rye
5.4% ABV, 24 IBU
Jack Lamb and his future partners, Frank Trosset and Pat Haynes, started their pilot brewing effort in the basement of a parent's house, and soon moved to a garage. With the help of Frank's brother, Boe, who would later also join the business as a fourth owner, the team built their brewpub with their own hands in eight intense months in 2013 and 2014. In May 2014, when they opened for business as Aslan Brewing Co., one of the Northwest's first organic breweries, all four of the freshly minted owners were under 30 years old. Their Ginger Rye falls into the "specialty" category, but it's based off an American pale ale and inspired by a delicious cocktail called the "Moscow Moose." The ginger is present, yet subtle as is the rye. The wild card is the use of limes, which shine through on the finish.
Boundary Bay Dark Darkness
6.3% ABV, 25 IBU
This limited release porter celebrates the diversity of Bellingham's art scene. The porter's namesake is an offbeat web-series about four attendees of Dr. Darkness' Darkness Convention. Wilson Large, a former Boundary Bay Brewery employee, produces dark Darkness in Bellingham. To watch the web-series and support its future, go to darkdarkness.com. As for the porter, it unites a deep-chestnut color, aromas of cacao and light toffee with chocolaty and subtle roast flavors.
Kulshan Barrel-Aged Barleywine
13.11% ABV, 74 IBU
Kulshan Brewing Barrel-Aged Barleywine is a meticulous blend of the Bellingham brewery's four and five-year-old Barleywine. It has been aging since 2013 in multiple bourbon and wine barrels, packaged in February of 2017, and conditioned for one year so it would be perfectly matured and blended. We taste bold, complex flavors of toffee, roast, and sweet malt complemented with a generous hop presence that will provide the perfect balance of alcohol warmth.
---