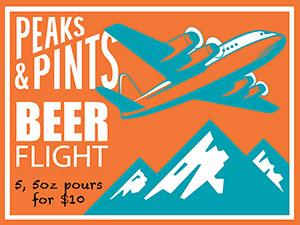 Public lands are facing a tough four years. The current administration had a terrible track record of undoing protections for public lands in 2017. But if they took some time to experience these magnificent places, he might begin to appreciate the disastrous effects the administration's policies will have on our public lands. It's enough to drive a lover of public lands to drink. Enter craft beer. There's nothing quite as satisfying as that first sip of a cold beer after a hike in our epic Pacific Northwest landscape. It's no surprise that many breweries have found unique ways to combine the two while helping protect the lands they love. Peaks and Pints presents a flight of craft breweries that donate back to protecting our public lands. Drop by our little lodge in Tacoma's Proctor District and help our national parks and hiking trails by enjoying Craft Beer Crosscut 4.26.18: A Flight of Supporting Hiking Trails.
Craft Beer Crosscut 4.26.18: A Flight of Supporting Hiking Trails
Crux PCT Porter
5.5% ABV, 30 IBU
The Pacific Crest Trail stretches from the Mexican border to the Canadian border, covering more than 2,600 miles along the way. On average, it takes thru-hikers about five months to complete the trek. Most hikers start in the south, and by the time they make it into Oregon, they've built up a mighty powerful thirst. Enough PCT hikers stop in Bend, Oregon for a shower, a civilized meal and craft beer that Crux Fermentation Project decided to brew PCT Porter just for them and the organization that supports the hikers, Pacific Crest Trail Association. Kick off the hiking boots, pull one of these out of our cooler and enjoy this velvety, chocolate porter with a small bitter bite at the back.
Bellevue WTA Tangerine Pale Ale
5.2% ABV, 43 IBU
Bellevue Brewing's Washington Trails Tangerine Pale Ale is brewed to be enjoyed with alpine views, summit sunsets and your favorite hiking companions. This citrus pale ale's swirling hop aromatics, a smooth malt body, sweet orange peel and tangerine zest combine with a smooth, crisp finish. It tastes even better when you think about the one percent of proceeds from sales that benefit Washington Trails Association helping power our hiking guide, trip reports and volunteer trail maintenance teams.
10 Barrel Trail Beer
4.8% ABV, 60 IBU
"Like any good adventure, Trail Beer started on a whim." We have no idea what that 10 Barrel hype means, but we do know the pale ale is brewed with Galaxy, Chinook and Comet hops and a "sure-footed malt bill," for a refreshingly bright body layered with nuances of fresh cut oranges and pine needles. 10 Barrel Denver Head Brewer Kay Witkiewicz spent a lot of time on the beer, working to really master the hop composition to make sure that the ABV was kept to a fairly low percentage. What's really cool? 10 Barrel donated proceeds from the first round of Trail Beer sales to environmental protection and conservation non-profit Protect Our Winters, an organization working to connect the outdoor sports community with the fight against climate change.
Two Beers Proctor Peaks IPA
6.7% ABV, 60 IBU
Two Beers Brewing has been a consistent supporter of the Washington Trails Association and Washington National Parks' Fund, an ideal Two Beers founder Joel VandenBrink no doubt dreamed up as he hiked The Wonderland Trail before opening the Seattle brewery in 2007. The brewery's Wonderland Trail IPA supports maintenance of the exhilarating 93-mile trek around Mount Rainier, and the brewery's Beer and Gear Rummage Sales benefits Washington's National Park Fund and Wonderland Trail maintenance. Two Beers Brewing Co. — the Seattle brewery with one foot planted in the woods, just like Peaks and Pints — allowed the Tacoma bottle shop and taproom to collaborate on an old school IPA. Named after Tacoma's Proctor District, where Peaks and Pints resides, Proctor Peaks IPA's hop bill features Warrior, Chinook, Columbus and Simcoe hops with kettle and dry hop additions. It has clear, copper coloring, because that's a thing, with pine (naturally) flavor and dank on the nose.
Barrel Mountain Trail Builder Imperial IPA
9% ABV, 100 IBU
Barrel Mountain Brewing donates a portion of profits from its Trail Builder Imperial IPA to trail associations, clubs and volunteers that maintain and improve Washington state's trail systems. Thank the Battle Ground brewery as you dip your nose into mildly caramel malt, citrus and dank hops, orange citrus with slight lemon. Flavor follows with pale malt with slight caramel, citrus and dank hops, plus orange, grapefruit and lemon juice and rind. The Trail Builder finishes with lightly resinous citrus rind bitterness and lingering citrus and herbal flavors.
---