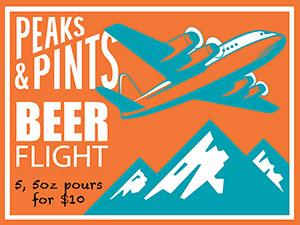 Hands-down, blood oranges are the coolest-looking item in the produce aisle. The flesh of blood oranges ranges in color from orange with a pink blush to mottled red and to deep burgundy. Blood oranges often have an intense orange taste, and can have some berry-like flavors as well. Nothing perks up the way your food looks more than a slice or dice of blood orange. The red in blood oranges comes from anthocyanins, which means that they're rich in antioxidants. Our favorite way to enjoy blood oranges is in craft beer and cider. The combination of hops and savory citrus just makes sense: Brewers use a fruit like blood orange with its citrus and tart notes to compliment and enhance the hop flavors and aromas in beer and ciders that share similar characteristics. With the sunshine shining through our open windows, Peaks and Pints thought a flight of refreshing blood orange would be appropriate. Drop by our little lodge in the Proctor District for Craft Beer Crosscut 4.25.18: A Flight of Blood Orange.
Elemental Blood Orange Cider
6.5% ABV
Elemental's blood orange infused semi-sweet hard cider is full-bodied and full-flavored with the blood orange portion of the flavor remaining mild instead of overpowering.  It has a hazy orange hue with a hint of pink. The aroma is orange zest and wood. The flavor is sweet with lots of juicy blood oranges and highly sweet apples. It's citric and sweet on the finish. Not overly cloyingly sweet, the sweetness and sourness from the citrus are balanced.
Anderson Valley Blood Orange Gose
4.2% ABV
Gose. It's an old style of beer, somewhat overlooked. It originated along the river Gose, which flows through the town of Goslar in the German state of Lower Saxony. Traditional versions are quite sour and salty. The saltiness in particular likely came from the naturally saline, mineral-rich water from around Goslar and Leipzig that was used for brewing. The style is similar to a Hefeweizen, in that it's made with high amounts of malted wheat. It has very low hop bitterness. However, this beer can have some dryness and spice from additions of coriander and salt. Anderson Valley's Blood Orange Gose is a tart, refreshing wheat ale that is kettle-soured with lactobacillus and brewed with sea salt and coriander. However, unlike traditional versions of the style, the California brewery's version features liberal additions of blood oranges during fermentation. This imparts tangy citrus notes that complement the champagne-like flavors.
Ecliptic MoonBase Blood Orange Saison
7.5% ABV, 10 IBU
Looking for a new partner to perform the Moonwalk? Take Ecliptic Brewing's MoonBase Blood Orange Saison for a whirl. An intricate shuffle of bright blood orange citrus flavor and aroma with classic Belgian yeast spiciness deliver a beer that is as beguiling and complex as it is refreshing. The distinctive citrus notes from the hops used to brew this 7.5 percent ABV saison complements the blood oranges to create a bright, juicy flavor, while the pepper and coriander play well with the beer's natural sweetness and dry finish.
Track 7 Blood Transfusion
6.3% ABV, 55 IBU
Track 7 Brewing Co. was established Dec. 31, 2011 and grew from 340 barrels of beer in its opening year to just under 1,200 barrels of beer in 2013. That's not surprising since 1,000 people showed up to the brewery's opening day — causing a line out the door for three hours. The Sacramento brewery produces a lot of beer in the hoppy West Coast tradition. The irony: When Track 7 first opened, they didn't include an IPA on their lineup. Today, they excel at the style, including its Blood Transfusion IPA. With a nose that breathes a classic IPA blend of citrus, pine, malt and hops, Blood Transfusion also boasts a rich palate consisting of floral, malt and fruit notes. You'll also find blood orange, from which the beer gets its name, lemon and grapefruit flourishes which, coupled with its medium body and light carbonation lead to an agreeable hops finish.
21st Amendment Brew Free! Or Die IPA (Blood Orange)
7% ABV, 70 IBU
Fruit forward beers across the board have been a very popular seller for 21st Amendment. After the breakaway success of Hell or High Watermelon Wheat beer, brewmaster Shaun O'Sullivan decided to go the blood orange route with Brew Free! Or Die. Ever since O'Sullivan first introduced Brew Free! Or Die to the beer festival circuit, there has been a palpable buzz from patrons who can't get enough of the citrusy combo of Citra hops and orange. It hits the nose with strong orange, with notes of pine and fragrant ale malts. The taste is medium bitter, but sweetened by strong orange and subtle pine.
---