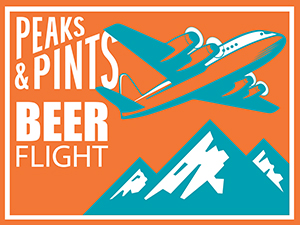 Peaks and Pints Tournament of Beer: Northwest Pilsners has hit the Sweet Wort 16, which means 16 pilsners brewed in Washington and Oregon remain. Chosen through a nomination process in February, the top 64 vote getters — the cream of the crispness — began competing April 5, Monday through Friday, on our website, until the championship game April 27 inside Peaks and Pints craft beer bar, bottle shop and restaurant in Tacoma's Proctor District. It's just like March Madness, only with way more Saaz hops. To vote on today's action, click here. Peaks and Pints presents an opportunity to taste five delicious pilsners that, frankly, shocked us they were eliminated in Tournament play. Enjoy Craft Beer Crosscut 4.24.19: A Flight of Northwest Pilsners.
Craft Beer Crosscut 4.24.19: A Flight of Northwest Pilsners
Block 15 Gloria!
5% ABV
Lost to Deschutes Da Shootz! in the Second Round
Block 15 Brewing sits heart of downtown Corvallis, only a few blocks from Oregon State University. The brewery's name hails from Corvallis' previous incarnation as Marysville and the old plat map location from the old town. In late 2011, homebrewers Nick and Kristen Arzner opened the brewery and restaurant serving beers true-to-style with ingredients imported from different parts of the world, along with all the Willamette Valley produced grains, hops, fruits, herbs and yeast. Blending delicate malt character and zesty hops, Gloria! is Block 15 Brewing Co.'s vision of the crisp, unfiltered pilsner. Brewed with floor-malted pilsner malts, it pours a hazy, straw-colored pint. Magnum, Hallertau, Oregon-grown Mt. Hood and Czech Saaz hops impart citrus, grass and floral spice, while Czech Pilsner yeast finishes clean and refreshing. Packaged after four weeks of cold lagering, this snapshot in flavor and aroma will last for a couple weeks, when stored cold. With extended cold storage, Gloria! mellows out to further balance these lively hop and yeast notes with its intricate malt backbone.
Airways Pre-Flight Pilsner
5% ABV, 30 IBU
Lost to Two beers Pilchuck Pilsner in the First Round
In 2010, Alex Dittmar combined his homebrewing passion and love for 1960's big jet airliners opening Airways Brewing in Kent, Washington. Seven years later, founder and head brewer Dittmar and crew began operating out of much larger facility in downtown Kent. Dittmar brought his former Alaska Airlines job with him with an airline industry theme throughout his taproom and craft beers. Airways' Pre-Flight Pilsner is a pre-prohibition style pilsner, fuller in body with a distinct, spicy hop presence, attributed to the Hallertauer and Saaz hops used to brew it. It's crisp and refreshing, full-bodied, and low on the bitter scale.
Crux Pilz
5.2% ABV, 35 IBU
Lost to Sunriver Czech Meowt in the Second Round
In 1974, Larry Sidor walked into Olympia Brewing Company wearing galoshes. Two decades later, he ran out. He couldn't take dumbing down lagers anymore. He found happier times at Deschutes Brewery, developing legendary recipes such as The Dissident, The Abyss and Red Chair. In 2012, he and Paul Evers opened Crux Fermentation Project in a former AAMCO transmission shop in Bend, Oregon, with the complete freedom to brew whatever they desired, and by desire that meant a pilsner brewed with traditional pilsner malts, imported Czech Saaz and local Oregon Sterling hops. This second seed pilsner sports surprising complexity and softness — developing biscuity flavors, spicy herbal notes and a hint of lemon.
Breakside Pilsner
5.2% ABV, 35 IBU
Lost to Occidental Bohemian Pilsner in the Sweet Wort 16
In 2010 — with his Siebel Institute education, training in Germany and Belgium, and degree from Yale tucked under his arm — Ben Edmunds opened Breakside Brewery in the quiet Woodlawn neighborhood of Northeast Portland as a restaurant and nano-sized brewery. Breakside expanded to a 3.5-barrel brewhouse while winning their first medal at the Great American Beer Festival in 2011 where they have earned medals each year since. Breakside's Pilsner hits the nose with bready, grainy pale malt, white soup crackers, subtle apple and pear fruit notes, slightly edgy yeast, and peppy leafy, herbal, and rather floral hop bitters. Yet, it glides in with grainy malt flavors that build a solid, biscuit foundation, on which is perfectly balanced a classically floral German hop profile. It's not a loud mouth. It's not trying to steal your girlfriend. It's just a very well balanced German-style pilsner — a clean, thirst-quenching lager.
Chuckanut Pilsner
5% ABV, 36 IBU
Lost to Scuttlebutt Ray of Hope Pilsner in the Second Round
In the early 1980s, chemical engineer and homebrewer Will Kemper paid a visit to the brewmaster of the now-defunct Rainier Brewery in Seattle where he was told he couldn't open a brewery because he wasn't born into it. Good one. In 1984, Kemper, his wife, Mari, and Andy Thomas opened Thomas Kemper Brewery in Poulsbo, Washington. In 1992, Thomas Kemper merged with Hart Brewing, which went on to be Pyramid Breweries. The Kempers saw the ugly side of the business and became consultants with East Coast and international breweries. After a bunch of traveling, they moved back to Bellingham where they opened Chuckanut Brewery in 2008 — a convergence of technical and engineering concepts developed from more than two decades of professional involvement with craft brewing both home and abroad. They hired Josh Pfriem as their head brewer, who went on to open pFriem Family Brewers in Hood Rover, Oregon. Following their passion for German pilsners, the Kempers brewed their own golden, vivid, crisp version with Pilsner malt and secret noble hops. They transferred their multiple award-winning pilsner production from their Bellingham brewery to their 40-barrel production facility in Mount Vernon.
---