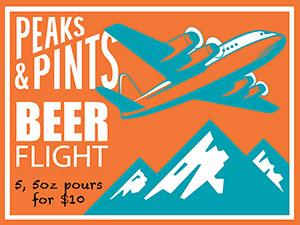 Maybe if we all took a page from the friendly spirit of the craft beer movement, the world just might be a better place. It's unlikely there is another fiercely competitive business that delights so much in hanging out together. If the market share is so small for each brewery, why cooperate with your competition? Maybe it stems from the David vs. Goliath syndrome, where craft brewers find delight in sticking together against the behemoths of industrial brewing and are willing to support each other for greater visibility and eventual higher sales. Beginning April 6, Peaks and Pints pitted 64 of the Pacific Northwest's best in a frothy head-to-head battle of porters. We speak, of course, of the Tournament of Beer: Northwest Porters. Today, the Tournament of Beer: Northwest Porters has reached the Sweet Saccharification 16, meaning 16 porters remain poised to make a run at the champion game April 28. Peaks and Pints presents an opportunity to taste five delicious porters that, frankly, shocked us they were eliminated in Tournament play. Enjoy Craft Beer Crosscut 4.24.18: A Flight of Northwest Porters.
Backwoods Imperial Maple Porter (#5 seed, Washington State Region)
7% ABV, 20 IBU
This is Backwoods Brewing's second porter nominated for the Tournament of Beer: Northwest Porters. It's first porter, Pecan Pie Porter, beat North Jetty Brewing's Semper Paratus Porter in First Round play. Backwood's Imperial Maple Porter is brewed with real maple syrup. While maple syrup and granulated sugar both have the same sugar breakdown — 50 percent glucose, 50 percent sucrose — maple syrup has a lot going for it both beerwise and healthwise. Unlike processed sugar, maple syrup contains some antioxidant polyphenols as well. It also has a richer, deeper flavor than white sugar, which adds its own spin to mixed drinks. But, this isn't the Tournament of Maple; it's about porters, and this one has maple on the nose, followed by balanced notes of vanilla, maple and chocolate, with a subtle roast on the finish.
Fremont Stone Squirrel (#3 seed, Seattle/King County Region)
5.4% ABV, 25 IBU
Squirrel! We're buzzing over Fremont Brewing's coffee porter, Stone Squirrel. In fact, we're snuggling up to the Stone Squirrel, enjoying the gentle embrace of rich chocolate, coffee and roasted toffee flavors. It's brewed with locally roasted, cold-brewed Tony's Café Carmelita coffee, and chocolate and roast malts on top of a base of pale malt and Yakima Valley Columbus hops. It darts by the nose with chocolate and coffee. It scrambles over the tongue with roasted malts, caramel and coffee. Did we mention the coffee?
Black Raven Coco Jones Coconut Porter (#1 seed, Seattle/King County Region)
5.6% ABV, 38 IBU
This beer has a storied history at Black Raven. It was first brewed back in 2009 as a variant of the Redmond, Washington brewery's Tamerlane Brown Porter, infused with toasted coconut. When customers went cuckoo for Coco, Black Raven decided to enter it in the World Beer Cup where it won a gold medal (category: herb/spiced beer) in 2010, as well as the 2017 Washington Beer Awards in the same category. Tournament of Beers governing body wasn't a surprise when the public voted Coco Jones a number one seed in the Seattle/King County region. Coco Jones has raven sharp vision set on the trophy with a ton of coconut, cacao and molasses to back it up.
Everybody's Cold Press Coffee Porter (#7 Seed, Washington State Region)
5.4% ABV, 45 IBU
In 2008, Christine and Doug Ellenberger opened Everybody's Brewing in White Salmon, Washington after years of planning the craft brewery when they weren't working their shifts at Full Sail Brewing Company directly across the Columbia River. Doug's 20-plus years brewing and Christine's years in the restaurant industry melded into a popular brewpub with a killer view of Mt. Hood. And … the view will soon be even better. The Ellenbergers are currently building a new, larger, fancier brewery and pub next door to their existing brewery. But, this isn't the Tournament of Buildings; it's porters — and Everybody's has a delicious one. After fermentation and aging, Everybody's blends their porter with STOKED's Bluebird cold press coffee. Cold Press Coffee Porter offers flavors of roasted malts, sweet lactose, light vanilla and milk chocolate with a lingering dry roasted malt finish.
Selkirk Abbey Guilt Belgian Coffee Porter (#2 seed, Idaho Region)
8.3% ABV, 45 IBU
Rural northern Idaho might just be the furthest thing from Belgium, which makes Selkirk Abbey Brewing Co. all the more special. This is a place that takes its Belgian influence beyond aesthetics, brewing its wares on open-fire systems of the oldest-school variety. But none of that means a thing if the beers don't hold up. Meet Selkirk Abbey's Guilt Belgian Coffee Porter. It's brewed with fresh beans from Selkirk's neighbor, DOMA Coffee Roasting Company. Dark mahogany brown, medium bodied with nice creaminess and great roast at the end. The coffee in this brew is both subtle and evident — it's smooth with hints of spice and mocha, but the coffee is not overdone.
---