Tournament of Beer: Northwest Porters Sweet Saccharification 16
You'd be hard pressed to find a crazier two weeks of porter voting than what we witnessed during Peaks and Pints Tournament of Beer: Northwest Porters. We saw history made, Viking jokes, massive comebacks and epic failures.
Now, the Tournament of Beer moves onto the Sweet Saccharification 16, and although your bracket may be in ruins, there is still plenty of great porters to watch, and plenty of stories to follow.
So, read up on yesterday's action, and then vote on the four games today. Sixteen Northwest porters remain, folks. Let's get down to business!
Monday, April 23, Second Round Northwest Porters Games results
GAME 1, SEATTLE/KING COUNTY REGION
Overhang Bourbon Imperial Porter, Two Beers Brewing (4700 Ohio Ave. S., Seattle) vs. 3. Stone Squirrel Porter, Fremont Brewing (1050 N. 34th St., Seattle)
These two Seattle breweries traded mash paddle shots all day until around 4 p.m. when Two Beers Brewing's Overhang Bourbon Imperial Porter began to pull away. Rumor has it Two Beers received a huge boost of energy when their marketing guru, Caity Rock, posted a photo of Overhang perched on a barn's hay pulley overhang. The farming community freaked out and flooded the Tournament with votes from their Netscape browsers. Brilliant. Two Beers Overhang grabs 65 percent of the votes and enters the Sweet Saccharification 16.
GAME 2, WASHINGTON STATE REGION
RCW 70.160 Smoked Porter, Three Magnets Brewing (600 Franklin St. SE, Olympia) vs. 4. P-51 Porter, Wingman Brewers (509 1/2 Puyallup Ave., Tacoma)
Three Magnets and Wingman Brewers have been battling it out ever since Three Magnets came on the South Sound craft beer scene in 2014. Three Magnets wishes it could be an aviation themed brewery with a front row seat to Tacoma's railroad infrastructure. Wingman Brewers wishes it could be a free spirit brewery with a scratch kitchen. Both are successful businesses, but yesterday Wingman brought it — and brought it big — capturing 70 percent of the votes. It's P-51 Porter, its flagship porter — if not flagship beer — moves into the Sweet Saccharification 16.
GAME 3, IDAHO REGION
Snowboarder Porter, Boise Brewing (521 W. Broad St., Boise) vs. 15. Big Jilm Porter Imperial Coffee Porter,ePost Falls Brewing (112 N. Spokane St., Post Falls)
What's the biggest thing
You ever did done see? Big Jilm
I mean, what's the biggest, biggest thing
You ever did done see? Big Jilm
Ween's "Big Jilm" is a funny trucker parody; many artists could do that voice, but few would've had the nerve or inventiveness to pair it with such quirky little dots of falsetto harmony. Certainly few would name their delicious coffee imperial stout after the song, but Post Falls Brewing did. And, it's the biggest thing the Tournament of Beer has ever did done see. The thick, bitter, roasty sweet porter did done win big with 83 percent of the vote.
GAME 4, OREGON REGION
Black Butte Porter, Deschutes Brewery (901 SW Simpson Ave., Bend) 8. PCT Porter, Crux Fermentation Porter (50 SW Division St., Bend)
In NCAA men's Basketball Tournament history, when an eighth seed team has battled a number one seed, the eighth has emerged victorious less than 10 percent of the time. But this is the Tournament of Beer, and number eight seed PCT Porter handed number one seed Black Butte Porter a defeat the industry standard porter will long remember. The Crux Fermentation Project porter brewed in honor of the Pacific Crest Trail hiked over Deschutes Brewery's famous porter with a whopping 77 percent of the vote. That's a mind blower.
Let's weed through the malts. The following are advancing to the Sweet Saccharification 16:
Overhang Bourbon Imperial Porter, Two Beers Brewing
P-51 Porter, Wingman Brewers
Big Jilm Porter Imperial Coffee Porter, Post Falls Brewing
PCT Porter, Crux Fermentation Project
OK, pour a pint and dive into today's Sweet Saccharification 16 porter battles. Vote for one porter per game. Voting for today's porter battles ends at 11:45 p.m. today. Cheers!
Tuesday, April 24, Sweet Saccharification 16 Northwest Porters Games
GAME 1, SEATTLE/KING COUNTY REGION
Curbside Porter, Airways Brewing (8611 S. 212th St., Kent) vs. 13. Robust Porter, Sumerian Brewing (15510 Redmond-Woodinville Road NE, Woodinville)
Airways Brewing put a First Class hurt on Georgetown Brewing's 9lb Porter in the First Round. Then, it checked number one seed Black Raven Coco Jones Coconut Porter's baggage over and over in the Second Round. Now the London-style porter has its sights on a one-way ticket for Sumerian Brewing's Robust Porter. Sumerian Brewing, on the other hand, has history on its side. Sumerians invented beer 3,900 year ago. That name advantage and its strong roasted, robust malt flavor with a hint of chocolate porter all laced up and ready to rumble makes the Woodinville porter a strong contender. Does Airways have any, er, air left after two tough first rounds opponents? Vote now!
SCROLL DOWN TO VOTE >>>>>>>>>>>>>>>>>>>>>>>>>>>>>>>>>>>>>>>>>>>>>>>>>>>
GAME 2, WASHINGTON STATE REGION
Sunrise Coffee Porter, Rainy Daze Brewing (650 NW Bovela Lane, Poulsbo) vs. 10. Puget Sound Porter, Harmon Brewing (204 St. Helens Ave., Tacoma)
Our little vote engine will have to run on all pistons for this game. Rainy Daze Brewing and Harmon Brewing have rabid fans — rabid voting fans. Rainy Daze won last year's Tournament of Beer: Washington State IPAs with its Goat Boater IPA, and its porter is brewed with coffee and cocoa nibs. Harmon has more than 20 years of experience, a heavily malted porter and a cool beer garden for a sunny day. If you don't know their stories, or worse, their porters, then Peaks and Pints doesn't event want to know you.
SCROLL DOWN TO VOTE >>>>>>>>>>>>>>>>>>>>>>>>>>>>>>>>>>>>>>>>>>>>>>>>>>>
GAME 3, IDAHO REGION
Brynhildr Robust Porter, Mad Swede Brewing (2772 S. Cole Road, Boise, Idaho) vs. 13. Hinterland Porter, Powderhaus Brewing (9719 W Chinden Blvd, Garden City, Idaho)
It was only a very small percentage of the Vikings that were warriors; the majority was farmers, craftsmen, traders and craft brewers. For the Vikings who took to the sea, pillaging were one among many other goals of their expeditions. The Vikings settled peacefully in many places such as Iceland, Greenland and Boise, Idaho —the latter mostly at Mad Swede Brewing where they brewed Brynhildr Robust Porter, a delicious beer with flavors of sweet chocolate, roast coffee and floral notes. Powderhaus Brewing, less than 10 miles from Mad Swede, can be traced to Germanic culture, which also tended to be nomadic like the Vikings, residing in trees, the elements, the hinterland. The name Powderhaus merges "powder," referencing Idaho's ski culture, with the German word "haus," or house. Powderhaus brewers brew with one boot firmly planted in classic styles from Germany. Its Hinterland Porter balances multiple specialty malts to achieve its rich robust character. This battle of Idaho porters will be fierce. The ultimate dramatic success of Mad Swede Brewing's Brynhildr Robust Porter? To put it simply: Will Mad Swede owners Jerry and Susie Larson allow their brewers to go Viking?
SCROLL DOWN TO VOTE >>>>>>>>>>>>>>>>>>>>>>>>>>>>>>>>>>>>>>>>>>>>>>>>>>>>
GAME 4, OREGON REGION
Nut Crusher Peanut Butter Porter, Wild Ride Brewing (332 SW 5th St., Redmond, Oregon) vs. 15. Mocha Porter, Rogue Ales (748 SW Bay Blvd., Newport, Oregon)
Porter is something you take for granted, like a comfy easy chair or a well-worn sweater. Yet porters can be as complex as any beer style. Using a palette of malts that includes slightly toasted and just short of charred, the brewer brings out colors from deep amber to ebony and a mélange of flavors, such as toffee, cocoa, mocha and licorice. America's contribution to the category is flavored porter. Two of the best battle today in Game 4: peanut butter versus chocolate coffee, or rather Wild Ride Nut Crusher Peanut Butter Porter versus Rogue Ales Mocha Porter. Analysts say peanut butter all the way, but the Tournament of Beer: Northwest Porters isn't played by analysts. …
VOTE BELOW >>>>>>>>>>>>>>>>>>>>>>>>>>>>>>>>>>>>>>>>>>>>>>>>>>>>>>>>>>>>>
Be sure to click the blue DONE button after selecting your favorite porters!
Wednesday, April 25 Tournament of Northwest Porters action
Game 1: 6. Overhang Bourbon Imperial Porter, Two Beers Brewing (4700 Ohio Ave. S., Seattle) vs. 2. Robust Porter, Reuben's Brews (1050 N. 34th St., Seattle)
Game 2: 1. P-51 Peanut Butter Cup Porter, Wingman Brewers (509 1/2 Puyallup Ave., Tacoma) vs. 4. P-51 Porter, Wingman Brewers (509 1/2 Puyallup Ave., Tacoma)
Game 3: 6. Buzz Buzz Coffee Porter, Salmon River Brewing (411 Railroad Ave., McCall, Idaho) vs. 15. Big Jilm Porter Imperial Coffee Porter, Post Falls Brewing (112 N. Spokane St., Post Falls)
Game 4: 13. Working Girl Porter, Fort George Brewery (1483 Duane St., Astoria) vs. 8. PCT Porter, Crux Fermentation Porter (50 SW Division St., Bend)
LINK: Hot Damn! Yes, I want to follow Peaks and Pints on Twitter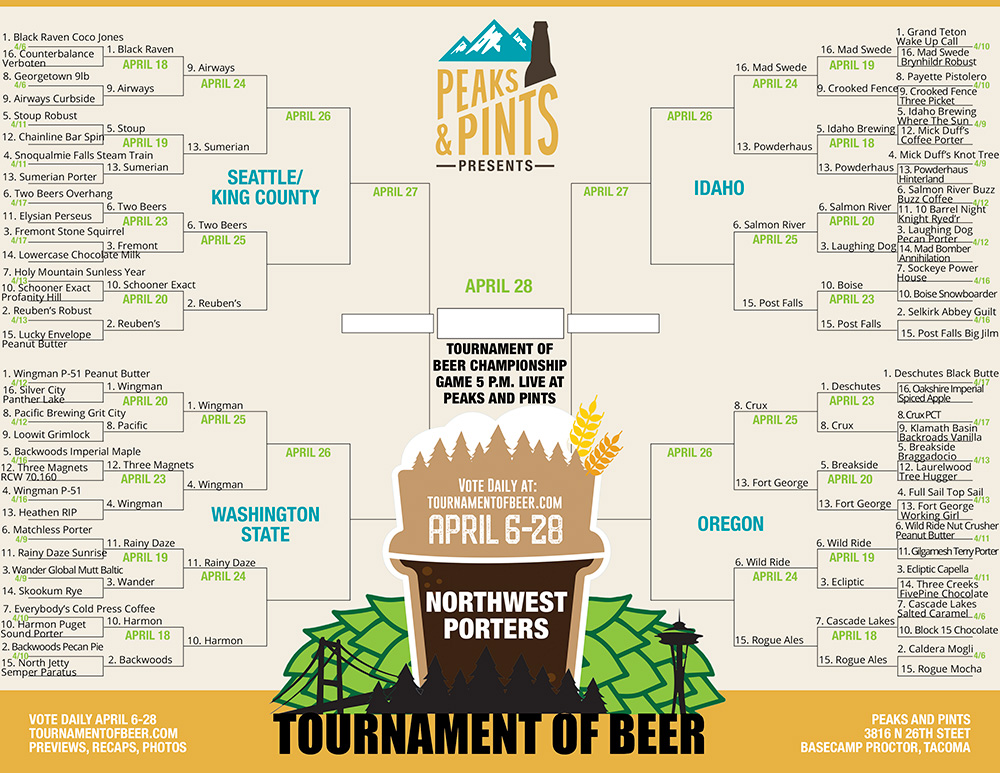 ---