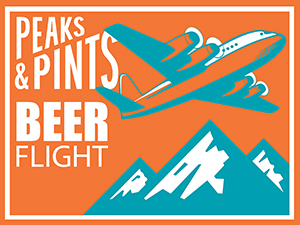 Today, the German Beer Purity Law — Reinheitsgebot — celebrates 503 years of absolutely nothing but barley (or wheat), hops, water, and yeast. Not so much as a spruce tip or cacao nib may defile anything called "beer." Across Germany, breweries, brewing museums, beer gardens and micro-breweries will mark the purity law anniversary by opening their doors to allow a glimpse behind the scenes for visitors to experience the art of brewing as well as its long history. German brewing traditions are influenced by the highly controlled pragmatic Bavarian approach of the Reinheitsgebot coupled with the flamboyant, daring, and just plain weird ale-brewing approach that has brought the world altbier, gose and berliner weisse (we'll save these for another day). When you add the open fermentation that often accompanies weissbier production, you start to get a sense of the way German brewing practices embody an ethos particular to that country. Peaks and Pints celebrates German Beer Day with a special beer sample flight, Craft Beer Crosscut 4.23.19: A Flight of German Beer Day.
Craft Beer Crosscut 4.23.19: A Flight of German Beer Day
Schneider Weisse Mein Aventinus (Tap 6)
8.2% ABV, 16 IBU
Schneider Weisse has a history dating back to 1872, when the company G. Schneider & Sohn was founded in Munich by royal brewer Georg Schneider I and his son Georg Schneider II. When the King of Bavaria later decided to sell the rights to brew wheat beer, Schneider snapped it up, acquired the Weisses Bräuhaus in Munich (the oldest wheat beer brewery in the city), and became the first "common man" to brew wheat beer in Bavaria. According to the official website, the company expanded its operations to the nearby towns of Kelheim and Straubing in 1927, and subsequently, after the breweries in Munich were bombed and destroyed during World War II in 1944, they moved their entire production to Kelheim. Schneider Weisse's basic assortment of beers consists of seven "Taps", including Aventinus (Tap 6), a strong dark wheat, or weizenbock. It hits the tongue with wheat, caramel, leading to dough, vanilla, hint of lemon sourness, banana, cloves, chocolate, marzipan, raisin, plums, and brown sugar. Seriously.
Weihenstephan Weihenstephaner Vitus
7.7% ABV, 17 IBU
Weihenstephan's Bavarian wheat beer, Weihenstephaner Vitus, has a castle full of awards, including three 2011 World Beer Awards: "World's Best Wheat Beer," "World's Best Strong Wheat Beer" and "Europe's Best Strong Wheat Beer." While certainly it doesn't hurt having a cold storage in the brewery's monastery cellars, the beer receives all the awards for its medium body, creamy texture, banana, clove and wheat aromas combined with intriguing fruity bubblegum and spicy qualities, floral and citrus notes on the palate, and a long finish.
Ayinger Altbairisch Dunkel
5% ABV, 21 IBU
About 25 kilometers from the Oktoberfest grounds in Munich, lays a little town called Aying, home to the beloved Ayinger Brewery (Brauerei Aying). This 142-year-old brewery has a deep family history, and remained almost completely unchanged until a new, updated brewery was built in 1999 in order to keep up with the growing market. Again and again Ayinger has won awards for its beers, including the World Beer Cup, and the Deutschen Landwirtschafts Gesellschaft — DLG (German Agricultural Society) gold and silver medals. Peaks and Pints celebrates German Beer Day with one of the DLG gold medal winners — Altbairisch Dunkel. Easy caramel and light, grainy malts play on the palate first, followed by a lovely, floral hop bite that counters the sweetness. With its paltry profile, courtesy of a light body, low alcohol, and dry, clean finish, this brew embodies the style's approachability.
Köstritzer Schwarzbier
4.8% ABV, 22 IBU
In April 1991, the Köstritzer Brauerei, a subsidiary of the Bitburger brewery, shed its 1543 wardrobe and emerged as of one of the most modern breweries in Thuringia, Germany. In September 1993, it re-introduced the "original Köstritzer black beer," a traditional bottom-fermented lager that contains a distinctive fine malty flavor due to the use of refined barley malt. It's a delicious blend of light freshness with a smooth, sweet finish.
Ayinger Celebrator Doppelbock
6.7% ABV, 24 IBU
During Lent, as legend goes, German monks sustained themselves by sipping strong, dark lagers dubbed doppelbocks. This timeworn tale of liquid bread tends to overshadow an indisputable truth: Dopplebocks are fantastic feats of brewing engineering, no more so than Ayinger Celebrator. With accolades from the late Michael Jackson and a collection of gold medals from the World Beer Cup, this rich, toffee-rocked lager is dark, crisp, with a touch of chocolate and grape notes. While presenting a full body, it's not cloyingly sweet and features a wonderfully creamy body and enough alcohol to warm your palate.
---