Tournament of Beer: Northwest Pilsners Sweet Wort 16 April 23
RON SWARNER: For more than two weeks we presented you with a compelling question: Who makes the best pilsner in Washington state and Oregon? And you have responded in multitudes. Vacation days have been used. Neighbors have started feuds. People are selling their wine cellars. Craziness!
PEAKS AND PINTS WEATHER GUY: Cloudy day for the hike from La Push to Second Beach. Winds from the west at 5 mph. Partly sunny tomorrow. Had to wear safari hat for morning cast, bartenders making gag/choke sounds during my presentation to PTA. Chance of rain: 0%. Chance Charlie on "Lost" will end up w/Claire: Don't tell me! Hi: 54.
RON SWARNER: The competition had been whittled down to the Sweet Wort 16. Yes, 16 Northwest pilsners are poised to make the final push to the Final Four, which will begin Friday.
So, read up on yesterday's action, and then vote on the first four games of the Sweet Wort 16.
Monday, April 22, Second Round Northwest Pilsners Games results
GAME 1, SEATTLE/GREATER KING CO. REGION
11. Two Beers Pilchuck Pilsner vs 3. Chainline Polaris Pilsner
There is just something about the Tournament of Beer. The spread of talent in this Northwest Pilsners tournament is insanely large, with the top-seeded pilsners often blowing away the bottom-seeded pilsners by 436 or more votes. But sometimes, things don't always go as planned. Even when a pilsner takes a huge lead, whether they're the favorite or the underdog, it's just not safe in the tournament. Yesterday, No. 3 seed Chainline Polaris Pilsner shot to a huge lead in the early afternoon. It looked as if Two Beers dreams would be pilchucked. Those who know Two Beers brewers Jesse and Alex, know these guys have heart. Obviously, Peaks and Pints doesn't know what the two brewers did, but it looks as if they doubled their effort. Two Beers went on an incredible run. Two beers became Four Beers, then Six. Two Beers ended up with 57 percent of the vote and a slot in the Sweet Wort 16.
PEAKS AND PINTS WEATHER GUY: Two, four, six, eight, who do we appreciate!
GAME 2, WASHINGTON STATE REGION
12. Boundary Bay Pilsner vs 4. Kulshan Pilsner
In a back and forth matchup pitting two fairly evenly matched Bellingham breweries (at least in the eyes of voters, it seems), Kulshan Brewing was eventually able to pull ahead of the institution Boundary Bay Brewery thanks to a late run — grabbing 51.87 percent of the votes. You can't question Kulshan Brewing's college crowd following, which on this day overpowered Boundary Bay's longtime Bellingham regulars.
PEAKS AND PINTS WEATHER MAN: Sometimes a young, beer-drinking following is just what it takes in the Tournament of Beer.
GAME 3, PORTLAND/MULTNOMAH CO. REGION
7. Upright Engelberg Pilsner vs 2. Heater Allen Pils
This game changed leads 16 times through yesterday's Tournament of Beer Second Round action. Two votes separated the winner from the loser in this brutal battle. Was it the three exclamation points on their Facebook post — "Go vote for Heater Allen!!!" — that stayed in the minds of last-minute voters? Or was it the fact that Heater Allen Pils is a little more golden, rounder, and a little more malt driven than many other Bohemian pilsners? Whatever it was Heater Allen will need it April 24 when it faces off with Ecliptic Spectra Hoppy Pilsner. Families will be torn apart that day.
PEAKS AND PINTS WEATHER GUY: Engelberg is an ornamental name meaning "angel" and "mountain." Upright Brewing will be fine.
GAME 4, OREGON REGION
1. pFriem Pilsner vs 9. Pelican Five Fin West Coast Pilsner
The other close battle yesterday took place on both sides of the Mt. Hood National Forest featuring two worthy pilsners bordering water. pFriem Family Brewers and Pelican Brewing Co. battled back and forth all day, changing leads several times. It's our guess Pelican's decision to push the return of their Pelicano Extra! Mexican-style Lager might have confused a few voters. pFriem Pilsner moves into the Sweet Wort 16 with a slim 51.14 percent of the votes.
RON SWARNER: Let's wade through the soft water. The following are advancing to the Sweet Wort 16:
Two Beers Pilchuck Pilsner
Kulshan Pilsner
Heater Allen Pils
pFriem Pilsner
RON SWARNER: OK, let's do a quick liver-size check, then dive into today's Sweet Wort 16 pilsner battles. Vote for one pilsner per game (one device per game). Voting for today's pilsner battles ends at 11:45 p.m.
Tuesday, April 23, Sweet Wort 16 Northwest Pilsners Games
GAME 1, SEATTLE/GREATER KING COUNTY REGION
9. Sumerian Lucidity Pilsner vs 13. Maritime Pacific Portage Bay Pilsner
The Tournament of Beer puts a spotlight on pilsners brewed in Washington and Oregon. Fans don't need to know the details of the sulfate-to-chloride ratio in water or an upward step mash program to appreciate the intensity of theater of 64 pilsners fighting for survival in a one-and-done tournament. When an underdog goes on a run, the Cinderella story becomes the talk of the region in April. Meet No. 13 seed Portage Bay Pilsner from Maritime Pacific Brewing Co. Of course, an inexact science is applied to the title "Cinderella" that includes the brewery's seed, the hops and brewers involved and the lasting impact of the run on the hearts and minds of pilsner voting fans. So quickly, before midnight, let's see if the slipper fits. Sumerian Lucidity Pilsner is brewed with what Tournament of Beer statisticians call the "perfect combination of German malts and European hops for a clean and crisp lager." Let the story play out.
PEAKS AND PINTS WEATHER GUY: It can't be ignored that the first deliberate production of beer in history can be attributed as one of the achievements of Sumerians, with the evidence of the oldest known surviving beer recipe contained within a 3900-year-old poem – Hymn to Ninkasi.
SCROLL DOWN TO VOTE >>>>>>>>>>>>>>>>>>>>>>>>>>>>>>>>>>>>>
GAME 2, WASHINGTON STATE REGION
14. Farmstrong Cold Beer Pilsner vs 10. Brothers Cascadia The People's Pilsner
Straight outta Vancouver, Brothers Cascadia took on Tacoma in the First Round, handing beloved 7 Seas Brewing a loss, then, basically took on Eastern Washington melting über popular Icicle Brewing's dream of a championship. Today, The People's Pilsner meets Farmstrong Cold Beer Pilsner on the playing floor. Does Bros. Cascadia The People's Pilsner have what it takes to take on a pilsner that big, strong farmhands drink? That said, Cold Beer Pilsner does float light and quick; that's how its brewed — an insanely sessionable lager. If Bothers Cascadia gets hot, our guess is Farmstrong will douse it with Cold. It should be a back-and-forth affair.
PEAKS AND PINTS WEATHER GUY: I think it will be decided in The People's Court.
SCROLL DOWN TO VOTE >>>>>>>>>>>>>>>>>>>>>>>>>>>>>>>>>>>>>
GAME 3, PORTLAND/GREATER MULTNOMAH CO. REGION
1. Breakside Pilsner vs 4. Occidental Bohemian Pilsner
In some circles, a matchup between Breakside Brewery Pilsner and Occidental Brewing Bohemian Pilsner should be reserved for the Tournament of Beer: Northwest Pilsners Championship Game. Unfortunately, the structural format of the tournament makes such a match impossible. These two world-class pilsners must play through each other to achieve a spot in the championship game Saturday, April 27. Still, this Sweet Wort 16 pilsner showdown has a championship game feel. Twitter will have a meltdown.
PEAKS AND PINTS WEATHER GUY: Seriously. There's a chance today's big story won't be the Trail Blazer's Game 5 playoffs with Oklahoma tonight, but rather Breakside vs. Occidental showdown in the beer halls.
SCROLL DOWN TO VOTE >>>>>>>>>>>>>>>>>>>>>>>>>>>>>>>>>>>>>>
GAME 4, OREGON REGION
3. Buoy Czech Pils vs 10. Sunriver Czech Meowt
RON SWARNER: When it comes to Tournament of Beer, even the most casual fan gets into the act. People who haven't drunk a single pilsner will suddenly become experts, and bracketology braggarts. You know, the people who sit, with a couple of friends at most, sunken into a sofa drinking as many of the tournament participating pilsners as possible. This group of fans makes certain to save at least 5-6 sick days specifically for use in April. It's safe to say that these fans didn't have 1oth seed Sunriver Brewing Czech Meowt in the Sweet Wort 16. The Bohemian style pilsner brewed in a ski resort village beat Rogue's Good Chit and Crux's Pilz. Buoy Beer is well aware of the situation. The Astoria brewery isn't taking their third seed for granted. They've been "toughening up" by brewing their Czech Pils on a crabbing boat in rough waters. Will this Rocky Balboa training scenario pay off? The votes will tell.
PEAKS AND PINTS WEATHER GUY: Cut me Mickey! Cut me!
VOTE BELOW >>>>>>>>>>>>>>>>>>>>>>>>>>>>>>>>>>>>>>>>>>>>>>>>>>>>>>>>>

LINK: Tournament of Beers: Northwest Pilsners explained
LINK: Hot Damn! Yes, I want to follow Peaks and Pints Weather Guy on Twitter!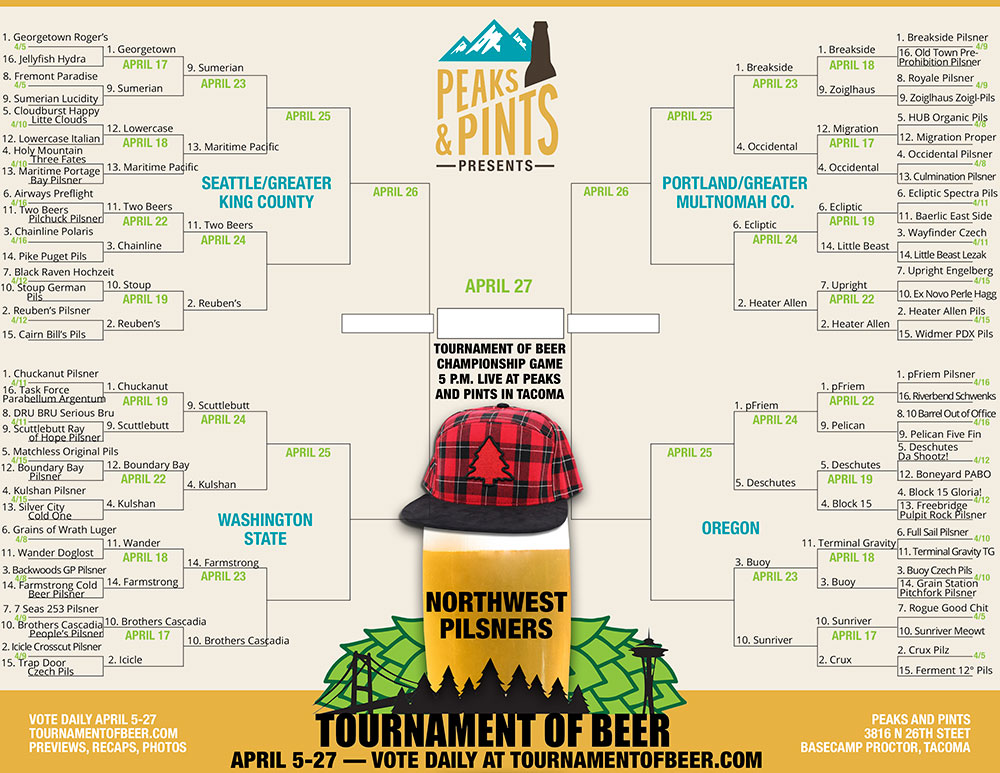 ---