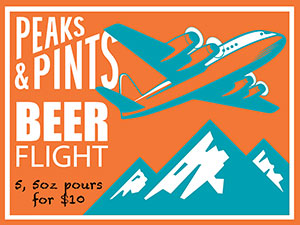 There's no shortage of things you can do to celebrate 4/20, like, say, visiting numerous dispensaries and buying copious amounts of deeply discounted cannabis and cannabis products, and then, you know, consuming them, perhaps in a Mrs. Butterworth's bong or Cheech & Chong joint. Hey, so long as you consume responsibly and don't drive afterward, of course. But there are things happening on 4/20 that are a bit more, shall we craft beer oriented, like drinking beers that are "dank," a term that means pungent, funky and odoriferous, to both good weed and very hoppy IPAs. Dank means an extremely overpowering odor that can smell like the citrus and pine flavors everyone loves. Dank beers are ones that can easily fill a room with its odor, just like dank marijuana. After all, beer hops and weed nugs are similar in taste and smell, and the characteristics of a particularly dank, hoppy beer can often be found in a jar of particularly dank, primo weed. Or so we're told. Hops and marijuana both contain terpenoids, compounds that give the plants similar characteristics. In fact, both fall into the taxonomic family Cannabaceae, so it follows that you could create a fairly stinky beer with the right treatment of the right hops. Hops don't get you high, but in smell, taste and appearance, they often feel just about as … dank. Enjoy our Craft Beer Crosscut 4.20.18: A Flight of 4/20.
Revision IPA
6.5% ABV, 50 IBU
In 2015, Jeremy Warren left everyone knee deep in tears when he departed the brewery he founded, Knee Deep Brewing Co. In March 2017, he opened Revision Brewing Company in Sparks, Nevada, laving everyone knee deep in hops. He began pounding taste buds with his lupulin-laden creations once again, including his IPA, which is crystal clear and bursting with old-school, dank and Northwest hops, including Simcoe laying the foundation with tropical citrus, orange and pine flavors melding seamlessly. There are callbacks to the last decade, but an appreciative nod to today in the way the hops come together.
Two Beers Proctor Peaks IPA
6.7% ABV, 60 IBU
In the past four to five years there's been a lot of interest in adding crazy fruity and juicy hops to IPAs. Peaks and Pints desired a house IPA based on citrus, pine and bitterness that's more common to IPAs of a decade ago. Two Beers Brewing Co. — a Seattle brewery with one foot planted in the woods, just like Peaks and Pints — allowed the Tacoma bottle shop and taproom to collaborate on an old school IPA. Named after Tacoma's Proctor District, where Peaks and Pints resides, Proctor Peaks IPA's hop bill features Warrior, Chinook, Columbus and Simcoe hops with kettle and dry hop additions. It has clear, copper coloring, because that's a thing, with pine (naturally) flavor and dank on the nose.
Block 15 Sticky Hands
8.1% ABV, 100 IBU
Block 15 Brewing sits heart of downtown Corvallis, only a few blocks from Oregon State University. The brewery's name hails from Corvallis' previous incarnation as Marysville and the old plat map location from the old town. In late 2011, homebrewers Nick and Kristen Arzner opened the brewery and restaurant serving beers true-to-style with ingredients imported from different parts of the world, along with all the Willamette Valley produced grains, hops, fruits, herbs and yeast. Its Sticky Hands double IPA is a "Hop Experience Ale" featuring ample additions of sticky, resinous, lupulin packed hop buds grown in the Pacific Northwest. Sticky Hands begins with an aromatic blast of tropical fruits, citrus and dank herb; transitions into luscious hop flavor; and ends with a balanced bitter finish, gently propped up by pale malted barley and fermented with Block 15's privately banked Brewers yeast.
Lagunitas Waldos' Special Ale
11.3% ABV, 100 IBU
Good news! Our supply of Lagunitas Brewing Co.'s Waldos' Special Ale hit our Western red cedar tap log. The Petaluma, California brewery brews this seasonal triple IPA as a tribute to the Waldos, the group of kids who attended San Rafael High School in the early 1970s. The kids received their name because they would hang out around a wall. The Waldos are most well known for being the founding fathers of 420. They created the slang term as a covert way to gather after school at 4:20 p.m. to smoke weed. Dude, Waldos' Special Ale is dank and sticky.
Dogfish Head 120 Minute IPA
18% ABV, 120 IBU
Dogfish Head's 120 Minute IPA is pure craft gluttony in a bottle. Layers of syrupy, grassy, dank on dank on dank, resin hops get boiled for two hours, using Amarillo, Simcoe and Warrior hops continuously in the brewing and fermenting process  —  this beast ain't about fresh, it's about hop power. Taste starts bittersweet with piney hops and orange peel but then the booze kicks in and burns the throat. Despite this, there's a nice, smooth finish that follows the initial hoppy burn.
---