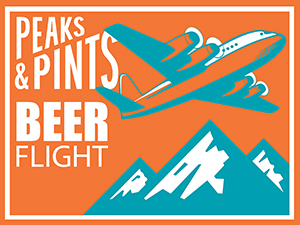 Consider the saison. History did. During the 19th century, Belgian farmers brewed saisons, or "farmhouse ales," using the leftover grains from the fall harvest. In fact, not only did farmers decrease leftover grains (and keep busy during the non-growing months) but also livestock ate the spent grain feed, and seasonal workers drank during the hot summer months to stay hydrated. That's what you call a win-win. And back then, saisons only clocked in at about 3.5% ABV, making it a sessionable, hydrating beer during warm weather. The reason for so much of the funky yeast commonly found in saisons? Farmers would re-pitch the same yeast each year to save money, which led to some multi-strain fermentations. Today, the best saisons are refreshing, funky, and unique. OK, it may not be summer yet, but let's pretend it's warming up outside and drink Craft Beer Crosscut 4.19.19: A Flight of Saison Beers.
Craft Beer Crosscut 4.19.19: A Flight of Saison Beers
E9 Tayberry Farmhouse
6% ABV
Local beer's popularity might be the highest it's been since pioneer Ezra Meeker planted hop vine cuttings on his Puyallup Valley farm in 1865. Speaking of local and Puyallup Valley, Tacoma's House of Saison, E9 Brewery, gathered a bunch of tayberries from Sterino Farms, aged them with Brettanomyces and produced the loveliest Tayberry Farmhouse Ale in all the land.
Pelican Queen of Hearts
6.5% ABV, 30 IBU
Pelican Brewing's Saison du Pélican is exceptional on its own; when aged in Ransom Distillery gin barrel, it takes on a whole other dimension of flavor. The fruity and spicy aroma of the farmhouse Belgian yeast, herbaceous Goldings hops and the well rounded malt character of Saison du Pélican pairs exquisitely with the huge botanical infusions imparted by Ransom Distillery's Old Tom gin barrels. The name? It has been mentioned that the distillers only bottle the "heart of the hearts" (best portion of distillate), which is why the Oregon coast brewery dubbed its barrel-aged saison, "The Queen of Hearts."
pFriem Saison
6.5% ABV, 32 IBU
pFriem Family Brewers' Saison pays homage to the saisons that were brewed in the winter for the farmers family and friends in the Wallonia region of Belgium, located in the Southwestern part of the country. The beers would last longer and age better than the beers brewed in the summer months. pFriem's Saison pours with big white rocky foam on top of a hazy gold body. On the nose, expect fresh tropical aromas of guava. Resiny kumquat fills the mouth with touches of earthiness.  This rustic beer finishes spritzy and thirst quenching.
Tin Dog Saison
6.7% ABV
Tin Dog Brewing's Saision bridges the gap between the malty brews of winter and summer's hoppy bitter beers. It pours a medium hazy orange golden with thin white head. Aroma is lightly sweet pale malt, just a hint of yeast and orange zest on the back. Taste is clean smooth crystal malt, light juicy orange and lemon citrus, banana and light clove notes from the yeast, then an incredibly clean finish.
Ecliptic/Brooklyn Tangerine Farmhouse Ale
8% ABV, 15 IBU
Ecliptic Brewing turns 5 this year. In celebration, the Portland brewery has launched the Cosmic Collaboration series, 5 Beers for 5 Years, in which Ecliptic collaborates with five other esteemed breweries to brew five celestial concoctions, then taking each collaboration on separate tours supported by tapped craft beer from both breweries. Brooklyn Brewery certainly didn't tell famed Brewmaster Harris no; the two breweries brewed an amazing Tangerine Farmhouse Ale to kick off the first tour, which Peaks and Pints hosted April 1 – no joke. Everyone enjoyed the bright tangerine and balanced farmhouse spice of the Ecliptic/Brooklyn Tangerine Farmhouse Ale.
---