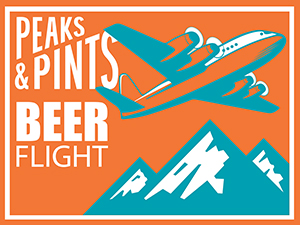 Sam Calagione started making beer in 1995 when he opened Dogfish Head Brewings & Eats in the beach community of Rehoboth Beach, Delaware. It was the smallest commercial brewery in America at that time. Within a few successful years, the company activated a major expansion, switching from making very small, homebrew-style batches to industrial-sized sessions in a sizeable brew house. Dogfish Head expanded and moved to a 100,000 square foot facility in nearby Milton, Delaware in 2002. They're one of the largest craft brewers in America but yet there may be no brewery today that exhibits such a dedication to experimentation and boundary pushing. Tonight, we'll host Dogfish Head for a pre Record Store Day celebration. Every year, the brewery creates the official beer of Record Store Day; this year they return to a classic — their American Beauty pale ale brewed with their longtime friends the Grateful Dead. In conjunction, we present a flight of the brewery's beers that we call Craft Beer Crosscut 4.11.19: A Flight of Dogfish Head.
Craft Beer Crosscut 4.11.19: A Flight of Dogfish Head
Dogfish Head Dragons & YumYums
6.5% ABV, 25 IBU
Several years ago we saw The Flaming Lips at the Puyallup Fair. That was weird, but not as weird as when Lips frontman Wayne Coyne entered the stage through a giant vagina then began walking on the crowd in a human hamster ball while confetti filled the air. The band also re-recorded Dark Side of the Moon with Henry Rollins and Peaches on vocals. In a Rolling Stone interview, Coyne detailed an ayahuasca trip with Miley Cyrus. So really, a Dogfish Head beer made with the Flaming Lips seems like not that relatively weird a thing. Of course we'd be mistaken for thinking anything less. Called Dragons & YumYums, the pink brew is a tropical pale ale with flavors of pear, passion fruit, dragon fruit, yumberry and black carrot juice. Coyne was given a long list of ingredients to choose from. Which explains how black carrot juice made the cut. The ale was brewed in conjunction with last year's Record Store Day, when record stores throughout the States release unforeseen specials and curios.
Dogfish Head Flesh & Blood IPA
7.5% ABV, 45 IBU
Dogfish head has been experimenting with fruit and citrus IPAs since the 1996 Aprihop release. Brewed with an enticing ratio of complementary fruit flesh, freshly squeezed juice, and Northwest citrusy-hop varieties, Flesh & Blood began with a ton of real citrus including lemon flesh and blood orange juice — hence the name — plus orange and lemon peel. Then the brewers began searching for the perfect combination of hops to perfectly complement the citrus flavors.
Dogfish Head 60 Minute IPA
6% ABV, 60 IBU
No stranger to IPA fans, Dogfish Head's 60 Minute IPA is continuously hopped with more than 60 hop additions over the entire boil to create a powerful yet balanced East Coast blend with a ton of citrusy hop character. Inspired by a cooking segment he saw in the late '90s where a chef added little increments of pepper over an extended period to enhance flavor, Calagione turned to a vibrating magnetic football game to create a system that would continuously add hop pellets during the entire time a beer boiled. The 60 minutes of continuous "A Northwest Hop" contributes to sweet aroma of apricot and pear — similar to a Riesling. The beer doesn't taste as sweet as it smells and instead we get notes pungent grapefruit pith with a slight bitterness.
Dogfish Head The Perfect Disguise
8% ABV, 70 IBU
On the surface, Dogfish Head's The Perfect Disguise looks like a straightforward kolsch with a crisp kolsch yeast and traditional German malts and hops — but things aren't always what they seem. After the creamy mouthfeel compliments of German chit malt, the beer morphs into an imperial IPA with a double dry hopping with nearly 4-pounds of German and American hops per barrel, bringing tropical flavors of citrus, tangerine, mango, gooseberries and peach.
Dogfish Head 90 Minute IPA
9% ABV, 90 IBU
The 90 Minute IPA, which debuted in 2001, is the first beer that Dogfish Head continuously hops, adding hops for 90 minutes during the boil for bitterness, and then dry-hop in the fermentation casks to achieve high aroma and flavor. Despite the massive amounts of hops, a clean, grainy malt character ekes through — maple and golden raisin — balancing some of the bitterness and grassy flavors.
---