Tournament of Beer: Northwest Pilsners First Round April 12
RON SWARNER: Over a three-week period, Peaks and Pints pits 64 of the Pacific Northwest's best in a Grandpa hops-to-Grandpa hops battle of pilsners. This is a tournament, folks, not a playoff. Each match is do or die — one misstep and you're out of the dance. Not willing to put in the time, effort, and money to pull a water report and consult the available resources on brewing water chemistry, and you can pack your brewers paddle and go home. Sure, there are plenty of brewers wearing "Light As A Pilsner" T-shirts who can brew a mighty fine batch of pilsner. The Northwest's finest pilsner purveyors brew it perfect every time.
PEAKS AND PINTS WEATHER GUY: Ugh. My freakin' head. Oh no. Liquor cabinet locked is cut off. Mom is going to kill me. My forecast calls for mostly cloudy, with a high near 55, for hiking the Ozette Triangle. Rain Saturday and Sunday with winds gusting as high as 20 mph and 100 percent chance of precipitation.
RON SWARNER: The Tournament of Beer: Northwest Pilsners hosts competitions Monday through Friday up to the championship game Saturday, April 27 live at Peaks and Pints bottle shop, taproom and restaurant in Tacoma's Proctor District. Without further ado, let's take a gander at yesterday's results. After the weekend break, eight new Northwest pilsners go at it around 9 a.m. Monday, April 15.
PEAKS AND PINTS WEATHER GUY: Can't wait for Sunday when Arya and Jon, Dany and Tyrion, and some dragons that are ready to f— sh– up.
Thursday, April 11, First Round Northwest Pilsners Games results
GAME 1, WASHINGTON STATE REGION
1. Chuckanut Pilsner vs. 16. Task Force Parabellum Argentum
RON SWARNER: The nice thing about a number one seed is it usually means you have a paddy-cake game the First Round. Not so much the case yesterday. Task Force Brewing is one of the darlings of the South Sound, including Joint Base Lewis-McChord. The brewery is all the talk in the Lakewood City Hall halls. Chuckanut Pilsner is another award-winning beer from one the nation's most revered brewers of craft lagers. Chuckanut had to battle all day to squeak out a win with 58% of the votes.
PEAKS AND PINTS WEATHER GUY: Can't wait for Task Force to open their Lakewood taproom!
GAME 2, WASHINGTON STATE REGION
8. Dru Bru Serious Bru vs. Scuttlebutt Ray of Hope Pilsner
RON SWARNER: In yesterday's only blowout game Scuttlebutt Ray of Hope Pilsner grabbed 77 percent of the votes over Dru Bru Serious Bru. The traffic along Interstate 90 was extra heavy with Uber drivers as folks traveled back and forth between the two breweries. There's a rumor Dru Bru head brewer Dru Ernst built a giant pilsner glass out of snow in front of the brewery yesterday. Snow pilsner or not, Scuttlebutt poured it on strong. Ray of Hope enters the Second Round.
PEAKS AND PINTS WEATHER GUY: Oh … um, l-look, if Dru Bru built this large wooden badger. …
GAME 3, PORTLAND/GREATER MULTNOMAH CO. REGION
6. Ecliptic Spectra Hoppy Pilsner vs. 11. Baerlic Eastside Oatmeal Pilsner
RON SWARNER: Spectra and Eastside Oatmeal battled back and forth all day, changing leads several times. Then, Ecliptic began promoting their upcoming Cosmic Collaboration Hazy Double IPA with Firestone Walker. Not so fast, Ecliptic. Baerlic busted out their new Fuzz Box Hazy IPA with haze of pineapple, mango, stone fruit, watermelon, candy, juicy fruit, sticky pine, resinous pitch, earthy black tea, duff, must, heavy metal, punk rock and stomp box in that order. While the two breweries lost their heads, Spectra and Eastside Oatmeal continued to pound away. When the finish buzzer sounded, Spectra Hoppy Pilsner looked up to see a victory with 52 percent of the votes. Ecliptic Spectra Hoppy Pilsner moves into the Second Round.
PEAKS AND PINTS WEATHER GUY: I need that Fuzz Box.
GAME 4, PORTLAND/GREATER MULTNOMAH CO. REGION
3. Wayfinder Czech Pils vs. Little Beast Lezak
"We're going to burn some dust here," stated Little Beast Brewing's Facebook page. "Eat my rubber Wayfinder Beer! Vote now, daily and preferably every five minutes for our Lezak Czech Pilsner in @peaksandpints Tournament of Beers." Yes, indeed, Little Beast Brewing went into beast mode yesterday. All Wayfinder's medals, all the accolades, even award-winning lager head brewer Kevin Davey (Chuckanut, Firestone Walker, Gordon Biersch) couldn't stop Lezak's beast mode. Little Beast's owner/head brewer Chuck Porter has been around the block a few times too. Porter not only brewed at two of the state's largest breweries, Deschutes and Full Sail, but he co-founded one of the buzziest ever, Logsdon Farmhouse Ales. When the final buzzer sounded, Little Beast Lezak grabbed 64 percent of the votes and a date with Ecliptic's Spectra Hoppy Pilsner in the Second Round.
RON SWARNER: Let's wade through the soft water. The following are advancing to the Second Round:
Chuckanut Pilsner
Scuttlebutt Ray of Hope Pilsner
Ecliptic Spectra Hoppy Pilsner
Little Beast Lezak
RON SWARNER: OK, let's do a quick liver-size check, then dive into today's First Round pilsner battles. Vote for one pilsner per game (one IP address per vote). Voting for today's pilsner battles ends at 11:45 p.m.
FRIDAY, APRIL 12, FIRST ROUND NORTHWEST PILSNERS GAMES
GAME 1, SEATTLE/GREATER KING COUNTY REGION
Player: Hochzeit Pilsner, Black Raven Brewing (#7 seed)
Team: Black Raven Brewing, Redmond
RON SWARNER: In the 1990s, Beaux Bowman homebrewed while attending William Carey University in Mississippi. Tired of school he skipped entering the fermentation science program at the UC Davis, and went straight to work for Mac and Jack's Brewing in Redmond. After stints at Far West Ireland Brewing, Lazy Boy Brewing and The Ram, Bowman opened Black Raven Brewing in 2009 in Redmond. His summer seasonal 2017 Washington Beer Awards silver medalist German style pilsner, Hochzeit Pilsner, is brewed with traditional Czech grown and malted barley for an authentic European malt flavor. Domestic and European hops provide a balanced hop bitterness and flavor.
PEAKS AND PINTS WEATHER GUY: Hochzeit is the German word for "wedding." Used in a sentence: The only hochzeit Peaks and Pints Weather Guy will ever see is the one he crashes.
ABV: 5%, IBU: 32, Malts: Czech barley, Pilsner, Hops: Magnum, Mt Hood, Czech Saaz
Player: German Style Pilsner (#10 seed)
Team: Stoup Brewing, Seattle
RON SWARNER: Scientist Brad Benson and foodie Lara Zahaba opened Stoup Brewing in Seattle's Ballard neighborhood in 2013. Washington state's first female Cicerone, Robyn Schumacher, became Stoup's third partner, assisting Benson in the brewing room. Benson graduated from Gonzaga University with a B.S. in Chemistry and has been crafting beer for more than 25 years. Stoup's German-style pilsner offers a crisp, clean character with subtle grain sweetness, spicy hop aroma and refreshingly dry, hop-forward finish.
PEAKS AND PINTS WEATHER GUY: A stoup is a beverage container, such as a glass or tankard, as well as a basin for holy water at the entrance of a church. The bartenders splash beer on me all the time claiming it's a holy blessing.
ABV: 5.1%, IBU: 40, Malts: German 2-row barley, Hops: Hallertau Mittelfrueh
SCROLL DOWN TO VOTE >>>>>>>>>>>>>>>>>>>>>>>>>>>>>>>>>>>>>>>>>>>>>>>>>>>>>>>>>>>>>
GAME 2, SEATTLE/GREATER KING COUNTY REGION
Player: Pilsner (#2 seed)
Team: Reuben's Brews, Seattle
RON SWARNER: Adam Robbings' beer recipes had much success at homebrew competitions, including winning the silver medal at the National Homebrewing Competition in 2012, and his talent, along with a Kickstarter campaign that raised close to $11,000, eventually earned him his own brewery — Reuben's Brews officially opened in Seattle's Ballard district in August 2012. Since then, the team has accrued an astounding amount of accolades, including a 2016 Washington Beer Awards gold medal for its Czech-style Pilsner, a clean, crisp and bright lager with bready malt notes and spicy traditional hops.
PEAKS AND PINTS WEATHER GUY: When Adam and Grace Robbings founded their craft brewery in August 2012, they agreed to name it after their son, Reuben. Nobody cares about my real name.
ABV: 5.4%, IBU: 35
Player: Bill's Pils (#15 seed)
Team: Cairn Brewing, Kenmore
RON SWARNER: Bill and Jen Boyd were hiking on Mount Rainier and passed a cairn. Instantly, they knew that would be the name of the brewery. In spring 2016, they opened Cairn Brewing on the Burke-Gilman trail in Kenmore. Their German style pilsner hits the nose with a light grain note, followed by low malt flavor and sweetness. It's dry and clean, offering a refreshing quality that leaves behind just a hint of bitterness.
PEAKS AND PINTS WEATHER GUY: Are their regulars called Cairnies?
ABV: 5%, IBU: 30
SCROLL DOWN TO VOTE >>>>>>>>>>>>>>>>>>>>>>>>>>>>>>>>>>>>>>>>>>>>>>>>>>>>>>>>>>>>>>
GAME 3, OREGON REGION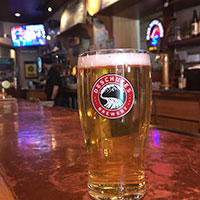 Player: Da Shootz! (#5 seed)
Team: Deschutes Brewery, Bend
RON SWARNER: Californian Gary Fish established his brewpub concept, Deschutes Public House, in downtown Bend in 1988. Named after the Deschutes Rover, Deschutes was Central Oregon's first brewery. Fish hired John Harris (founder of Ecliptic Brewing Co.) from McMenamins. Legislation and a growing provincialism for locally crafted beers soon turned the microbrewer of Mirror Pond Pale Ale and Black Butte Porter in obscure Bend, Oregon into a macro success, as the state's largest brewer by barrel count. Still family and employee owned, the brewery is known for brewing a diverse line-up of award winning beers including the popular Fresh Squeezed IPA, Black Butte Porter, and Mirror Pond Pale Ale. However, the brewery has heard its name pronounced "Da-shootz" for so long they decided to name their new light pilsner, Da Shootz! It's an effervescent, crisp and pilsner with a light malt body and aromas of lemon and mango.
PEAKS AND PINTS WEATHER GUY: Da Shootz!
ABV: 4%, IBU: 25, Hops: Tettnang, Lemondrop, Azacca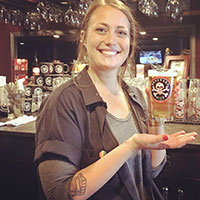 Player: PABO Pils (#12 seed)
Team: Boneyard Beer, Bend
RON SWARNER: In 2010, Boneyard Beer was started in an old auto shop tucked away in the backstreets of Bend, Oregon's historical district. Without any outside investors or major bank loans, Boneyard's inception was unconventional to say the least. After decades in the brewing industry, owner Tony Lawrence built up a "boneyard" of old equipment he collected from 13 different breweries around the country. Alongside co-founders, Clay and Melodee Storey, this second-hand brewing equipment was pieced together to brew the first batch of Boneyard Beer in May 2010. Lawrence is perhaps best known for his bold, in-your-face IPAs, but when it comes to the lighter styles his experience shines through, as evident with this fine lager. This German-style pilsner is a crisp, light pale yellow beer is sweet and bitter with grain and malt flavors. The finish is dry and bitter.
PEAKS AND PINTS WEATHER GUY: Boneyard!
ABV: 5%, IBU: 29, Hops: Saaz
SCROLL DOWN TO VOTE >>>>>>>>>>>>>>>>>>>>>>>>>>>>>>>>>>>>>>>>>>>>>>>>>>>>>>>>>>>>>>
GAME 4, OREGON REGION
Player: Gloria! Unfiltered Pilsner (#4 seed)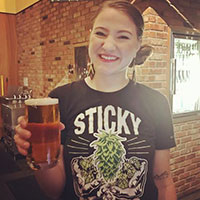 Team: Block 15 Brewing, Corvalis
RON SWARNER: Block 15 Brewing's original brewery sits in the heart of downtown Corvallis, only a few blocks from Oregon State University. The brewery's name hails from Corvallis' previous incarnation as Marysville and the old plat map location from the old town. In late 2011, homebrewers Nick and Kristen Arzner opened the brewery and restaurant serving beers true-to-style with ingredients imported from different parts of the world, along with all the Willamette Valley produced grains, hops, fruits, herbs and yeast. Blending delicate malt character and zesty hops, Gloria! is Block 15 Brewing Co.'s vision of the crisp, unfiltered pilsner. Brewed with floor-malted pilsner malts, it pours a hazy, straw-colored pint. Magnum, Hallertau, Oregon-grown Mt. Hood and Czech Saaz hops impart citrus, grass and floral spice, while Czech Pilsner yeast finishes clean and refreshing. Packaged after four weeks of cold lagering, this snapshot in flavor and aroma will last for a couple weeks, when stored cold. With extended cold storage, Gloria! mellows out to further balance these lively hop and yeast notes with its intricate malt backbone.
ABV: 5%, Malts: floor-malted pilsner malts, Hops: Magnum, Hallertau, Oregon-grown Mt. Hood, Czech Saaz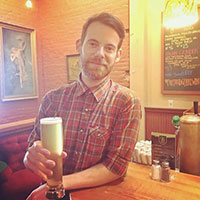 Player: Pulpit Rock Pilsner (#13 seed)
Team: Freebridge Brewing, The Dalles
RON SWARNER: Freebridge Brewing is the dream of a fifth generation Oregon ranch family — Steve Light and Laurie Petroff-Light. On Laurie's Matriarchal side, Great Grandma Matilda Hendricks walked into Fort Dalles, Oregon, as a young girl on the Oregon trail. Most likely over the Freebridge. Today, the Petroff family continues to farm wheat and run cattle in the Fifteen Mile Creek valley. Pulpit Rock is an award-winning traditional German style pilsner that pours a crystal clear body topped with a brilliant white head. A distinct light lager flavor and a whiff of Willamette hops finishes crisp and clean.
ABV: 4.3%, IBU: 30, Malts: European, Hops: Willamette
VOTE BELOW (one vote per person, one vote per IP address) >>>>>>>>>>>>>>>>>>>>>>>>>>>>>>>>>>>>>>

Monday, April 15 Tournament of Northwest Pilsners action …
Game 1: 5. Original Pils, Matchless Brewing (8036 River Dr. SE, Tumwater) vs. 12. Pilsner, Boundary Bay Brewery (1107 Railroad Ave., Bellingham)
Game 2: 4. Pilsner, Kulshan Brewing (1538 Kentucky St., Bellingham) vs. 13. Cold One, Silver City Brewery (206 Katy Penman, Bremerton)
Game 3: 7. Engelberg Pilsner, Upright Brewing (240 N. Broadway, Portland) vs. 10. Perle Haggard, Ex Novo Brewing (2326 N. Flint Ave., Portland)
Game 4: 2. Pils, Heater Allen (907 NE 10th Ave., McMinnville) vs. 15. PDX Pils, Widmer Brothers Brewing (929 N. Russell St., Portland)
LINK: Tournament of Beers: Northwest Pilsners explained
LINK: Hot Damn! Yes, I want to follow Peaks and Pints Weather Guy on Twitter!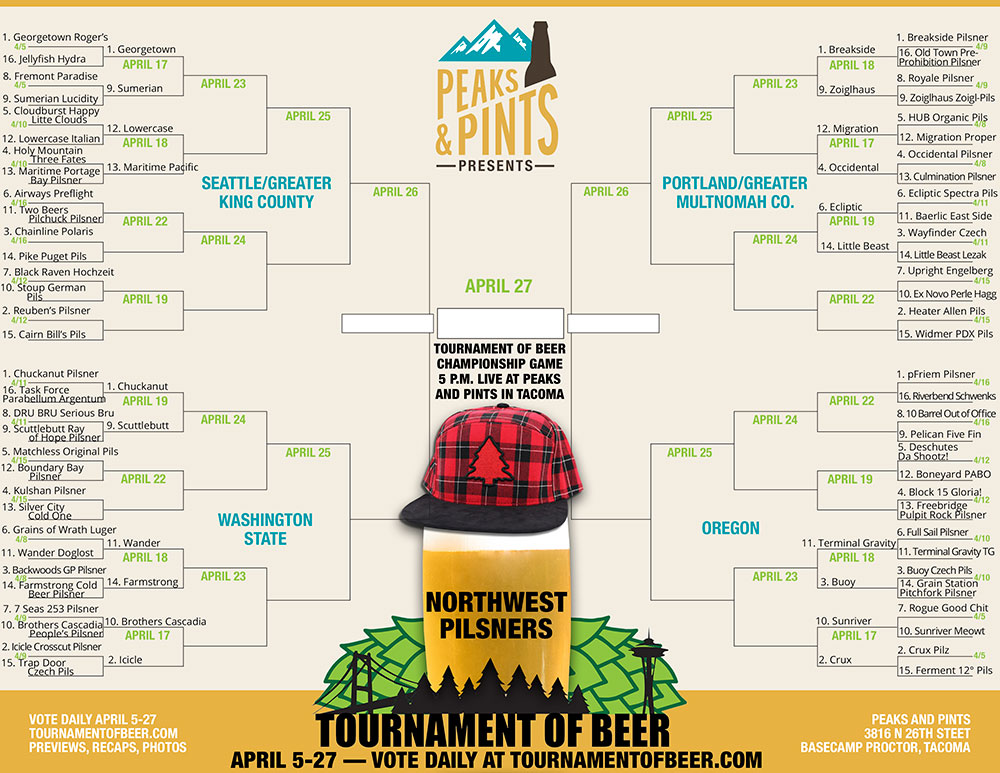 ---